Optical Stores Provide Free After-sales Services
They help check eyesight regularly and check eyesight every six months. They help replace accessories, including all kinds of screws, nose pads, temple tips, protective film, etc. The glasses frame can be repaired and made adjustment, with lens ultrasonic cleaning. They help popularization of science, such as consultation on optical problems in ophthalmology, distribution of eye care manuals, and eye charts. Glasses can be repaired (replaced) free of charge after accidental damage. For consumers, it is undoubtedly a good thing, especially for student consumer groups. Because the students are active, frequently use glasses, and easily have other wear and tear problems.
How Are Glasses Made?
In this section, we will show you how glasses are made. Here are a few steps.
Eyeglasses lenses are first made by an optician reviewing your prescription and taking a lens bank that closest matches your prescription.
The optician puts the lens bank into a grinding machine and grinds it into a shape that matches your prescription even closer.
Then the glasses lenses are edged and cut into a shape that fits the frame you chose.
Last, put the cut lenses into a solution so as to protect them from scratches, then give them a tint and more.
After all steps are finished, the glasses are made successfully.
Eyemart Express
Eyemart Express was founded with the clear goal of providing people with affordable, fast eyeglasses of the day. That has been their focus for 30 years and will continue to be their focus as they look to the future. Seeing things clearly is often life-changing, and they're dedicated to helping you see some of the greatest moments of your life. In short, Eyemart Express, they do not only hire talented staff. They invest in them. Their optical training and development program is designed to make their staff improve. They strive to develop insightful and intelligent leaders in workplaces and communities. They built a proud culture based on a clear set of principles: trust, compassion, openness to chances, and development. In short, they believe that developing great people creates the best environment for their business, their products, and most importantly, their customers.
What does the Drop Ball Test have to do with the eyewear industry?
FDA mandates that eyewear products must ensure their safety. Impact resistance is a basic norm for binding glasses and/or lenses in the United States. The FDA does say that a drop ball test must be performed on every glass lens for prescription use. The FDA-regulated eyewear products are common in the everyday lives of the public, and the FDA considers impact-resistant lenses to be an important part of the safe design of these devices. Today, safety lenses are rarely mentioned in our sales, but in the 1990s, when resin lenses first entered the Chinese market and glass lenses still dominated the market, safety lenses were a pretty important concept. At the time, the hardening technology has not been upgraded, and the resin lens is easy to wear out than the glass lens. The eyewear industry is relying on lightness, safety (anti-impact), comfort (anti-ultraviolet) step by step to achieve the market share of resin lenses from 1% to 100%.
How to Perform Glasses Measurements?
If there is no number on the temple of eyeglasses, you can perform glasses measurements by yourself. Now, we will show how to do that.
To measure the glasses' size, you need to prepare a ruler or a tape first. To measure the frame width, measure the entire horizontal front of the frame, from the furthest extended point on either side. As for lens height, you should measure the vertical height of the lens. As for the bridge, you should measure the part that goes across the bridge of your nose. The temple arms include the front of the frame on either side and the rest behind your ear. The lens width is the horizontal diameter of one lens. So, when measuring these, you should be careful.
After that, you have measured the glasses frame size. If you want to know whether your face is right for this frame, you can read the post: How to Measure Face for Glasses Frames - 7 Steps
If you need a pair of new glasses, you can try Koalaeye glasses. They are stylish and cheap and they are lots of available choices.
Data obtained by computer optometry alone may not be accurate.
The first thing is to go to the optometry store, or the hospital to do a glasses degree test, namely to get single optometry. The precision computer optometry has errors, and computer optometry is only used to measure separately monocular degrees. What we need is the best visual effect of the binocular match, so the exact prescription needs to be carefully confirmed by comprehensive optometry. Optometrists will ask everyone to try on the insert lenses again, and even need to repeatedly try on several degrees of lenses, in order to finally determine which degree is the most appropriate, because even the professional optometry data is only a rough range, only based on the data of glasses is not necessarily suitable for their own. You can use a focometer to measure the actual parameters of the glasses you are wearing. If you are still unsure of your prescription, it is recommended to fax, mail, or mail your prescription to the merchant when placing your order.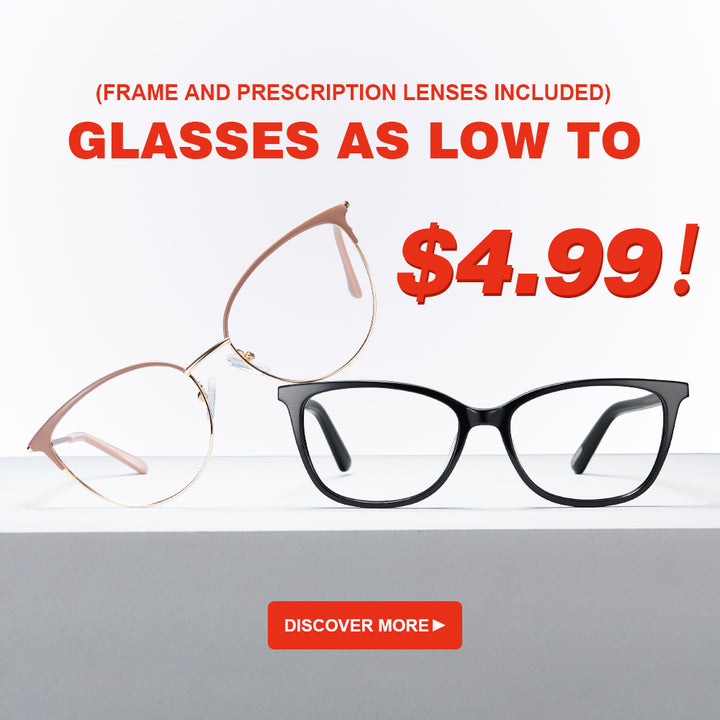 The Benefits of Anti-Glare Glasses
As is well known, glare is the excessive brightness caused by direct light or reflected light. It often occurs when sunlight bounces off a reflective surface like water or snow. Of course, anti-glare glasses can also be caused by other factors.
Standard plastic lenses are able to reflect approximately 8% of the light that reaches your glasses and high-index lenses often reflect up to 12% of available light. Hence, anti-glare glasses come in a lot of advantages.
The anti-reflective glasses can reduce eye strain and make your eyeglasses look more attractive because the anti-reflective coating can eliminate reflections from the front and back surfaces of your eyeglass lenses. With this feature, more light can pass through your lenses to improve your vision with fewer distractions and the lenses look nearly invisible.
In addition, anti-glare glasses are helpful to high-index lenses, which reflect more light than regular plastic lenses. In general, the higher the index of refraction of the lens material, the more light will be reflected from the surface of the lenses.
Anti-glare glasses can protect your eyes from UV rays (sunlight that doesn't appear on our visual spectrum). This feature can be enhanced by some photochromatic or polarized lenses.