It has the characteristics of wonderful toughness, crash resistance, wear resistance, and low friction coefficient, which can effectively prevent damage to the eyes and face caused by the fracture and friction of the frame during the movement. Because of its specific molecular structure, and chemical resistance, it is not easy to deform in a high-temperature environment. It's very elastic, and it doesn't deform. The use of thermoplastic materials in these frames provides pretty strength due to their flexible characteristics.
Semi-rimless glasse with lightweight structure
Semi-rimless glasses are not heavy and thus very comfortable to wear even over a long period of time. The frame is used with less material and can reduce the weight of the glasses themselves so that the glasses are lighter. And they can reduce the pressure on our bridge of the nose, for our bridge of the nose, they can reduce a lot of burdens. Because they weigh less, they have a smooth and foldable style.
About Prism Glasses
The refractive index of the same medium is different for different colors of light. Different colors of light travel at different speeds in the same medium. Because the same medium has a different refractive index for various monochromatic light, and the deflection angle of each monochromatic light is different when passing through a prism. Therefore, white light through a prism will separate the monochromatic light, known as dispersion. What is the prism effect of glasses? As long as there is a deviation between the visual channel of the eye and the optical center of the lens, it can produce a prism effect. Therefore, the severity of the prism effect can be used to measure whether the glasses with the correct prescription are processed correctly and reshaped correctly.
Disadvantages of contact lenses
They require more care than glasses. If you don't clean your contact lenses properly, or if you don't wash your hands before touching them, you could get a serious eye infection. Wearing contaminated contact lenses not only causes damage to your eyes but causes inflammation. If you have high astigmatism, your vision may become blurry when the lenses rotate. And there are a lot of contact lens health risks. There is a lot of news exposed that many informal manufacturers use fake or shoddy materials to make contact lenses, especially for the so-called beautiful contact lens, there are more risks in dyeing and health. The damage to the eyes is unimaginable.
How to Clean Glasses
To clean glasses by yourself, you need to be careful and use the correct way to avoid some damage to the glasses such as scratches, etc. So, follow the below steps to clean glasses lens.
1. Before cleaning the eyeglasses, you need to wash and dry your hands first. You can use the soap to wash your hands dry them.
2. Rinse your glasses under a gentle stream of tap water. This way will remove dust and other debris and avoid causing scratches on your lenses. But one thing you need to pay attention to. Please do not use hot water since it can destroy some eyeglasses lens coatings.
3. Use a small drop of lotion-free dishwashing liquid to each lens. You can only use lotion-free brands.
4. Then gently rub both sides of the lenses and all parts of the frame. Make sure to clean every part of the eyeglasses.
5. Rinse both sides of the lenses and the frame. Make sure to remove all traces of the soap. Otherwise, it will cause the lenses to be smeared when you dry them.
6. Shake youreyeglasses to get rid of the water on your lenses gently and inspect the glasses carefully to make sure they are clean.
7. Then dry the lenses and frame with a clean and lint-free towel. Make sure the towel is clean, or the dirt or debris on the towel will smear and scratch your glasses.
After all steps are finished, you also need to check your glasses again and check whether they are clean.
As for how to clean glasses, you can follow the above steps. But when cleaning your glasses, you should be careful enough. When cleaning your glasses, something you can't do. In the following section, we will list some of them.
Glasses Size - Temple Length
The length of the temple is the length of the arm of your glasses. It's how far the arm is bent, all the way to where it intersects the frame. Although lengths may range from 120 to 150 mm, there are some common industry standards:135, 140, 145, and 150 mm. The temples are long enough to extend beyond your ears, so the ends can be changed to match the contours of your head behind your ears.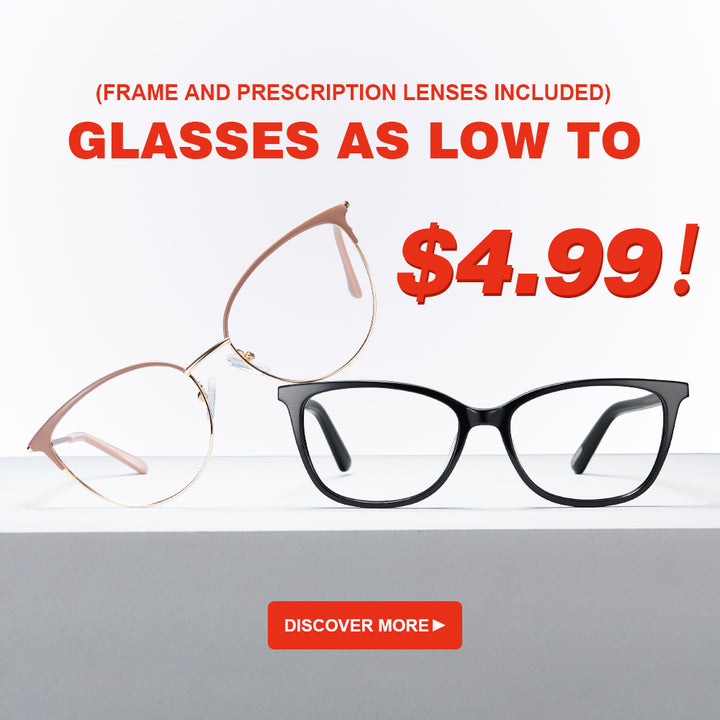 The Pros of Titanium Glasses
First, titanium is used in its pure form and as an alloy to provide a highly flexible eyeglasses frame. In fact, titanium eyeglasses are flexible. So, they are able to bend without breaking and can return to their original shape.
Second, titanium glasses come with good durability. Titanium alloy metals produce the world's most durable eyeglasses frames. Choose a titanium frame and it will be nearly impossible to break.
Third, the titanium glasses are extremely lightweight. They are about 40% lighter than the standard steel glasses frames. In addition, due to the superior strength of the titanium frame, the frames can be made thinner making for even lighter frames.
Fourth, titanium glasses have hypoallergenic properties. It is rare anyone experiences adverse skin reactions to titanium frames. There are many other options on titanium frames such as color, texture, and patterns. What's more, titanium glasses are corrosion-resistant.
So, are titanium glasses worth it? You may have the answers.