Overnight Glasses
Overnight Glasses is created by experienced members of the optical industry. You'll get high-priced lenses, coatings, and prescription glasses approved by the FOOD and Drug Administration (FDA) and the American National Standards Institute (ANSI).
Production, inspection, and customer support are all done by certified opticians in the US with 100% accuracy. Freeform Progressives Lenses designed by Seiko, Transitions Lenses, Trivex Trilogy, Nu Polar Polarized films, even the most basic prescriptions for monopod lenses, are manufactured, assembled, and double-checked in the United States by their certified personnel. The inventory includes prescription glasses and prescription sunglasses from well-known brands such as Ray-Ban, Oakley, Dior, Versace, Salvatore Ferragamo, Dolce and Gabbana (D&G), Prada, Tom-Ford,Burberry Eyewear, and Ermenegildo Zegna are both priced at less than half what other retailers offer.
When does the optical store have a special offer?
A good beginning is half the success. The new store opening needs to quickly expand awareness, and it is a marketing. old for new activities, means that as long as the unused glasses can be worth 30 yuan. Or the chain of glasses, to celebrate the New Year gift promotion plan, really play the role of promotion and atmosphere, promote sales.
Convenience and timeliness.
The essential carrier of Mobile applications is the mobile terminals. As the name suggests, these mobile terminals are not only smartphones and tablets but smart glasses, watches, clothing, accessories, and other kinds of personal belongings. They are part of what the human body wears and can be used anytime, anywhere. People can make full use of the fragmented time in life and work to accept and process all kinds of information on the Internet. They can no longer worry that they will miss any vital information, time-lapse information.
The Customization of Glasses
For the first time, you must go to a professional medical institution for medical optometry. Before the age of 12, you should dilate mydriasis and optometry. After the age of 12, you should decide whether to dilate mydriasis and optometry according to the specific situation of the eyes. The lens must be smooth, transparent, without bubbles and particles, with a uniform texture. The hanging ear of the temple should be attached to the outline of the outer ear, and the tightness should be moderate, so as not to slip.
What difference do mono-focal glasses and multi-focal glasses have?
A mono-focal lens is a lens with one focal point. Usually, the myopic far-sighted presbyopia that we see belongs to mono-focal glasses. There is only one diopter on one lens, and this is the single focal point. Multi-focal glasses are lenses that have multiple focal points, that is, multiple diopters. Both mono-focal glasses and multi-focal glasses are visual correction tools, but mono-focal glasses can meet basic vision needs, like fatigue relief, control of depth of diopters, and focus on different distances such as the need to see far and near.But because there are many different diopters on a multi-focal glasses lens, so the elderly can not only see far after wearing. When they see close distance, they do not need to take off glasses or wear reading glasses. Wearing multi-focal glasses is not easy to fatigue.
How did the eyeglasses market develop?
With the discovery of clear glass paste in the 14th century, lenses became cheaper and easier to sell outside Venice. In the 15th century, the invention of the printing press made it easier to read, which greatly increased the demand for glasses. By the 16th century, frames were made of luxurious materials such as horn, leather, and whalebone. They used real turtle shells. The artificial plastic celluloid was later used to make frames that had never been seen before. In the 1950s, glasses became more popular than ever. Even today, glasses are considered one of the best fashion accessories. Different colors and styles of frames can be made according to the face shape. New technologies for lenses, contact lenses, and even frame materials continue to evolve year after year.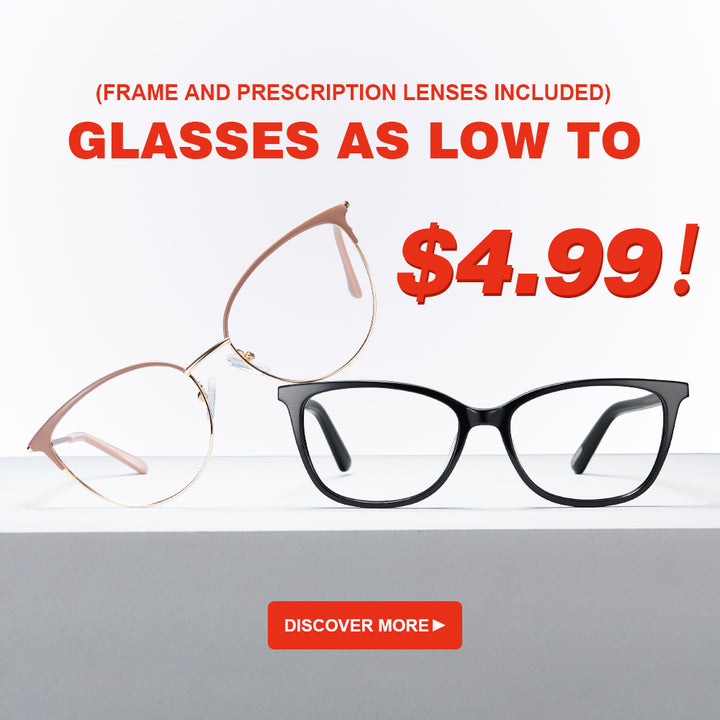 Lunor - Glasses For Men
Many of Lunor's metal frames are made from high-quality titanium, gold, and stainless steel. In addition to the special process of making titanium, all-metal frames are made by hand in a factory in Germany, fully reflecting the craftsmanship and thought behind the production of the brand. The texture and professional demeanor of the glasses are strong. The brand is very good at combining classical and modern. What we can see is that the nose pad and the frames are made of pure titanium, so there's no allergic effect.