Do Blue Light Glasses Work?
When wearing blue light glasses, you may ask whether the blue light glasses really work. In fact, many users have the same troubles. To answer this question, some researchers have made research and have found that blue light glasses make it possible to remain fully engaged in our technologically advanced world, without taking on the negative effects of blue light.
With the blue light blocking glasses, you can focus on the task at hand without negative effects. Besides, with the blue light blocking glasses, you can even sleep well and reduce eye strain. You can also test your blue light glasses are real.
Are carbon fiber glasses better or titanium?
In terms of weight, the titanium frame is very light. The specific gravity of the pure titanium frame is about 4.5g/cm3, and the specific gravity of the titanium alloy frame is about 8.9g/cm3. The pure titanium frame is lighter than the titanium alloy frame. However, carbon fiber glasses are lighter in weight. The carbon fiber glasses launched by LOHO are only 7.87g, which is very light to wear.
In terms of hardness, titanium has a high hardness, about twice that of stainless steel, twice that of iron, and six times that of aluminum. Carbon fiber is lighter than aluminum, harder than steel, and its strength is ten times that of iron.
In other respects, the titanium frame has the advantages of corrosion resistance, acid and alkali resistance, high stability, good elasticity, good toughness, and resistance to deformation. The carbon fiber frame has the advantages of corrosion resistance, high temperature resistance, radiation resistance, good elasticity, good flexibility, and abrasion resistance.
It can be seen from the above comparison that carbon fiber glasses have the general advantages of titanium frames. In terms of weight, carbon fiber glasses are much lighter than ordinary pure titanium glasses.
Why do glasses with the same prescription feel different?
The clarity of the lens changes. In addition to the case of the frame, the lens will be yellow or slightly scratched during use due to long-term absorption of ultraviolet rays, oily contact, dry rubbing by the user, etc., and the clarity of the lens will be affected. However, the clarity of newly equipped glasses tends to be higher, and the comparison between the two will cause discomfort. It is recommended that the new glasses can be used early the next morning. After a night's rest, the eyes will be easier to adapt to the new glasses. Under normal circumstances, new glasses generally require an adaptation period of about a week. After a few days of continuous wearing, the uncomfortable symptoms will disappear.
Disadvantages of Progressive Lens
There are deformation areas under the left and right sides of the lens, which make the image blurry and irregular. It takes 1-3 weeks to get used to it. In addition, it has a narrower field of view in the near and middle distances, and long-term concentration on the narrow focal point can easily make the eyes tired. Suitable for people who need to alternate between distant, medium, and near vision.
However, with the development of science and technology, more and more progressive multifocal glasses have emerged that have a wider field of view, more comfortable wearing, and better meet the needs of eyes. Nowadays, the use rate of progressive lenses among middle-aged and elderly people abroad is quite high. Single-lens and double-lens reading glasses are gradually being replaced by progressive multifocal glasses.
How to Choose Reading Glasses?
Find the right power. When choosing reading glasses, finding the right power would be the most important thing. All reading glasses will have signs or stickers indicating their power. In most cases, they will range from +1 to +4 diopter, in increments of +0.25. So, when choosing reading glasses, try the lowest power first.
Test-drive the glasses. If you have brought reading material with you, try reading it at a comfortable length. If you hold the material too far out to be able to read it, you should increase the power. Keep testing the differences powers until can read clearly at the distance that's more comfortable for you.
Choose blue light blocking glasses with guaranteed quality.
Because blue glasses is a kind of special care, which requires quality assurance. Wearing the unqualified glasses for a long time not only failed to protect his eyes against the blue glasses but can also lead to decreased vision. In severe cases, physical disorders can occur, causing dizziness, headache, and so on. So choose a big brand, guaranteed blue light blocking glasses, which can truly protect your eyes.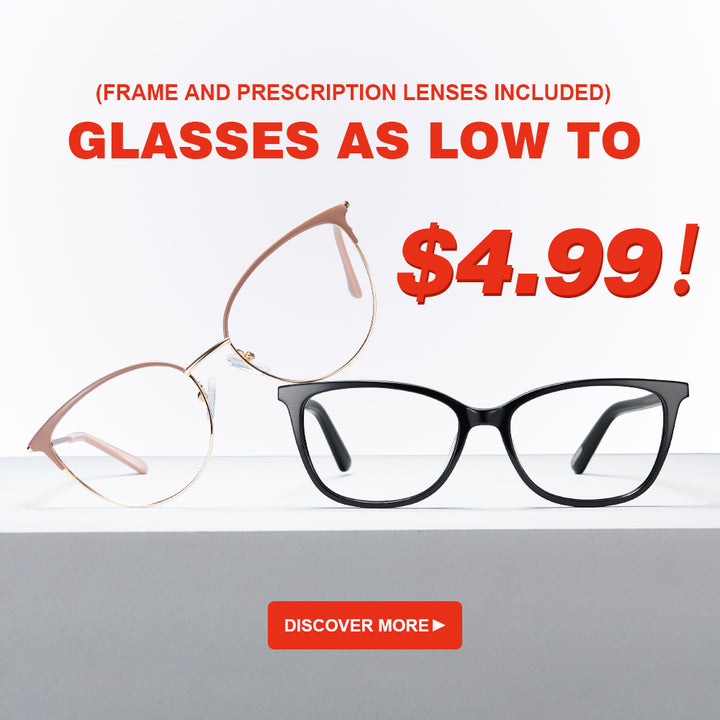 Clear glasses are in fashion.
Unlike those who used to wear plain glasses for the sake of a polite way, it is important for young men and women to wear glasses today to show their individuality, personality, and non-mainstream style. The clear eyeglass frame is classic, as the black frame. But relatively speaking, a clear white eyeglass frame has certain requirements to face shape, skin color, hairstyle. However, if you wear them properly and have enough confidence, those clear frames can be very stylish.