Contact Lens Materials - HEME Mixed Materials
Using HEMA as the matrix, other monomer components are added to improve the hydrophilicity, oxygen permeability, anti-precipitation, and other functions of the lens.
What is the progressive multifocal lens?
The lens of progressive multifocal glasses can change the refraction of the lens at the upper part of the central channel of the line of sight, which can effectively solve the difference of refraction when people view objects at different distances from long, medium, and short distances. Depending on demand, people have the flexibility to change or compensate vision according to visual distance, making it easier to help to adjust your vision in a variety of situations.
How to Clean Glasses
To clean glasses by yourself, you need to be careful and use the correct way to avoid some damage to the glasses such as scratches, etc. So, follow the below steps to clean glasses lens.
1. Before cleaning the eyeglasses, you need to wash and dry your hands first. You can use the soap to wash your hands dry them.
2. Rinse your glasses under a gentle stream of tap water. This way will remove dust and other debris and avoid causing scratches on your lenses. But one thing you need to pay attention to. Please do not use hot water since it can destroy some eyeglasses lens coatings.
3. Use a small drop of lotion-free dishwashing liquid to each lens. You can only use lotion-free brands.
4. Then gently rub both sides of the lenses and all parts of the frame. Make sure to clean every part of the eyeglasses.
5. Rinse both sides of the lenses and the frame. Make sure to remove all traces of the soap. Otherwise, it will cause the lenses to be smeared when you dry them.
6. Shake youreyeglasses to get rid of the water on your lenses gently and inspect the glasses carefully to make sure they are clean.
7. Then dry the lenses and frame with a clean and lint-free towel. Make sure the towel is clean, or the dirt or debris on the towel will smear and scratch your glasses.
After all steps are finished, you also need to check your glasses again and check whether they are clean.
As for how to clean glasses, you can follow the above steps. But when cleaning your glasses, you should be careful enough. When cleaning your glasses, something you can't do. In the following section, we will list some of them.
The Cons of Transition Lenses
However, besides the pros of transition lenses, there are also some negative voices of transition lenses.
The transition lenses are not effective in cars because the windshield blocks the UV rays so that transition lenses won't darken very well in the car.
Different brands of photochromic glasses have different levels of darkness and different reaction times. So, you may need to ask the doctor to find the brand that works best for you. Transition glasses are affected by colder weather. So it means that it may take a bit longer to react to UV rays in winter. Most transition lenses are not polarized which may result in harsh glares.
So, if you need transition glasses, try Koalaeye Optical, which provides the Koalaeye photochromic glasses. Besides these, Koalaeye Optical also provides other kinds of glasses, such as blue light blocking glasses, polarized sunglasses, progressive sunglasses, and so on.
Where to Buy Glasses for Computer?
So, where to buy the glasses for computer? To buy a pair of new glasses, you can try Koalaeye Optical, which provides all kinds of eyeglasses, sunglasses, and frames, such as blue light blocking glasses, progressive sunglasses, polarized sunglasses, and so on. In addition, Koalaeye Optical provides a free shipping service.
What are the benefits of recycling old glasses?
Recycling old glasses contributes to sustainability and reduces waste. It is a way to give charity in addition to giving money. It can be able to teach children the importance and impact of philanthropy.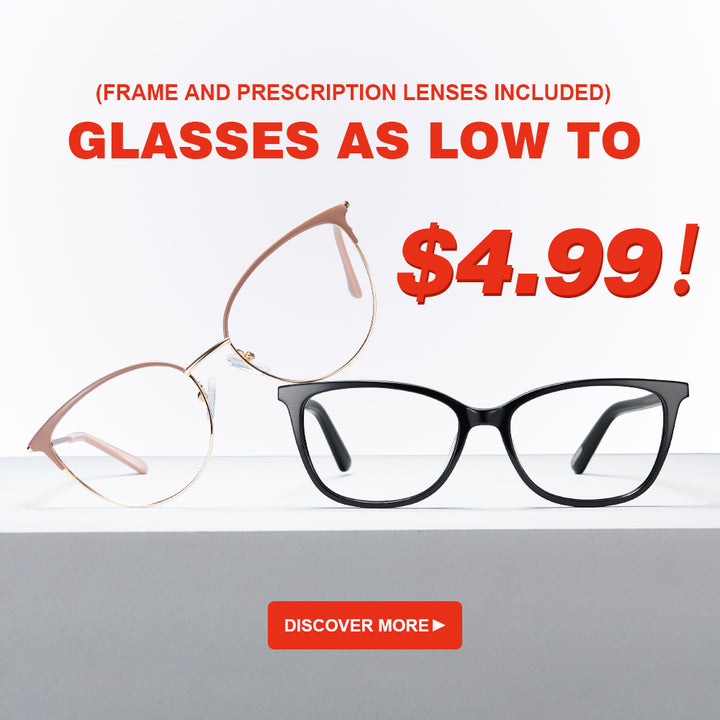 How to Remove Coating from Glass Lenses?
To remove anti-glare coating from glass lenses, you need to prepare the following things: isopropyl alcohol, plastic scraper of some kind, salt water, water, plate or bowl.
Now, we will show you how to remove coating from glasses.
Mix 5 parts of isopropyl alcohol with one part of saltwater.
Place your glasses onto a plate and pour out the prepared solution just enough so the lenses are entirely submerged.
Let it sit in the solution for an hour to soften the anti-reflective coating.
Scrape off the anti-reflective coating using a plastic scraper.
After that, you have removed coating from glass lenses.