Points To Note When Choosing Frames
Choose a frame with lightweight, good elasticity, and stable structure. The lens frame with poor quality tends to deform in use, which affects the optical properties of the glasses. Pay attention to whether the two sides of the frame are symmetrical and whether it is fixed and safe enough. Pay attention to whether there are scratches on the surface of the frame. Just put on the glasses to feel if it is very tight or very loose, and they must be tight to reach the saturation condition. Pay attention to distinguish the advantages and disadvantages of the coating. The better coating frame has a uniform color, smooth surface, and clear identification. After using the frame with poor coating quality, the frame will soon rust and fall off, affecting the life of the frame, and even causing skin discomfort or allergy.
What To Do with Old Glasses?
You can also choose to send your old glasses to others. You can ask your friends or ask around your social network to see if someone needs a pair of glasses. Then give them the old glasses.
If your glasses are too broken to be redistributed, do not just throw them out. You can choose to throw your old glasses into the recycle bin and they will be recycled.
If the only reason to give away your old glasses is that they are broken, you can try to repair them. After that, they can be useful.
What are nose pads?
Nose pads include stipule stalk, stipule boxes, and stipules. The stipules are in direct contact with the nose and play a role in supporting and stabilizing the frame. Certain molded plastic frames may not have stipules and stipule boxes, and the stipules are connected to the mirror ring.
In fact, when designing different materials and different styles, the designer will judge whether nose pads are needed according to the comfort and aesthetics of the glasses. Generally, metal frames are equipped with nose pads, and the nose pads are movable in order to adapt to various nose shapes. Metal frames with nose pads can prevent some people's skin from being allergic to metal. On the other hand, metal looks more rigid and business, and adding nose pads is more beautiful and comfortable. Most glasses without nose pads are sheet-framed glasses. The sheet material is relatively light and non-allergenic. In terms of aesthetics and comfort, no nose pads are more suitable.
How Long Does It Take to Get Used to Varifocals?
When you get a new pair of glasses, you have to get used to them. So, how long does it take to get used to the glasses? Some people only need a couple of days to get used to them while some others may need up to two weeks.
It is normal if you can only see the frame rim of your glasses when you first wear them. The reason for this lies in the brain's visual center. It needs to adapt the new and greatly improved visual conditions.
How to choose a spectacle frame
First of all, we must clarify what are the specific materials of the spectacle frames on the market. At present, the more commonly used glasses frame materials are sheet material, aluminum-magnesium alloy, natural wood, and bamboo materials. Of course, there are other materials such as titanium, TR90, and ULTEM.
Secondly, we have to make it clear that the texture brought by each different material is different, and each has its own advantages. For example, plastic glasses frames are made of sheet materials, which are characterized by easy processing and relatively lightweight. They are generally not easy to deform at room temperature. And the spectacle frame made of metal material is relatively strong, light, and beautiful. Therefore, to learn the advantages and disadvantages of each type of spectacle frame, we can meet our different needs according to each different material.
Tom Barrett Optical
The progressive eyeglasses meet your fashion desires and your visual needs. They provide unique framing styles and professions to deliver the highest quality eyewear. They understand the needs of customers to bring fashion and functionality to everyone. For more than 35 years, they have provided stylish eyewear with wonderful service and quality. If the concept of eyewear continues to change, the product quality and service will continue to grow and update.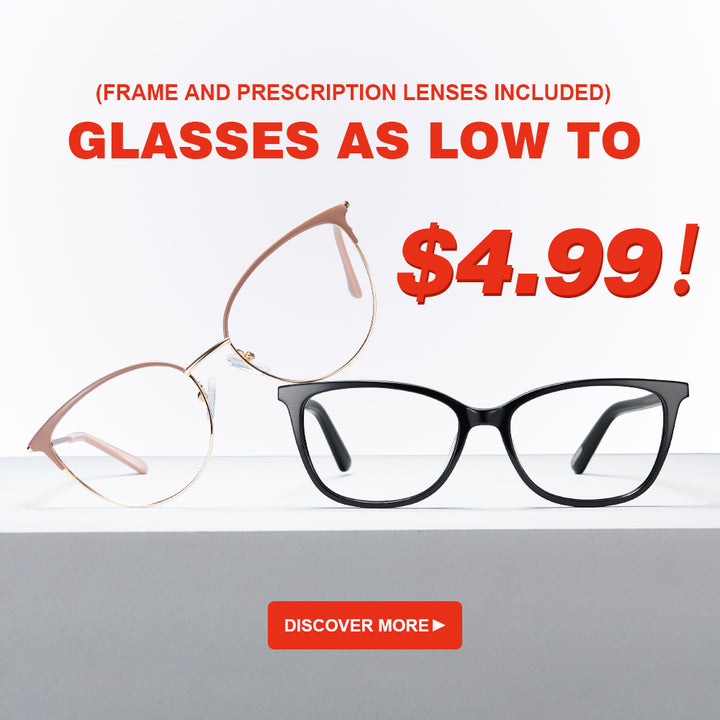 Where to Buy Anti-Reflective Glasses?
From the above, you have learned some benefits of anti-reflective glasses. You may ask where I can buy them. To do that, you can buy them from the local optical store. But now, you can buy them online and it can bring you great convenience.
So, if you want to buy anti-reflective glasses online, Koalaeye Optical is recommended. It provides all kinds of eyeglasses, sunglasses, and frames. What's more, Koalaeye Optical provides a free shipping service so that the package will be mailed for you with your great convenience.