Identify reliable online stores
Online stores division of labor has customer service, processing, packaging, warehousing, after-sales service, operation, art, etc. For processing accuracy, although the equipment is now much higher than before, as long as it is artificial, there will be errors. Even with the highest Essilor automatic grinding machine at present, it is possible to produce errors when the center point and the suction cup are manually operated. After processing is completed, a responsible shop will recheck the number. If the error is large, it must be reconfigured. The formal glasses mall can ensure that the true lens and this is the basic point of a good pair of glasses. Find reputable brands that are proven and believed by most consumers. The online shops should have perfect pre-sale and after-sales service. Professional pre-sale service can give professional guidance.
How to choose a spectacle frame
First of all, we must clarify what are the specific materials of the spectacle frames on the market. At present, the more commonly used glasses frame materials are sheet material, aluminum-magnesium alloy, natural wood, and bamboo materials. Of course, there are other materials such as titanium, TR90, and ULTEM.
Secondly, we have to make it clear that the texture brought by each different material is different, and each has its own advantages. For example, plastic glasses frames are made of sheet materials, which are characterized by easy processing and relatively lightweight. They are generally not easy to deform at room temperature. And the spectacle frame made of metal material is relatively strong, light, and beautiful. Therefore, to learn the advantages and disadvantages of each type of spectacle frame, we can meet our different needs according to each different material.
What is the difference between sunglasses and polarized glasses for fishing?
Ordinary sunglasses reduce the sensitivity of the light, reduce the intensity of the reflection, and reduce the glare of strong light. Wear the glasses to see where there is a reflection on the surface of the water, the reflection still affects the vision.
Polarized sunglasses used for fishing can not only reduce the sensitivity but also refract the reflections to prevent the strong light from stabling the eyes. Wearing polarized sunglasses to see the reflections on the water surface will not see the reflections. Also, you can see underwater fish and scenery ( Depending on the clarity of the water), it is not an exaggeration to say that polarizers are an enhanced version of sunglasses.
Types of Progressive Lenses
At the same time, there are different types of progressive lenses and they are standard PALs, short corridor PALs, computer PALs, and Reading PALs.
Standard PALs must fit your vision needs. They can be added to frames of your choice, but you need to ensure that the frames are the right width and height proportions to grant enough space for the gradient changes in the lens.
Short corridor PALs are made to fit into smaller frames so as to suit a wider range of eyewear styles.
Computer PALs are designed for computer users and other occupations that require strong intermediate and distance vision.
Reading PALs are designed for those who enjoy reading and they can opt for a pair of lenses with a larger close vision zone.
Visionworks
Visionworks is a leading provider of eye care services dedicated to providing their customers with a wonderful shopping experience and high-quality products and services with the best value and selection in the industry. All stores provide designer and exclusive branded frames, lenses, sunglasses, and accessories as well as leading vision correction technology. Every purchase comes with an unconditional 30-day satisfaction guarantee and free lifetime cleaning and adjustment.
How to stop glasses hurting behind ears?
When adjusting glasses to the optical shop, you can let the staff check if the bending hook is flat. If there is a problem, put it on the polishing machine. The most important thing is that when adjusting the glasses, the height of the glasses temple should be adjusted according to the shape of each person's face, to further increase the comfort of the glasses. Furthermore, if you do not want to go to the optical store, you can make the glasses temple a little loose at home or put a little cotton or paper towel in the ear to prevent friction. You can buy soft eyewear online or at an eyeglass store to prevent ear friction and injury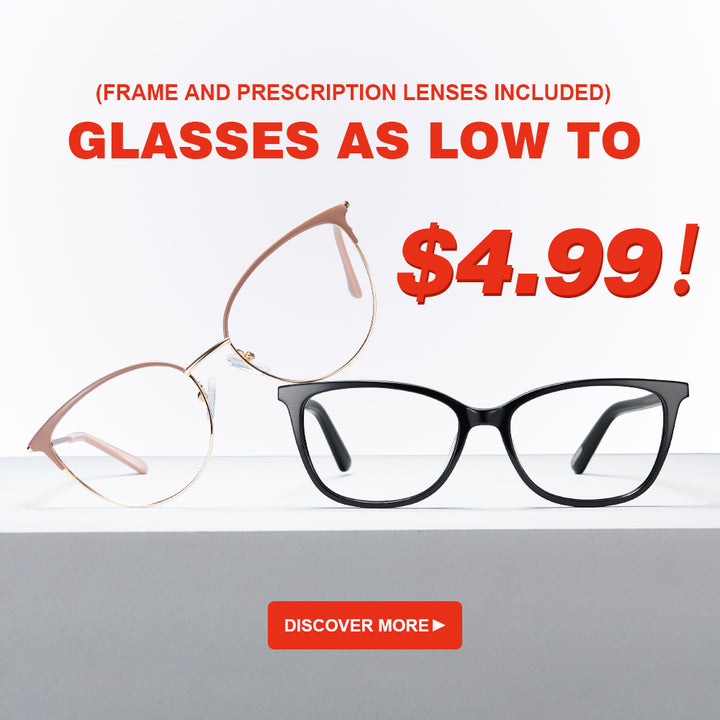 Tungsten carbon glasses frame
Tungsten carbon material, one of the obvious advantages of this material is that it has good toughness and is ultra-lightweight. People will feel no pressure when wearing such glasses. It is good if you are a sportsperson who chooses it.