QINA glasses
The clear frame glasses are classic, understated, simple, and stylish, defined by clean lines and minimal details. Whether you have an important meeting to attend or are relaxing in front of your favorite show, clear frames can easily blend into your wardrobe.
Founded in 2013, it is a fashion brand for young people and launched by the merger of two major eyewear companies Essilor and Luxottica. Dedicated to the study of pop culture and different product attributes, they bring interesting collocation creative inspiration for the young groups. Sunglasses and optical glasses are available, where stylish young people can find a variety of styles. Frame price is 300~500 or so commonly.
What Are Single Vision Lenses?
What are single vision lenses? You may have the same question. Single vision lenses have only one prescription for a given distance. Most reading glasses and distance glasses have single vision lenses because they are designed for people who are difficult in seeing either near or far. Some people are using their single vision glasses for both far and near depending on their types of prescription.
You can choose to wear single vision reading glasses to correct your eyesight if you have trouble reading text on your phone or computer screens. You can also wear single vision glasses to help you make out traffic signs while driving.
Single vision lenses for farsightedness are thicker at the center than those for nearsightedness, which are thicker at the edges. And the single vision lenses generally range between 3-4mm in thickness. The thickness varies depending on the size of the frame and lens material chosen.
After learning some information about one lens glasses, do you know the benefits of them? So, in the following part, we will show you the advantages of single vision lenses.
What are the benefits of pure titanium frames?
This is a kind of metal material with a titanium content of up to 89%, and the most amazing features of this kind of material are the high melting point, and it can withstand high temperatures.Apart from carbon fiber, pure titanium is the lightest material of all.The overall mass is not heavy, so it does not cause pretty large pressure on the bridge.Meanwhile, it has strong corrosion resistance. Pure titanium glasses are designed ergonomically, so there is no need to worry about deformation or fading even if they are used for a long time.So it is loved by many consumers.
How to buy contact lenses online?
Choose the right contact lens for your situation. Base arc and degree need to be added in the hospital or optician shop to determine. Try not to buy according to the framed degree. Some businesses claim to have the lenses having South Korea's silicone hydrogel, with annual throwing. They are not to be believed, because the material characteristics of the silicon hydrogel are not capable of making long-time discarded type lenses. There are a lot of things to pay attention to in order to properly wear contact lenses. For example, a medical optometry sheet is the premise of attention. Each pair of contact lenses is marked on the package of the basic arc, diameter, water content, diopter, and other parameters. Only according to the optometry sheet, you can choose the correct basic arc, diameter, and diopter. At the same time, there is a certain distance between the glasses and the cornea.
Tortoise Glasses
This unique pattern is the perfect choice for those who want to wear tops and jackets of any color. They fit almost any color. Tortoise glasses come in many colors, and this stylish pattern has a wide palette, so there's no need to worry about skin and hair color. If you want to keep up with current eyewear trends, unique-patterned tortoiseshell glasses are your best bet.
The hinge is not easy to break, rust and impact resistant
Ordinary glasses frames are easy to break and rust, so we always have to replace glasses frequently. Pure titanium spectacle frames are made of 'space metal' aviation materials, and strive to accompany your growth with each pair of pure titanium spectacle frames, witness every moment of your happiness, anger, sorrow, and joy. Let pure titanium spectacles become your personal little guard and the doorman for the window of the soul.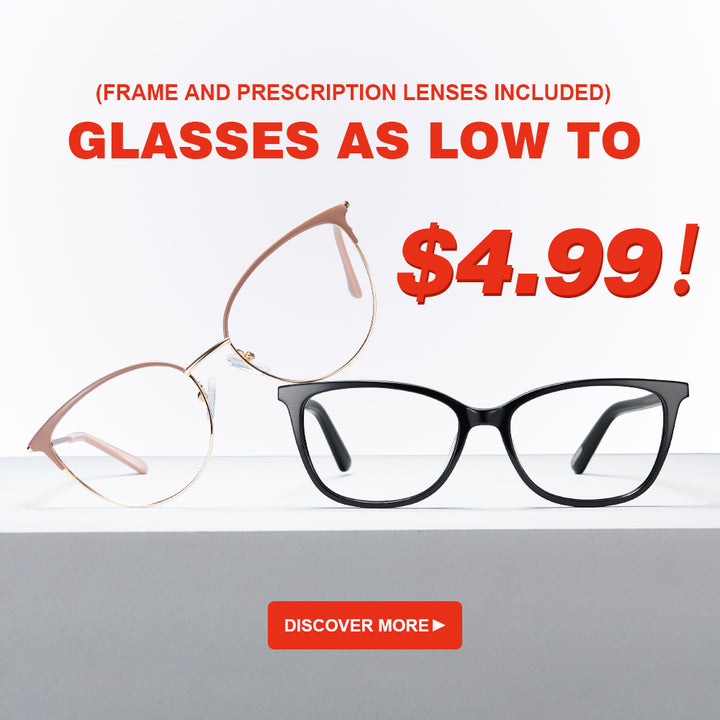 The birth of progressive lenses
In 1907, British optometrist Owen Aves first proposed the concept of progressive lenses and got the first patent of progressive lenses. In 1910, Henry Orford Gowlland designed and made a similar lens in Canada, but technical limitations prevented it from succeeding. In 1959, Bernard Maitenaz, a French optical and mechanical engineer, developed the first progressive lens, which was successfully put into the commercial market for the first time and became a milestone in the history of world optometry. With the development of science and technology, the design of progressive lenses has been greatly developed.