How Do Varifocal Lenses Work?
Varifocal lenses work by changing power from the top to the bottom of the lens. Moving your eyes up and down, the varifocal lens will give you clear vision at all distances you need. This means if you are using a cash machine, you would be able to view the keys, screen, your card and then continue to walk down the street.
Choose a frame for your face
People with round faces should try to avoid round frames, which can make your face look fatter. You can choose a square frame, having a decorated effect, and can make a person look more energetic. Circular lenses are recommended for square faces. Rectangular faces are also suitable for circular lenses. There are not too many restrictions on the choice of lenses for heart-shaped faces. Circular or square pieces are very appropriate, but you can choose slightly larger frames to add momentum and can create a retro sense.
Why My New Glasses Give Me a Headache?
The new glasses make me dizzy or headaches. You may have these symptoms when getting a new pair of glasses. Why do the new glasses give me a headache? When getting used to the new glasses, your eyes and brain have to work harder to see clearly through your new lenses. The more your strain to see, the more likely you are to get a headache.
So, how long to adjust the new glasses? It may take a few days. If you still feel uncomfortable after wearing the new glasses for a few weeks, you should ask for the eye doctor or the optician to check whether your glasses are made correctly and check whether your prescription is correct.
In addition, if you want to get a new pair of glasses, you can try Koalaeye Optil, which is an online optical store and helps you to prescribe your eyeglasses with great convenience. Koalaeye Optical provides various glasses, including progressive glasses, blue light blocking glasses, sunglasses, driving glasses, and different shape frames.
What Are Bifocal Glasses?
Bifocal lenses are divided into two parts to accommodate two different prescriptions in one lens. One area of the lens will have one prescription (usually distance) and a segment in the lower half will have the other (usually near vision).
Bifocal glasses are most used to correct presbyopia - an age-related eye condition where the eyes begin to struggle to focus on anything up close. This difficulty usually results in people requiring glasses with two different prescriptions, one for short and one for long-distance.
On bifocal glasses, there is a distinct line between the different prescriptions. Wearers have to look up and down to switch between the prescriptions they need, with long-distance prescriptions at the top and near vision at the bottom.
Difference Between Driving Glasses And Night Vision Goggles
The special effect of polarized glasses is to eliminate and filter the scattered light in the beam of light effectively so that the light can be put into the visual image of glasses with the right track, and the field of vision is clear and natural. The effect of night vision goggles is that they allow the wearer to observe the surroundings at night without being affected by light. For example, aviation accidents can be greatly reduced through the use of navigation winches equipped with forward-looking infrared cameras on aircraft and by requiring pilots to wear goggles fitted with night vision goggles.
Business style glasses
The style of business frames is mostly pure titanium series, simple and generous, with strong texture, flexible, highlighting the wisdom and calm of business elites, while the high standard of comfortable feature has always been the pursuit of this type. . Business style frame has a calm atmosphere and suit collocation complement each other, improve the overall temperament. In the negotiation and cooperation, they can leave a good impression. With A strong sense of the quality of the business, for work or leisure, they make you become the focus.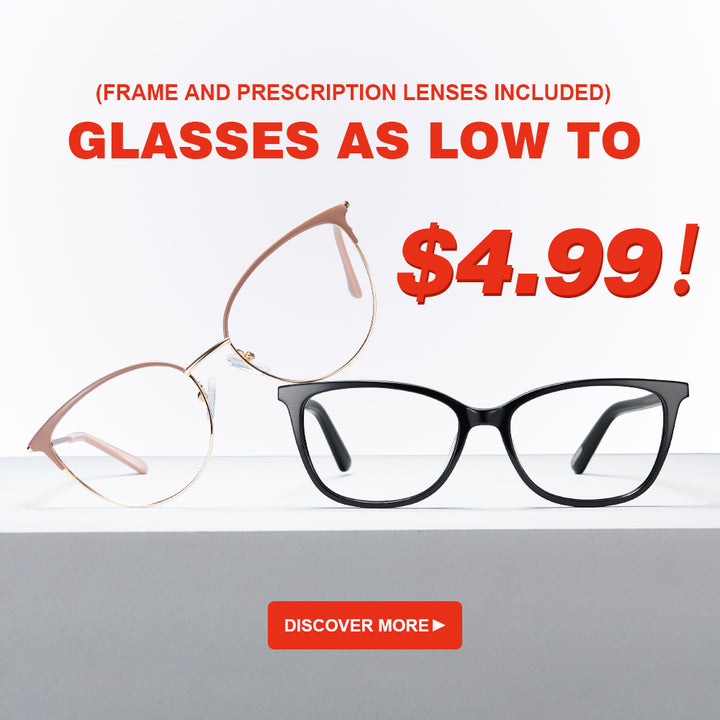 Why you should be careful when choosing blue-light-blocking glasses?
Prices of blue light blocking glasses in the market now range from 200 to 300 yuan to several thousand yuan. According to the report, current eyewear standards do not prescribe the effects of blue-resistant lenses, and consumers are advised to choose blue-resistant lenses with caution. It is recommended that people with specific eye diseases such as macular disease, age-related macular degeneration, macular hole, and diabetic fundus lesions should choose anti-blue light glasses according to the advice of an ophthalmologist.