What To Do with Old Glasses?
You can also choose to send your old glasses to others. You can ask your friends or ask around your social network to see if someone needs a pair of glasses. Then give them the old glasses.
If your glasses are too broken to be redistributed, do not just throw them out. You can choose to throw your old glasses into the recycle bin and they will be recycled.
If the only reason to give away your old glasses is that they are broken, you can try to repair them. After that, they can be useful.
SaintShilan Titanium Rimless Flexible Frame
They are lightweight glasses with transparent titanium lenses. They have a soft silicone nose pad, with no pressure on the nose, ensuring the best comfort to wear! The environmentally-friendly IP electroplating rack -- SaintShilan focuses on high-quality electroplating, making you comfortable to wear at work and comfortable to read in daily life. They help improve vision and improve quality of life. They are always the best gifts to you and your family.
The TR90 Spectacle Frame
TR90 frame is a kind of polymer material spectacle frame with memory, no chemical residue is released, and it meets European requirements for food-grade materials. It is currently an internationally popular ultra-light spectacle frame. TR90 frames have the characteristics of super toughness, impact resistance and abrasion resistance, and low friction coefficient, which can effectively prevent damage to the eyes and face caused by the breakage and friction of the frame during sports. Because of its specific molecular structure, it has good chemical resistance, is not easy to deform in high temperature environment, can withstand high temperature of 350 degrees in a short time, and is not easy to melt and burn. Moreover, the TR90 spectacle frame has a lubricating surface with a density of 1.14-1.15. It will float when placed in salt water. It is lighter than other plastic spectacle frames. It is about half the weight of the sheet frame and 85% of the nylon material. It can reduce the burden on the bridge of the nose and ears.
What Is Anti Reflective Coating?
Anti reflective coating, also known as AR, anti-glare, no-glare, or glare-free coating, can provide benefits to your vision. Anti reflective coating is added to lenses to reduce glare caused by light hitting the back of the lenses to improve your vision and make your eyeglasses more visually attractive.
Anti reflective coating will eliminate all reflections from the front and back surfaces of your lenses. Hence, more light is able to pass through your lenses which improves your vision. At the same time, fewer distractions are visible and the lenses are hardly noticeable, especially in the dark. So, is anti glare worth it? Most people agree that.
Rimless Glasses
This kind of glasses does not have a frame to wrap the eyeglass ring, only the metal nose pad, and temples, and the lens is fixed after being punched, which is relatively lighter. This kind of glasses is lighter and more fashionable and is the first choice for ladies in the workplace.
Thick Geometric Frames
Eyewear fashion has changed and evolved over the years. Big, thick frames that are round, rectangular, or even hexagonal are loved by celebrities and attendants. Depending on your face shape, you can choose one of these bolder combinations to highlight or contrast some of your face's most obvious features. Hollywood has officially adopted chunky glasses as a necessary item.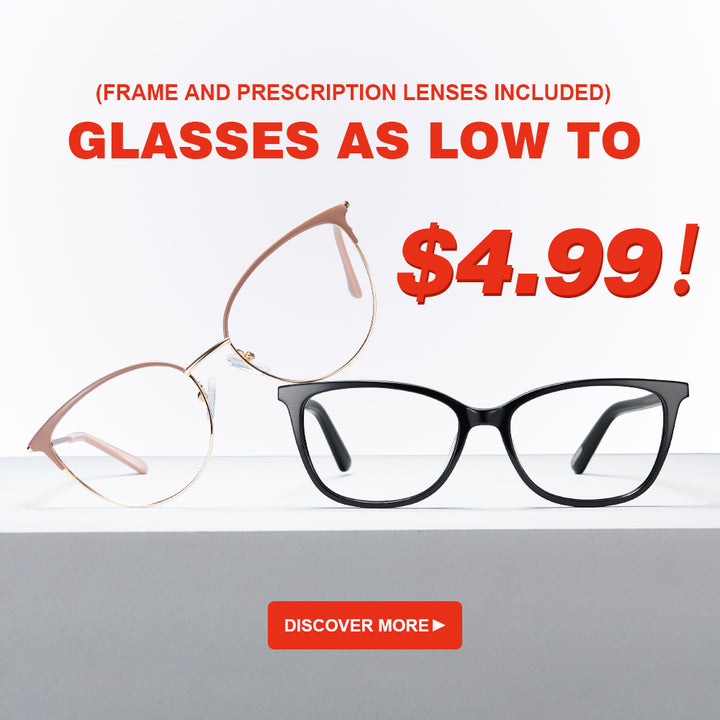 How to choose progressive lenses
The progressive lens can effectively control the deepening of myopia, but there is no reliable empirical evidence. At present, the height of the lens frame is only about 30mm. The distance from the design of the transition interval is not enough, and the comfort of the eye is difficult to adjust the short distance. From the quality and technology, the foreign brand design process is stable and mature, but the price is too high, there are still a lot of people who are not easy to adapt. The parameters of progressive lenses need to be determined by strict optometry.