What Do Blue Light Glasses Do?
Blue light has wavelength and energy from 380 nm with the highest energy to 500 nm with the lowest energy. The violent and blue-violent rays are more likely to damage our eyes so these rays are also called harmful blue light.
The blue light can be from the sunlight, fluorescent light, LEDs, computer monitors, smartphones, and tablet screens. Long time exposure to blue light may cause eye strain and discomfort. Hence, wearing blue light glasses is an effective way to prevent your eyes from harmful blue light.
What do blue light glasses do? They are specially designed to filter out harmful blue-violent light rays that are commonly emitted from digital screens.
Do you need to wear glasses to drive?
In the evening, lights from street lamps, buildings, and other vehicles create a lot of reflection on the windshield, making it hard to see. It's even worse when it rains. But if your glasses have an anti-reflective coating, they can reduce the glare and reflections, allowing you to see more clearly while driving at night.
Choose blue light glasses with better quality lenses and frames.
Pay attention to the choice of true color lenses.0-12-year-old children are in the critical period of growth, and the color and things are in the cognitive stage. Blue light-blocking glasses should restore the true color as far as possible, with no blur. And it will not have a color difference. Pay attention to the strength of blue-light-blocking glasses. Choose a strong and flexible frame.
The main parts of glasses
1. Spectacle lenses
One of the most important accessories for glasses is spectacle lenses. Due to the increase in myopia patients, the demand for spectacle lenses is also very large, but the prices of spectacles on the market are also uneven. To know whether the spectacle lens is good or not, you can't just look at the price of the product, but learn more about the value of the lens itself. For example, the resin lens is lighter and suitable for patients who wear it for a long time. The quality of the optical glass lens is better, and it is not easy to break, suitable for some elderly people.
The quality of spectacle lenses is also a key consideration. The market generally classifies lenses based on their structure, materials, and usefulness. The information on spectacle lenses is mostly chemical substances. It is very beneficial for us to select some good-quality lens materials. It is not only necessary to consider the function of the lens, but also to consider whether the lens material is harmful to the human body. Generally, the crystal stone materials are very safe and reliable, and we can choose carefully.
2. Spectacle frame
Another important figure in eyeglasses accessories is the frame. For those who like lightweight glasses, it is more appropriate to choose ultra-light frames or half frames. However, the frame must have durable and play a good role in maintaining the lens, otherwise, it will lose the meaning of the frame. Of course, the temples are also a part of the frame. There are also nose pads for glasses accessories. Many people have more requirements for nose pads. Generally, they choose soft ones that are not easy to press on the bridge of the nose.
Silhouette
Because of its unique lightness, and its unique materials, the American space agency, NASA, took a fancy to it and designated it as space special glasses. Since 2000, it has accompanied astronauts on 35 space missions. With no frames, screws, or hinges, this is the new look that will forever be memorized as the Rimless Titan Minimal Art(TMA) glasses, which weigh 1.8 grams. In order to reduce weight and improve comfort, the EmPadsystem patent was invented, which improved the eyeglass beam and nose pad, further effectively reducing the pressure of eyeglasses on the nose bridge and making the eyeglass nose pad easier to clean.
Full-frame glasses
Full-rimed Glasses are now commonly used, which can make the lens fixed, with good protection of glasses. They are firm and easy to finalize the design, with strong hardness. Full-rim glasses frame is in the majority with plank material. The style is sporty and stylish, which is pursued by young people nowadays. Full-frame glasses are of different styles, rich colors, and can mask part of the lens thickness. The beautiful extent is very good, so are loved by many people with slightly higher degrees.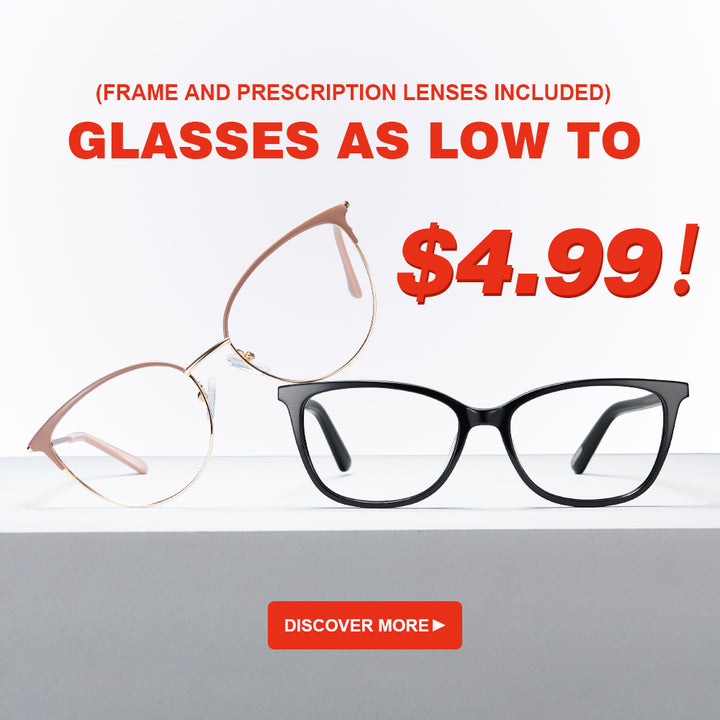 Sunglasses
Sunglasses have a visible light transmittance of about 20% and can absorb ultraviolet and infrared rays well. It also has a variety of colors such as light green, light gray, light brown, etc., used to protect in different occasions. Among them, light gray lenses have little effect on color recognition. Light brown glasses make the blue sky look darker and reduce the transmission of green light. Light green lenses reduce the transmission of red light.
Sunglasses not only have a wide range of varieties, but with the improvement of decoration and health care effects, their scope of use has become more extensive. As the time to update sunglasses can be rapid, fashionable men and women would love to have multiple sunglasses to match clothes to satisfy their pursuit of fashion.