The material of the nose pads
There are many differences between silica gel and PVC materials. For example, silicone can pass ROHS certification and is environmentally friendly. Silica gel is soft and feels good, while PVC products are rough. Silica gel products are soft, while PVC products are hard. Silica gel products are more flexible, but PVC has no toughness. Silica gel products are usually made to be more transparent. Glass frames made of plate material and TR-90 material, are relatively not heavy and non-allergic. Typically, the TR90 frame is cast to form a nose pad attached to the glasses ring. As the plate frame is cut out from compressed materials, the plate frame with a nose pad is usually injected into the nose pad after the frame is made.
Sunglasses for Fishing under $50 - Beishidun
The price is more favorable, and the function can be adjusted according to the strength of the sun's light. On sunny days, they can filter glare, protect the eyes from light stimulation. When they are worn on cloudy days, the lenses will lighten according to the light, preventing dimness of vision. ?And wearing comfort is also good. Traveling, climbing, driving, and so on can be used. ?As an emerging brand in recent years, the current user's popularity in the market is not small. In the design and functionality, they can meet the public, and at the same time, the cost performance is good.
What's the significance of the glasses donation campaign?
The eye loves public welfare activities can increase the public awareness of eye love. China has one of the highest incidence rates of myopia in the world. With the popularity of computers and mobile phones, myopia is becoming more and more common among teenagers. Visual health is a significant component of universal health. Public awareness of eye health needs to be improved. It is the responsibility of an enterprise to support economic and social development and care for the poor and vulnerable groups. Nowadays, the myopia of teenagers is becoming more and more worrying. Good eyesight is not only very important in the learning stage, but also accompanies a person's life, so it is the responsibility and obligation of enterprises to help prevent and control the myopia of teenagers. The glasses donation activity shows the glasses industry's active action and professional spirit of fulfilling social responsibility and advocating social welfare. They can take practical actions to fulfill corporate social responsibility and help teenagers grow up. At the same time, people from all walks of life should take active actions to pay attention to the eyesight health of young people.
Do You Need Plano Glasses?
Many people choose to wear plano glasses or glasses without prescription just for cosmetic reasons, without any need for vision correction. Normally, glasses frames without a prescription come with a pair of cheap plastic demo lenses.
Since there is no corrective effect on plano glasses, some people choose wear plano glasses for protecting their eyes from dust, and other flying objects. In addition, plano lenses come in a variety of protective coatings - anti-glare, scratch-resistant, blue light coating, UV coating to provide all around protection to the eyes.
So, if you want to protect your eyes from some unexpected damage, you can choose to wear the plano glasses and they would not bring any damage to your eyes.
What is a progressive lens?
Progressive multifocal lenses are lenses with different upper and lower powers for seeing far above and below for seeing near. The distance from the fixed far power above the lens to the near power fixed below the lens does not change suddenly, but a gradual transition between the two through the gradual change in refractive power. Compared with ordinary lenses, there are many advantages. The appearance of the lens is like a single vision lens, and the dividing line of the power change is not visible. Not only is the appearance beautiful, but more importantly, it protects the age privacy of the wearer, and there is no need to worry about revealing the age secret due to wearing glasses.
Since the change of the lens power is gradual, there will be no image jump. It is comfortable to wear and easy to adapt. So it is easy to be accepted. Because the degree is gradual, the replacement of the adjustment effect is gradually increased according to the shortening of the short distance. There is no adjustment fluctuation, and it is not easy to cause visual fatigue. Clear vision can be obtained at all distances in the visual range.
Such a pair of glasses meets the use of long-distance, near-use and various distances in the middle at the same time. It is especially good news for teachers, doctors, music workers, and computer operators, because these people not only need to see far and near objects clearly, but most of the time they also need to be able to see middle distance objects such as blackboards, piano scores, and computer screens. . This is not possible with any lens other than progressive lenses.
When do you need blue-light-blocking glasses?
Anti-blue light glasses are suitable for wearing when using LED digital display devices like TV, computer, PAD, and mobile phone. However, it is not recommended to wear anti-blue light glasses for a long time in daily life, because the anti-blue light glasses filter part of the blue light and the picture will be yellow when viewing objects. It is recommended to wear two pairs of glasses, one pair of ordinary glasses for daily use. A pair of anti-blue light glasses to use for computers and other LED display digital products.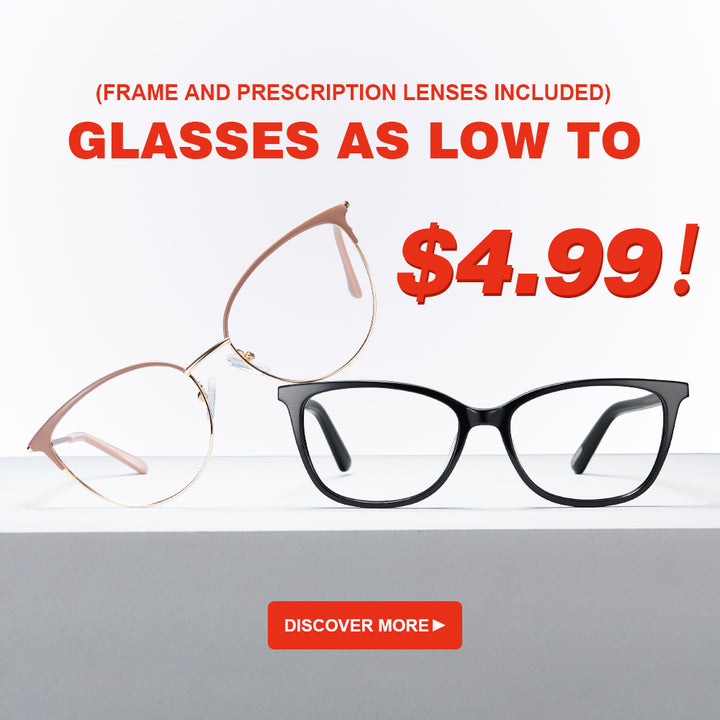 What Are Progressive Lenses?
Progressive lenses have grown in popularity and are one of the most common solutions to treat vision loss that occurs with age or presbyopia. This eye condition occurs when the eye loses some of its flexibility and ability to adjust to clear seeing objects at different distances. Presbyopia often occurs among adults who are over age 40 and is very easy to correct with a proper and prompt diagnosis.
Progressive lenses are often used to correct this eye condition. Progressive lenses are a modern alternative to bifocal glasses, which provides two prescriptions in a single set of glasses. Bifocal glasses are a better solution than carrying around multiple pairs of glasses. Progressive lenses were developed to resolve some of those common issues and to provide better aesthetics. Progressive lenses provide a smooth transition and can accommodate up to three prescriptions and are a replacement for both bifocals and trifocals.