How to clean a contact lens case?
Avoid cleaning contact lens cases with running water. Tap water contains a number of chemicals that can be harmful to contact lenses, as well as microorganisms such as bacteria. Please rinse and disinfect with boiling water. Use contact lens solution before cleaning. Let it dry. Make sure the contact case dries naturally before you use it. Stay away from cosmetic bags. It is to avoid that your contact lens case is contaminated by cosmetic bags. Some dust from cosmetic products can easily contaminate contact lens cases, so stay away from cosmetics.
How to clean the lenses?
When wiping lenses (especially the rimless glasses of resin lens), you must use a special wipe lens or soft handkerchief or paper. When you wipe the lens, you can only wipe it in one direction, not in circles, and don't touch the lens with your fingers. When the lens is stained with dust and sand, it should be washed with water before wiping, otherwise, the lens is likely to be abraded, and the operation should be gentle. At ordinary times, when cleaning, do not exert too much force, pay attention to the grasp of strength. When wiping the lens, it is best to take the side frame with one hand, and the other hand takes the glasses cloth to wipe gently. In order to prevent the lens film layer falls off, do not use alkaline detergent to wipe the lens. Therefore, when bathing or playing at the seaside, glasses should be properly kept to avoid water vapor or seawater caused by corrosion of glasses.
How Should Glasses Fit?
You should check the placement of the bridge. The bridge is the small middle piece on the front of your frames that sits on your nose. This measurement is usually the middle number displayed on the inside of your temple. The bridge should rest comfortably on your nose without pinching or sliding off. A correctly fit bridge will also ensure your glasses sit properly on your face and your eyes are aligned appropriately within your lenses.
How should glasses fit? You need to consider the size of your lenses, which is essential to the proper function of your prescription, especially with the progressive lenses, because it ensures that there is enough space for the near, intermediate and distance zone powers of your prescription.
Glasses are used as accessories.
Glasses can be used to outline your face. Most glasses have a positive effect on the temperament and image of the person, provided that the choice is proper. The function of the spectacle frame, in addition to its supporting the lens to form glasses to wear on the eyes of the people to play a support role, also has a beautiful, decorative role. Modern fashionable person emphasizes glasses should have harmony with the facial makeup and dress of person, reflecting social class, high learning, elegant fashion, and so on. When the spectacle frame is worn by people in the streets and alleyways, those who are not nearsighted begin to pay attention and feel that wearing a chic spectacle frame is a very fashionable behavior.
Choose the cost-effective glasses.
Choose your favorite glasses online. Open the shopping website, and select a store with high credibility. Choose your favorite glasses according to the style, lens, frame color, blue light blocking, radiation protection, and other factors, and then communicate with the customer service about the thickness of the lens and other specific details. If you see the frame is not suitable for yourself, you can communicate with customer service ahead of time to see whether you can buy the frame to send freight insurance. If it is not suitable, can we return it for a refund? To buy a store with a high reputation, you can look at the store's good comments and bad reviews. Talk to customer service. Sometimes there are hidden discounts.
The Cons of Rimless Glasses
As there is no frame around your glasses lenses, the rimless glasses may be more likely to break. If you are not very careful with your glasses, you may have to replace them on a constant basis.
Rimless glasses are higher than other framed glasses because of the details that go into this style. In fact, the rimless style needs more work and time. So, making this kind of style is more time-consuming. So, rimless glasses are expensive than framed glasses.
From the above information, if you like rimless glasses, you can try them. Thus, you can buy them from Koalaeye Optical, which is an online store and provides all kinds of glasses, sunglasses, and frames. So, try Koalaeye glasses and the glasses will be mailed for you with your great convenience.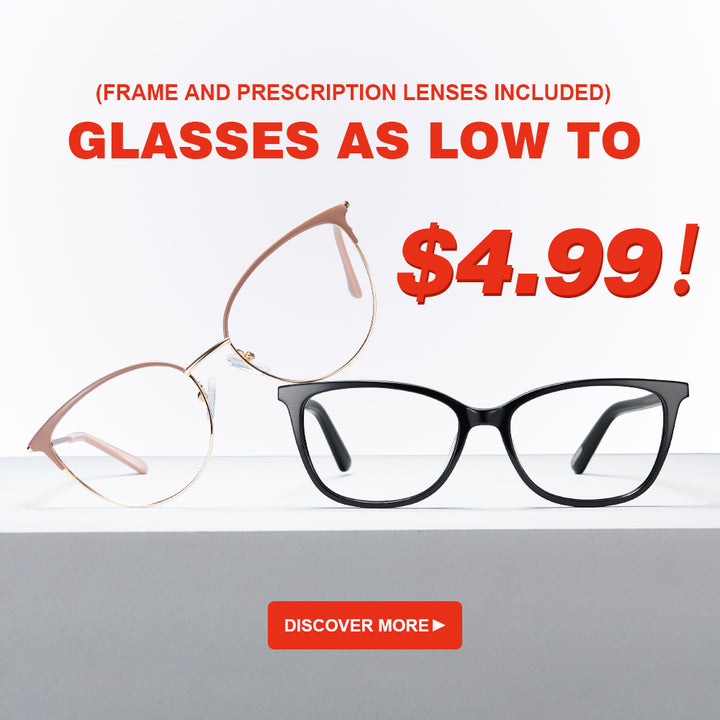 Professional glasses repair service
EyeglassesDepot is a national leader in the eyewear and sunglasses repair industry. Technicians have decades of professional experience, and the lab has the ability to perform eyewear lens replacement, eyewear metal repair, eyewear plastic repair, eyewear crystal repair, screw repair, and scratch removal for your glasses or sunglasses. Most glasses can be repaired, no matter what the frame is made of. You are not obligated to pay until the lab confirms that your glasses can be repaired.