In the previous article, we discussed "What shape sunglasses are in style?". In this article, let's talk about "How to look good in sunglasses?"

With the advent of Spring, everything is recovering and coming to life again. It brings hope for everyone. After a long time of restriction on social distancing and isolation for COVID-19, I believe that it is great moment for outdoor activities to take a deep breath of the fresh air, and forget all of the anxiety we had during the lock down period. Now the sunglasses have found their spring too. How to protect your eyes and how to keep a charm image, remains the big concern of the majority of sports lovers. Of course the sunglasses are one of the necessary parts of your image. But how to match your sunglasses with your clothes remains a big questions for many people. If you like to take some time to go through the following tips, you may find some surprising treasure or something you have never realized before.".
Clothes for dark color sunglasses
The dark color sunglasses have its own benefits. Because of this adaptable color, the materials for handicraft and frame would be more flexible. If you are driving or fishing, the dark color polarized sunglasses will of course be the ideal selection to you. Because the polarized lenses will softer the sun light that comes to your eyes, you will have less intervention and visible effect. The dark color is classic and very practical for use. However, because of the feeling of distance which is brought by the black color, you should keep in mind not to wear too normal when you wear such kind of glasses, or choose any clothes with dark color. If you are wearing a western suit, it is not quite suitable to wear a pair of black sunglasses. You could imagine how dangerous the head of the mob in the movie is. Well, if you want to pretend to be a bodyguard, you could neglect what I have mentioned above. I suggest that you could wear some casual clothes to match your dark color sunglasses. If you are a woman, it is not a bad idea to use laces or add a bow on your clothes to balance the strength and heaviness of the color of black. Try not to pick up the dark color of clothes, the light color will be more acceptable.(https://www.koalaeye.com/collections/eyeglasses)
Make up for dark color sunglasses
The black color of sunglasses will make your face become more three-dimensional, if you wear a heavy make up. That would have negative impact on the sense of coordination. You have to make sure that your image is not too aggressive to others, try to show a tender impression to others. The mild make up combined with the dark color sunglasses will be great balance which will cause the contrast beauty. But if your face is flat, they dark color sunglasses would be helpful to strengthen the style of your face. I also recommend that you could choose to light up your lips with some bright and pure color, they are very good friend to the dark color sunglasses.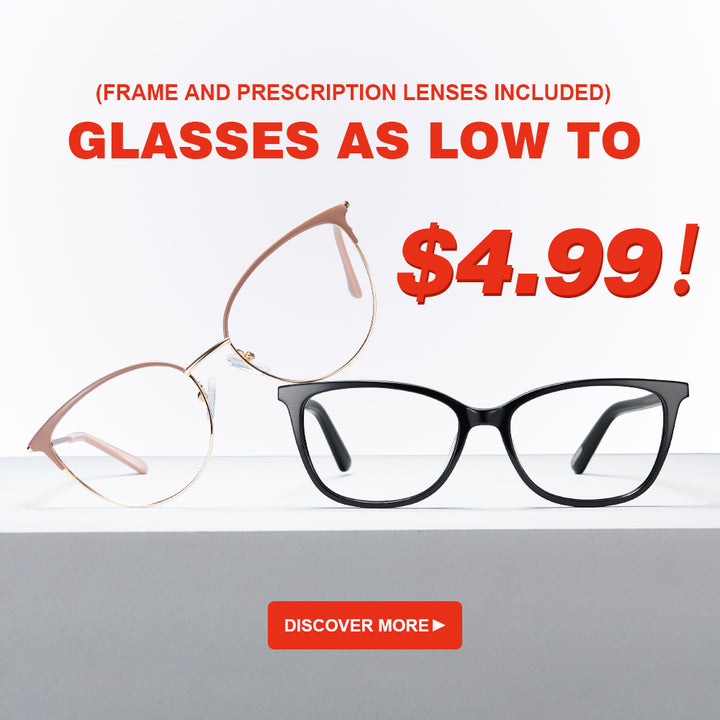 Hairstyle for dark color sunglasses
First of all, you should understand what kind of personality you have, and which hairstyle matches you the most. If you have a classical face, it will be a great idea to put up your hair, combines with the dark color sunglasses. Now think about Audrey Hepburn. You will be easy to make yourself full of romance and femininity. Because of the flexibility of the sunglasses, it is not a problem for your hair. This color could match any color of hair.
Clothes for light color sunglasses
The light color of sunglasses could be very simple and elegant, which is very friendly to the designers. Because they allow a huge space for the designers to develop their imagination on the frames, lenses, materials and colors. From the decoration for inscriptions in Ancient Egypt, the inscriptions decoration, crystal inlay to the hollow carving patterns. The light color sunglasses have maximize the pursuit of the designers for every details. Each details displays the strong sense of art. I recommend the light brown color, yellow or golden color sunglasses and the light color of clothes, or you could also wear a pair of jeans or sports series. But more specifically, you should be ware that no pink color of sunglasses should be worn if you decide to wear blue clothes, because this will unbalance the colors.
Make up for light color sunglasses
You should be sure to have light make-up. Try to use some light gold color to decorate your faces. For lips, you should try to make your lips too bright. You could try some lighter pink, which shows cleanliness and elegance. For the hairstyle, if you have beautiful dark color hair, then choosing the light color sunglasses will be perfect.
Thank you for your time in reading our passage "How to look good in sunglasses?". For more information about sunglasses and eyeglasses, please continue to follow koalaeey.com. Also, it is welcome to share and forward to Facebook and Twitter.