Madeline
Two Tone Glasses Black and White
Oversized two tone glasses frames can match almost any kind of style, from classy to cute. A pair of oversized two tone round prescription glasses are the perfect choice to make a strong first impression. This style is fun and friendly — perfect for projecting the best parts of your personality. The variety of unique oversized eyeglasses we have is extensive. With so many choices, including oversized clear glasses, it can be hard to narrow down which big glasses are the right choice for you. A good place to start is these fashion-forward favorites.
Trifocal vs Progressive Lenses: Which Are Better?
Each type of glasses has advantages and disadvantages. Progressive glasses offer the wearer a youthful-looking eyewear option, and they can be customized for specific use. Trifocal glasses are not customizable like progressive, but instead, come in a few standard configurations. Trifocal glasses offer a wider intermediate viewing area than progressive lenses do. Hence, trifocal glasses could be more comfortable for computer use.
In addition, trifocal glasses are cheap than progressive lenses. So, they tend to be more affordable.
What's more, progressive may be used in prescription sunglasses or in photochromic glasses. Trifocal lenses are mostly used in sunglasses or light adaptive glasses, but these may require a special order.
So, from the above information, you have learned some basic information about trifocal lenses and progressive lenses. As for trifocal vs progressive lenses, you may also have gotten some answers.
Therefore, if you want to buy a pair of trifocal glasses or progressive glasses, you can try Koalaeye Optical. It is an online glasses store, providing all kinds of glasses, sunglasses, and frames. Besides, these glasses are stylish and come at a cheap price. With your great convenience, the package will be mailed for you for free.
What Are Bifocals?
There are several kinds of lenses available in the market. Now, there is a kind of lenses by stacking two different kinds of lenses together and they are called a bifocal lens. Bifocal lenses are lenses with lines separating two different prescriptions. There is a presence of a distance lens at the top and the lower part has a lens that can be used to view the objects placed nearby.
Bifocal lenses are designed for people who have presbyopia, a condition in which the person can't see the nearby placed objects. Presbyopia is an age-related condition, often occurred when people are over 40 and people often have blurred vision.
At the same time, there are different types of bifocal lenses present and they provide the same user which is the lower part of the lens is used to view the nearby objects or to do work related to reading and writing while the upper part of the lens is used to view the objects placed at a faraway distance or to do an activity like driving.
So, in the following section, we will show you the different types of bifocal lenses.
Benefits of glasses
You don't need a special cleaning plan, and they don't require much care. You can choose from a variety of frames to suit your style. If your vision stays the same, you won't need to change your glasses as often. You don't need to touch your eyes to wear them, and in addition, glasses can adjust the amount of light entering your eyes for optimal comfort and vision. Glasses are more powerful modifiers than contact lenses. Glasses are not only used as a tool to correct vision but as accessories. On different occasions, the different dresses should match different frame glasses, reflecting the person's different temperament.
How about Blupond's night goggles?
Unlike regular dark sunglasses, night vision glasses don't block much light and have a higher transmittance than day sunglasses that block sunlight but can barely see at night. The night driving glasses use clear yellow lenses with an anti-glare coating and blue polarized light filters that prevent harmful light from entering the macula and causing degeneration. It works by allowing only the healthiest wavelengths of light to reach the eye and keeping visibility high in the dark, reducing glare.
Colored translucent frame
Colored translucent lenses have been popular since 2016. Some stars like a warm tan lens. Besides translucent lenses, what's popular this year is that the frames are made in a colorful translucent style. Wearing them can automatically cool down. Stella Mccartney 2020 spring/summer sunglasses are designed with colorful translucent material and a thick frame. In addition, a metal chain is added, which is all the popular elements this year.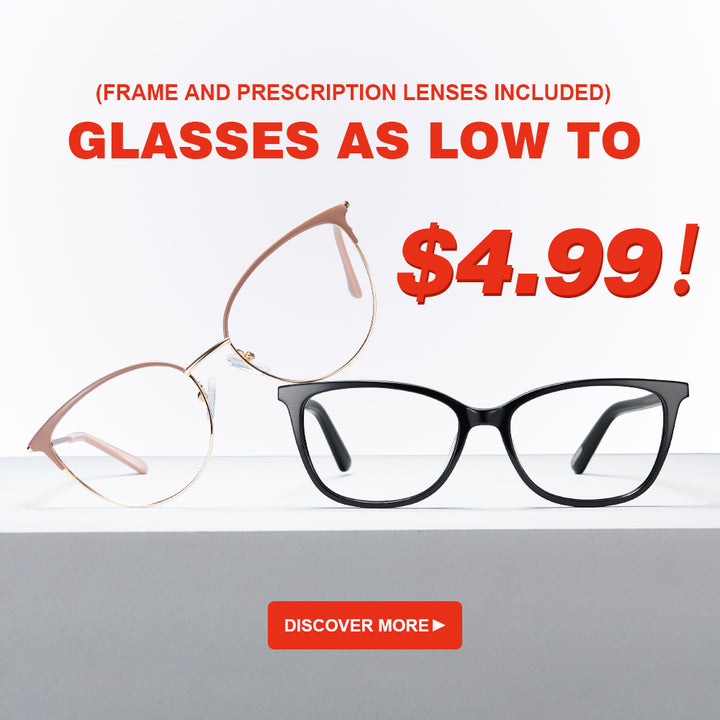 Titanium frame machining is complicated.
The elastic modulus of titanium alloy is small, which is easy to produce large deformation, springback, distortion, and vibration in cutting, resulting in poor geometric shape and accuracy of the workpiece. As the surface roughness increases, the tool wear increases. The thermal conductivity of titanium alloy is poor and its thermal conductivity is small, 1/6 of that of 45 steel, so the high heat generated in processing cannot be effectively diffused. It is even harder to use titanium to make glasses. The frames are very thin and a lot of fine work is demanded. It's definitely a challenge for titanium, which is pretty difficult to work with. In addition, titanium alloy frames involve titanium alloy welding technology, which is more difficult.