In the previous article, we discussed "Why are acetate frames expensive?". In this article, let's talk about "How much should a pair of prescription glasses cost?".
Speaking of glasses, everyone's first feeling may be that it is not cheap to have a pair of prescription glasses. Just such a small pair of glasses, ranging from a few hundred dollars to a few thousand dollars. Why is the difference so big? So some people go online to buy glasses for dozens of dollars as if they look the same. But is it actually the same? There are a lot of differences between the glasses for dozens of dollars and for thousands of dollars, apart from the price. Also, you should be responsible for your own eyes.
Better glasses brands will adopt better designs to ensure beautiful appearance and structural safety, and have stricter quality standards. At first, these glasses are not cheap because the cost has increased a lot. In addition to the brand, different materials, process requirements, and mass production scale will also affect the cost and thus the final selling price. As for the question of what price glasses to choose, my suggestion is to choose the high-priced one within your budget. So, to choose a suitable pair of glasses, what aspects need to be considered?
Optometry for prescription glasses
The key prerequisite for proper glasses is accurate optometry. In foreign countries, professional optometrists are generally required to be qualified to issue prescriptions for optometry. However, this is not very standardized in China. Many optometrists have only been trained for a short period of time and do not have the basic knowledge of ophthalmology. For some complex situations, they may not give a proper prescription for glasses. Therefore, optometry should choose a qualified institution. If you are adolescents, people with high myopia, people with anisometropia, etc., you may need to dilate your pupils for optometry. It is best to go to the optometry center of the hospital for optometry.(https://www.koalaeye.com/blogs/our-stories)
The lenses of prescription glasses
Common materials for lenses include glass, resin, and PC. The glass is fragile and heavy, and few people wear it anymore. PC film is tough and not fragile, but it is not resistant to high temperature and the surface is easily scratched. The most common type of lens on the market today is the resin lens, which is light in weight, hard to break, and reasonable in price. At present, it is generally recommended that you choose resin sheets, and it is recommended that people with ultra-high myopia choose glass sheets.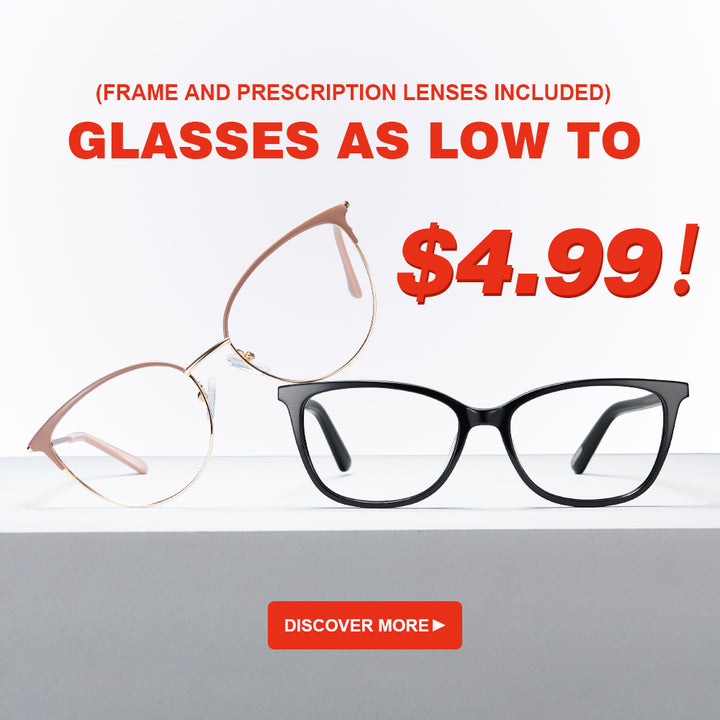 Generally, lenses can be divided into spherical and aspherical surfaces according to different curvature designs. When choosing, refer to the degree of the eye. For people with lower degrees, There are fewer differences between the two shapes. For people with moderate to high myopia, aspherical lenses will have better imaging effects and clearer vision.
When choosing a lens, a parameter that is often mentioned is the refractive index. Common refractive indexes are 1.56, 1.60, 1.67, and 1.74. With the same degree, the higher the refractive index, the thinner the lens.
The frame of prescription glasses
At present, the more common materials for frames are non-metal and metal. Non-metals mainly include TR90, sheet material, etc., and metals include alloys, titanium, and so on. TR90 and sheet material are actually plastics, but they are firm and are not easy be deformed at room temperature. Also, they have good formability so that they can be made in many fashionable styles. The general alloy material has good firmness and flexibility, but the disadvantage is that it is easy to fade. The pure titanium frame is corrosion-resistant and very strong. It is about 40% lighter than the general alloy frame. It must be welded and electroplated in an oxygen-free state, which requires high equipment and technology. Relatively speaking, the price of TR90 and alloys will be lower, and pure titanium will be more expensive. You can choose according to your budget.
The style of prescription glasses
Choose the material, and then choose the style. The width of the appropriate frame should match the distance between the two pupils to ensure that the eye can pass through the optical center when looking at things. Choose the right style according to your face shape. Generally follow the complementarity principle, such as choosing square frames for round faces and round frames for square faces. After choosing the frame, you should try it on for a while to see if the weight is appropriate and the style is suitable.
Thank you for your time in reading our passage "How much should a pair of prescription glasses cost?". For more information about sunglasses and eyeglasses, please continue to follow KoalaEye Blog. Also, it is welcome to share and forward to Facebook and Twitter.