Which face types are suitable for rimless glasses?
Rimless glasses are mainly suitable for round faces, heart-shaped faces, square faces, and other most face shapes. Rimless frames are designed to be light, hence, they ease the wearer's stress, increasing comfort, and providing a wide view. Rimless glasses suit most face types, suitable for people who are short-sighted within 600 degrees. If the degrees are too high, you should not wear rimless glasses. When the degrees are too high, the lens will be suitable for thickening, so rimless glasses will show bloated.
Eyeglass Holder- Cat
It has a universal design for reading glasses for men, women, or children. It's easy to find your glasses in the room. The decorative bracket makes your glasses convenient. You can enjoy a lovely desk or bedside table spectacle frame specially designed to accommodate your reading glasses. The frame has a special slot in the nose that fits perfectly on the arm of your glasses. With this cute and convenient stand, you won't lose or misplace your readers -- it's easy to find on cluttered desks!
Continuous Pursuit of High Quality of KOALAEYE Eyewear
KoalaEye introduced the most progressive Italian glasses research and development technology and professional production line, closed to The times and the market. The Italian professional design team brings the world's top design concept. They insist on using progressive materials, high technology in manufacturing by virtue of Italy's technology. The glasses have been tested for more than 100 beats and ergonomically changed based on different face shapes. They treat each pair of glasses with the same standards as a work of art, making the whole pair of glasses look more sophisticated and special. The product style, quality, and details should be strictly controlled, so that every pair of glasses, no matter what style and material, must belong to high-quality products if it is produced.
How to Choose Glasses for Diamond Face Shape?
After learning the features of diamond face shape, you should know how to choose glasses for diamond face shape. Since there are a lot of pointed features on the face, the best option is to use eyeglasses that have soft rounded curves instead of harshly pointed angles. So, look at the following advice.
Cat eyeglasses: Cat eyeglasses would be a good choice for a diamond face shape. These glasses frames have rounded bottoms so as to hide away the pointed chin and the narrow jawline of the diamond.
Round eyeglasses: Round eyeglasses are also suitable for diamond face shape because the round curve of the glasses hides the sharpness of the pointed chin. Glasses with colored frames are appealing in the case of diamond face shape people.
Design principle of progressive multifocal lens
For the same piece of the lens, the top is used to see far, the bottom is used to see close. The upper and lower degrees are different.
There is not a sudden change in the distance degree fixed above the lens to the near degree fixed below the lens, but a gradual transition between the two through gradual changes in refractive power, which has special benefits over common bifocals or trifocal lenses.
Can I Help My Eyes Adjust New Glasses Quickly
To make your eyes adjust to the new glasses quickly, the best way is to wear them. As long as you are awake up, put on the new glasses and do not wear your old glasses.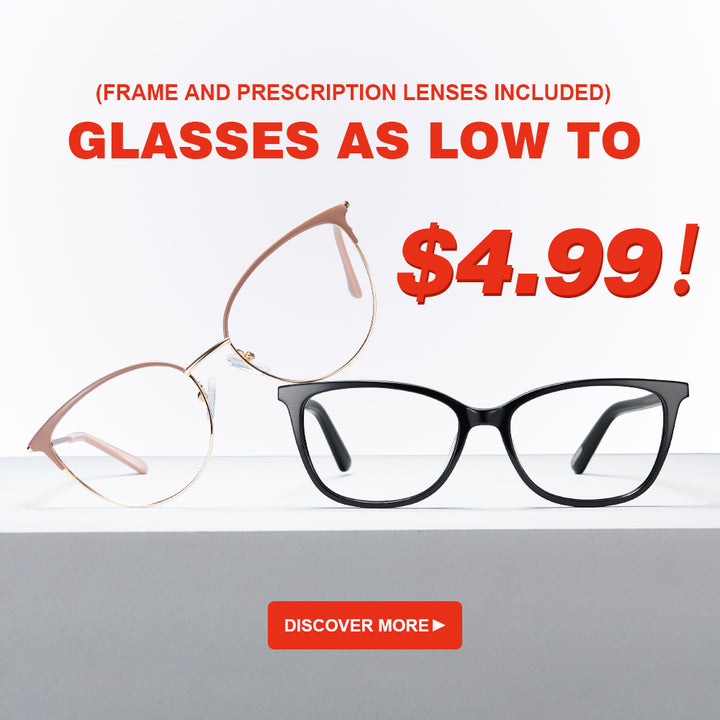 The development of glasses
In 1451, Nicholas of Cusa of Germany invented a lens that was thinner in the middle and thicker at the end to help short-sighted people. In 1727, Edward Scarlett, an English optician, invented modern frames that could be worn over ears and noses. Benjamin Franklin, an American scientist, and philosopher invented bifocals, which divide the lenses into far and near parts. The two lenses are held together by a metal frame. Frame construction has improved over the centuries, and today frames have come in different kinds of styles and designs. Unbreakable lenses were invented in 1955, and in 1971 a new type of lens combining plastic and glass properties was invented.