Choose clear glasses with the right size for kids.
The choice of children's glasses should be based on the size of the child's face and the height of the nose. Most of the bridge of your child's nose is low, so you can choose an adjustable eyewear frame with a separate nose pad to avoid touching your eyelashes or wearing the glasses uncomfortably. If the frame is too small, the field of view will become smaller. The frame is too large, they are not stable, and the weight will increase. So children with glasses frame should be moderate in size.
Can You Put New Lenses in Old Frames?
In this section, we will show you how to replace new lenses with old frames. In general, optical shops will replace the lenses for you if your frames are in good condition and the shapes of the lenses is not too complicated.
So, can you put new lenses in old frames? Of course, you can do that if your old frame is good and shape of lenses is not too complicated.
However, glasses lens replacement depends on the quality of your existing frames, their conditions, and your prescription specifics. Not every pair of sunglasses or glasses for that matter can be reglazed. Sometimes fresh frames are required to match your new lenses. By far the most common reason for this would be because the existing frame is becoming brittle or is otherwise at risk of breaking. There is no point putting beautiful new lenses into a frame that breaks either during fitting or soon after.
In addition, when considering glasses lens replacement, you need to consider the materials of frames. In general, plastic frames are more likely to become brittle with age than metal frames. Of course, there are some other factors to be considered.
Do Blue Light Glasses Work?
When wearing blue light glasses, you may ask whether the blue light glasses really work. In fact, many users have the same troubles. To answer this question, some researchers have made research and have found that blue light glasses make it possible to remain fully engaged in our technologically advanced world, without taking on the negative effects of blue light.
With the blue light blocking glasses, you can focus on the task at hand without negative effects. Besides, with the blue light blocking glasses, you can even sleep well and reduce eye strain. You can also test your blue light glasses are real.
How to Choose Glasses for Square Face?
What glasses suit my face or what glasses suit my square face? If you have the same questions, you come to the right place. This post will show you some advice.
In fact, there is a wide range of eyeglasses available for square faces. Round and oval glasses are the best choice for people with square faces. These frames will soften and balance your strong jawline and add contrast to your face shape.
Now, we will show you some suggestions for the glasses for square faces.
Round glasses: round glasses are a sophisticated, polished look that works well with a square face shape. No matter what color you choose, this style works beautifully with a square face shape.
Browline glasses: as for glasses for square face, you can choose the browline glasses. These glasses are thicker at the top, mimicking the way the eyebrows frame the face. Their unique design is one of the best glasses for square faces.
Don't Do When Cleaning Glasses
Here are something you can't do when cleaning the glasses.
1. Don't use your shirttail, blouse, or other clothing to clean your glasses, especially when the lenses are dry because they will scratch your lenses.
2. Don't use the saliva to wet your lenses.
3. Don't use some surface cleaners to clean your eyeglasses because they may damage glasses lenses and coatings.
4. Don't use some paper to clean your lenses, such as paper towels, napkins, or some tissues. They may scratch or smear your lenses or make them full of lint.
5. Don't try to remove a scratch on your lenses by buffing away. This action can make the situation worse.
How to Choose Reading Glasses?
Choose big frames the first time. When choosing reading glasses, you can choose the big frames for the first time. You may need larger glasses frames or lenses to really get the sweet spot of where the prescription is.
And if you have never worn glasses for eye conditions such as nearsightedness, farsightedness or astigmatism, it is likely you will be able to see well with non-prescription reading glasses. So, you can buy these non-prescription reading glasses.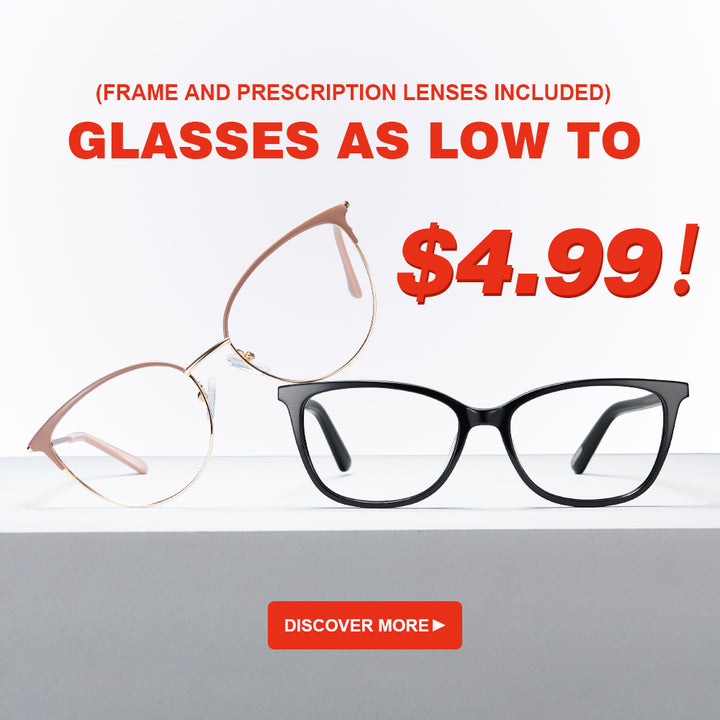 Can you adjust your glasses by yourself?
If your frames are not suitable, adjusting your glasses at home may be easier than you think. You can solve the most common problems in the frame by yourself, but sometimes taking your glasses to an optician is the best thing to do. Of course, if your problem is your lenses, that's something you can't usually fix at home.