How to Choose Reading Glasses?
Find the right power. When choosing reading glasses, finding the right power would be the most important thing. All reading glasses will have signs or stickers indicating their power. In most cases, they will range from +1 to +4 diopter, in increments of +0.25. So, when choosing reading glasses, try the lowest power first.
Test-drive the glasses. If you have brought reading material with you, try reading it at a comfortable length. If you hold the material too far out to be able to read it, you should increase the power. Keep testing the differences powers until can read clearly at the distance that's more comfortable for you.
How to buy glasses that have quality assurance online?
First of all, you need to find a good eyewear online store and determine if there is any discount information. Big glasses usually have preferential information, and there are certain preferential activities. Lenses are very important to us, so the best quality is good. The price can be considered as the average level because low-level lenses are best not to prevent damage to our eyes. The frame is not that important, and it is only used to support the lens. Choose a pair of good-quality glasses for this combination. Optometry is closely related to the quality of the glasses. If it's not accurate, your glasses must be substandard. If your optometry data is good, you will get a real pair of glasses. You need to make sure your optometric data is accurate, which is a process you must go through when wearing glasses online.
When were the first glasses invented?
No one knows when the first pair of glasses were invented, but we do know that the grinding techniques for making simple magnifying glasses have been around since 1000 AD, especially in regions where glasses were already produced (including northern Italy). The earliest artwork of glasses appears in the Treviso Cathedral fresco painted by Tommaso de Modena in 1352. There is reliable evidence that eyeglasses were invented in Italy in the late 13th century. The first pair we think of as eyeglasses appeared in Italian pizza in the late 12th century and looked more like two small magnifying glasses (made of raised glass) riveted together at the top of the handle. In 1266, The English Franciscan Monk Roger Bacon wrote about the scientific principles of corrective lenses, but there is no evidence that he applied this knowledge to the manufacture of eyeglasses.
What Is Bifocal Lens?
Changes in vision seem to be related to age. Presbyopia, a common eye condition that occurs in middle age, causes changes in your eye's ability to focus. But this condition can be corrected by wearing bifocal glasses.
Bifocal lenses are divided into two parts to accommodate two different prescriptions in one lens. One area of the lens will have one prescription (usually distance) and a segment in the lower half will have the other (usually near vision).
The bifocal glasses were invented by Benjamin Franklin, who solved his own vision problem by taking the lens from his reading glasses and distance glasses and cutting them in half. Then remade the cut lenses into a single pair of bifocals and put the distance lens on top and the reading lens on the bottom.
How much are rimless glasses?
Generally, the price of rimless glasses should be determined according to your choice of frame and lenses. Some of the rimless glasses are very expensive. Most of these rimless glasses are reserved for business people. Generally speaking, if it is for business people, the price will be more expensive. But if you just want to match some of the common glasses, rimless glasses' price usually will not be too expensive, about 15 dollars to 30 dollars. But business people's special glasses frame will be about 150 dollars to 350 dollars.
Semi-rimless glasse look more stylish.
Semi-rimless glasses are very stylish and more creative than rimmed glasses. Women looking for the perfect glasses will look more elegant and stylish in these glasses. The semi-rimless glasses are designed to make the wearer look the smartest. They are much better than rimmed glasses because they make you look more creative.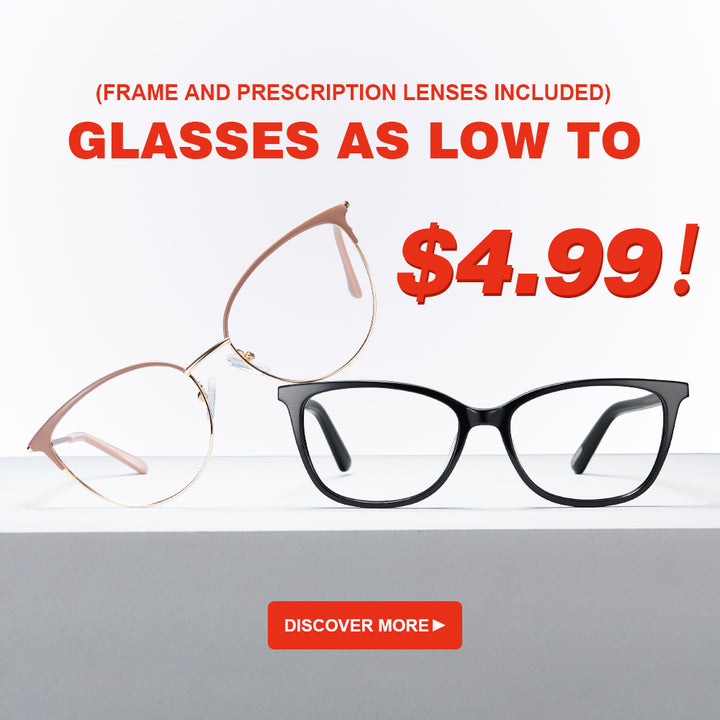 Standard vs Premium Progressive Lenses: What Are Their Differences
In the above part, we have introduced some basic information about standard and premium progressive lenses. So, what are their differences? In this section, we will show them.
Compared with premium progressive lenses, standard progressive lenses require large frames. Otherwise, you will limit your near vision. On the contrary, if you prefer small and less noticeable frames, premium progressive lenses are the better choice.
Compared with premium progressive lenses, standard progressive lenses are cheaper. For most people, standard lenses are affordable.
Compared with premium progressive lenses, standard progressive lenses are suitable for most people including children.
Premium progressive lenses are customized to your eyes and offer a wider viewing area than standard lenses.