Identify reliable online stores
Online stores division of labor has customer service, processing, packaging, warehousing, after-sales service, operation, art, etc. For processing accuracy, although the equipment is now much higher than before, as long as it is artificial, there will be errors. Even with the highest Essilor automatic grinding machine at present, it is possible to produce errors when the center point and the suction cup are manually operated. After processing is completed, a responsible shop will recheck the number. If the error is large, it must be reconfigured. The formal glasses mall can ensure that the true lens and this is the basic point of a good pair of glasses. Find reputable brands that are proven and believed by most consumers. The online shops should have perfect pre-sale and after-sales service. Professional pre-sale service can give professional guidance.
Warby Parker
Warby Parker started the Home optics industry with Home Try On, but the well-known startup's frames are becoming more common. Select 5 frames to test for 5 days and they will be mailed to you free of charge. Try it for five days and see which one you like. You can buy it yourself online. They'll send you a new one.
What characteristics do children's glasses have?
The lens degrees need to change with the degrees of the eye. Because children are still in the process of growth and development, especially preschool children and adolescent children. Preschool is the key period of visual development, and farsightedness is slowly reduced. The eyeball development is close to an adult. Adolescence is the second peak of eyeball development, and myopia is most in this stage and little by little deepens, stopping at the end of adolescence.
The Cons of Progressive Lenses
In this section, we will show you the cons of progressive lenses. There are some problems with progressive lenses especially when walking up and downstairs. Since the reading correction is at the bottom, the stairs may appear closer than they actually are. But this problem can disappear if you have adapted to them.
In addition, all measurements must be exact when creating a pair of progressive glasses. The optical center of the lenses must be placed exactly in front of your pupils in order to the lenses to work correctly.
Also, some people may find that it is difficult to adapt the progressive lenses, and it may take a few days to adapt them.
These are the progressive glasses' pros and cons. If you want to a pair of progressive glasses, Koalaeye glasses are recommended. Koalaeye glasses are stylish and come at a cheap price. Besides progressive glasses, Koalaeye Optical also provides other eyeglasses, such as blue light block glasses, polarized glasses, sunglasses, and so on. So, if you need a pair of progressive glasses, try Koalaeye glasses.
1.67 vs 1.74 High Index Lenses: What Are Their Differences?
In this section, we will show you the differences between 1.67 high index lenses and 1.74 high indexes.
74 high index lenses are thinner and lighter than 1.67 high index lenses.
74 high index lenses are expensive than the 1.67 high index lenses.
Both 1.67 and 1.74 high index lenses can reduce the eye distortion caused by strong prescriptions, 1.74 high index lenses perform better than the 1.67 high index lenses.
As for the color of lens, both come in clear, gray-tinted and brown-tinted, but only 1.67 high index lenses come in Transition brown or gray.
74 high index lenses are better for those looking for the thinnest lens possible. So, patients with extremely strong prescriptions chooses this.
67 high index lenses are better for those looking to save money or those who do not have extremely high prescriptions. They are also the only choice if you are looking to get Transitions.
From the above information, you can find the main differences between these two lenses are price, thickness, weight, color options and general appearance. Most people who choose 1.67 high index lenses generally either do not have an extremely high prescription or are shopping on a budget. 1.74 high index lenses, on the other hand, are the thinnest and lightest plastic lenses currently in existence.
Blue Light Blocking Glasses - Jonas Paul Harper Teen Glasses
If you're looking for blue-blocking glasses specifically designed for teenagers, there's a range of styles for teenage girls and teenage boys (as well as children). They have stylish squares and acetate frames. Including brown Tortoise-shell, purple Tortoise-shell, black, and blue striped. Each pair comes with shatterproof polycarbonate lenses. The spring hinge means increased durability. The nose pad is prolonged to help stay on the tiny bridge of the nose. They provide excellent products and customer service.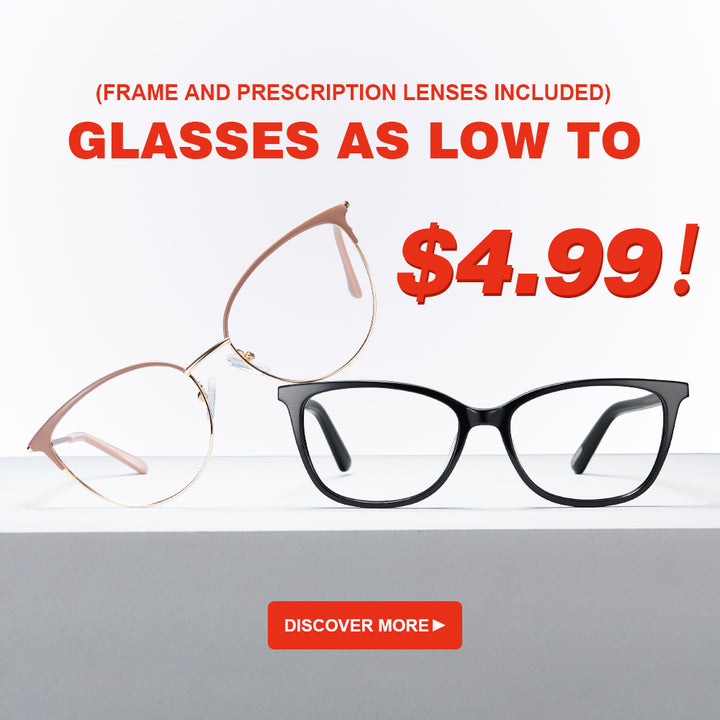 What Are Gaming Glasses?
Gaming glasses are designed for people who play video games on computers or gaming systems. Many gamers and e-sports competitors spend long periods in dark room and the blue light from the screen can affect their eyes. However, if they wear gaming glasses when playing computer games, they can protect their eyes because they provide anti-reflective coating, magnification, and blue light protection.
Gaming glasses with anti-reflective coating helps to reduce glare, which is light that reflects back into your eyes from a digital device. Reducing the amount of glare can help to make eye focusing easier, improve color contrast and potentially increase your reaction time.
Many gaming glasses add a small magnification power to their lenses, which can reduce squinting and eye strain.
The gaming glasses can also help to block blue light and improve your body's circadian rhythm and improve your sleep quality.
So, you can find that gaming glasses are beneficial to your eyes. However, do gaming glasses work?