Can men wear clear frame glasses?
Clear frames are suitable for young men and women, handsome, with personalities. But if older people wear it, they will look old. Clear glasses frame is more stylish with personality, and it is very fashionable but not for everyone. Choose this kind of frame, you should consider the age, face shape, and so on. Clear frames are usually more suitable for younger people because they are younger and more handsome.
Look at the quality of the frame.
Put the glasses flat in front of your eyes, and see if the color of the temples is different in-depth or light under the same light intensity. Sometimes, due to the mistakes in processing, the color asymmetry of the left and right temples will appear.Technology is the quality assurance of the frame, and a frame of fine technology is often reflected in the details.Pay more attention to the welding point near the metal frame to see if there are cracks.
The thermal effect during welding changes the stress structure of the material, or the weld defect, material fatigue, and so on will make it easy to fracture.Attention should be paid to see if the two sides of the stipules of the lens frame are symmetrical and if the fixation is safe.
Benefits of glasses with nose pads
Glasses with nose pads reduce the load on the bridge of the nose and make them more comfortable to wear. In addition, glasses with nose pads can have a non-slip effect, especially for people with a low nose bridge. It will be much more comfortable to choose glasses with nose pads, so there is no need to worry about the trouble of holding the glasses all the time.
RIVBOS Polarized Sports Sunglasses for Driving
TAC Polarizing Lenses - RIVBOS lenses are made from cellulose triacetate (TAC) material. TAC has quality optical properties that prevent the shrinkage of PVA polarized light film and has high strength surface scratch resistance. They help restore the original color, eliminate reflected and scattered light, and provide perfect eye protection. Rivbos frames are made from durable TR90 material. These polarized sunglasses feature flexible, stress-resistant frames that are able to withstand pressure without breaking. Whether it's sports or casual, you can show off your unique style.
How to Test Computer Glasses (Clear Glasses)
First, we will show you how to test computer glasses with clear glasses.
1. Ask for Blue Light Glasses Brand Spectrum Report
To find out whether your blue light glasses are the best computer glasses, you should contact the company you bought them from and ask for a spectrum report. It will show you how much blue light your computer glasses can block.
After sending the spectrum report to you, you should make sure that your computer glasses are able to filter at least 30% blue light, otherwise, they are unsafe.
2. Use the Lens Reflection Test
As for how to test computer glasses, you can use the lens reflection test. You can see what color the light is that reflecting off the lenses.
If it reflects the blue light, they are filtering some blue light. If the reflection is violent or purple, the computer glasses may be not effective.
This is a good way for you to perform a blue light test at home.
Are titanium glasses really more expensive?
Due to its lightweight, corrosion resistance, non-allergic and memory quality, titanium is becoming a new type of glass frame material. But titanium frames are more expensive than other metal, sheet, or plastic frames. Titanium is not a rare metal. It has the fourth-largest reserves after aluminum, iron, and magnesium, and is 16 times more than the world's copper, nickel, leads, and zinc combined. Scarce resources are supposed to have higher prices. With so much titanium in store, why would titanium frames be more expensive than frames made of other materials?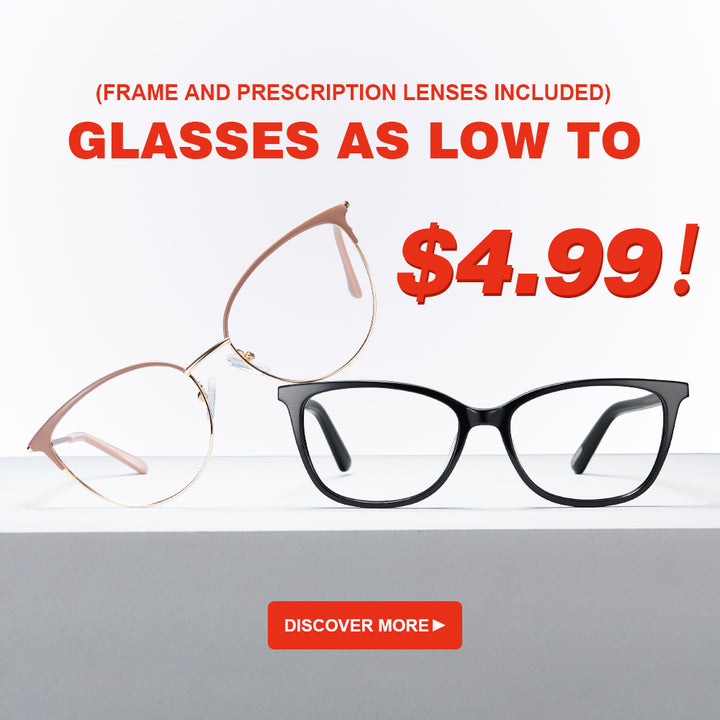 Tortoiseshell frame
Tortoiseshell frame glasses can be said to break connotation completely, and this is a very stylish and slightly exaggerated style. It is recommended that fair-skinned, trendy hairstyle and stylish clothes should be worn by boys. After all, if you want to wear stylish tortoiseshell frame glasses, you need clothes and hairstyles to complement them. And if only wear the tortoiseshell frame glasses may not look good.