Blue light blocking glasses lenses and common glasses lenses have different functions.
Blue light-blocking glasses are glasses that prevent blue light from causing irritation to the eyes. Its main function is to prevent the eyes from being affected by this light and from being irradiated. It is suitable for use in extreme working environments. Blue light-blocking glasses are not for everyone. Special anti-blue light glasses can effectively isolate ultraviolet and radiation and can filter blue light. They are suitable for use when using electronic products. And common glasses are used to improve vision, eye protection, and could solve a variety of vision problems, including myopia, farsightedness, astigmatism, presbyopia or strabismus, amblyopia, and so on.
What kind of frames should children choose?
Children should try to choose silicone when they choose the frame, especially when they are very young. Pay attention to avoid wearing the frame with a nose pad as far as possible. Children are younger and their bones are in the developing period. For anti-blue light glasses, try to wear them when looking at electronic products, and it is best not to wear them the rest of the time.
Progressive lenses and single vision lenses
Single vision lenses are the most widely used optical lenses and are suitable for the general population.
Progressive lenses are suitable for below people.
① Myopia control lenses for teenagers. Progressive lenses are used to relieve visual fatigue and control the development speed of myopia.
② Anti-fatigue lenses for adults. Progressive lenses are used for teachers, doctors, people who use too much computer at close range to reduce visual fatigue caused by work.
③ Progressive lenses for Middle-aged and elderly people. A pair of glasses for middle-aged and elderly people to easily see near and far.
Armani glasses
As a sub-brand of luxury Armani, it is a high-end eyewear brand. It is representative of exquisite quality and noble luxury, and it pays attention to details and displays noble temperament. The handmade frame, superb craft, and workmanship make the charm of the Armani spectacle frame show in front of everyone. The medical environment-friendly silicone nose pad is designed according to the structure of the human nose bridge, which not only fits the nose more but is very comfortable. The prices of the Armani frame are basically around 1500 yuan.
Thornebrook Optical
Founded in 1992, Thornebrook Optical is a full-service optical boutique company. It strives to provide patients with the highest quality of vision care and services. There are endless lens options, including the latest technologically advanced lenses. They use a local lens lab to make prescription lenses. They offer price-matching contact lenses with next-day delivery to most major brands. They help you choose the right size, shape, and color of your frame, and select the latest lens technology for your new prescription. The goal is to improve your vision and appearance through precise prescriptions and the right choice of glasses that suit your vision and lifestyle needs.
How to Test Blue Light Glasses (Amber and Red Lenses)
This section will show you how to test blue light glasses with amber or red lenses.
1. The Black and Blue Squares Test
1. Prepare black and blue paper.
2. Wear your blue light glasses after sunset and check whether both paper appear black.
3. If they do not appear black, your blue light glasses can't block all blue light.
2. RGB Color Chart Test
1. Prepare an RGB color chart as follows.
2. Wear your blue light block glasses and look at the chart.
3. After wearing blue light blocking glasses, if the B section becomes black and the G section becomes darken, it shows that your blue light glasses block blue light and some filter some green light.
4. The less bright the green circle with your blue light glasses, the better they are.
Besides the above ways, you can ask the professional optician to perform a professional blue light glasses test, which would be more reliable. After that, you can know whether your glasses work effectively to block blue light.
What's more, if you want to purchase a pair of effective blue light blocking glasses, you can try Koalaeye Optical. It is cheap and provides free shipping services.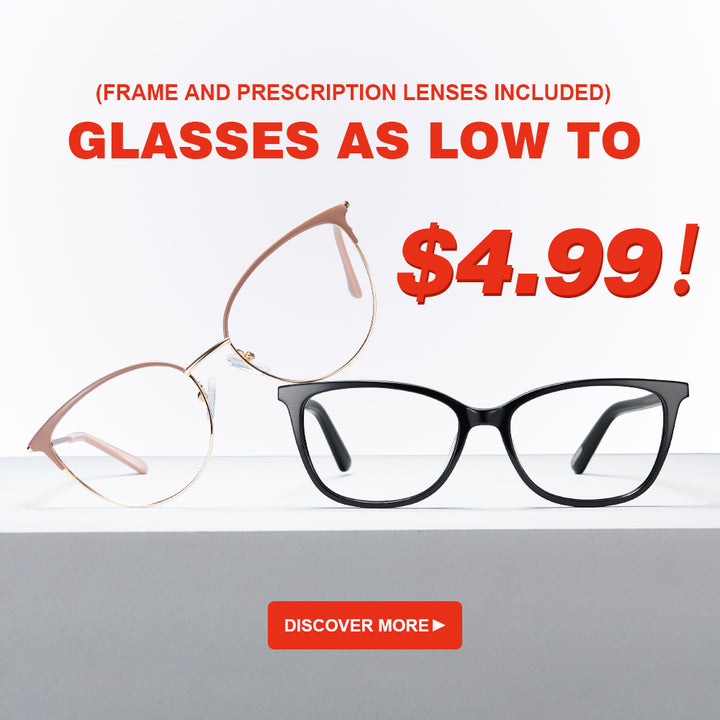 Choose the frame according to the skin color
Generally, people with lighter skin tones are best to choose lighter-colored frames. For darker-skinned people, choose frames with darker colors. For example, people with white skin can choose the frame of soft pink, tortoise color, or golden silver, while people with darker skin color can choose red, black, or tortoise color.