Beta titanium
β titanium refers to a particle titanium material that is completed by delayed cooling at the zero bound point state of titanium and does not belong to the alloy. Practical applications will often be processed into alloys to increase their applicability. Although the purity of β titanium is not comparable to pure titanium, its strength, fatigue resistance, and environmental corrosion resistance are better than pure titanium. It has higher strength than pure titanium and other titanium alloys, and the corrosion resistance is stronger and has better elasticity, It is not easy to deform, and is lighter.
Different Type of Lenses: How to Choose
In this section, we will list some of the lenses for glasses.
Plastic lenses: In 1947, the Armorlite Lens Company in California introduced the first lightweight plastic lenses. The lenses were made of a plastic polymer called CR-39, because it was the 39th formulation of a thermal-cured plastic developed by PPG Industries in the early 1940s. Plastic lenses are light and low cost.
Polycarbonate lenses: polycarbonate lenses were first introduced in the 1970s and they have become increasingly popular anad remained for a long time. Polycarbonate glasses are slighter and significantly more impact-resistant than CR-39 plastic, making them a preferred material for children's eyewear, safety glasses, and sports eyewear.
What Do Trifocal Lenses Do?
Trifocal glasses can provide correction for some eye conditions including presbyopia and cataracts. Presbyopia often occurs in people who are between the age of 40 and 60. People's eyesight starts to deteriorate and they are unable to focus at near. Wearing trifocal glasses can help correct blurred vision, eye strain, and headaches. The trifocal intraocular lens placed during cataract surgery can also resolve cataracts.
From above, you have learned some information about trifocal lenses. But what are the pros and cons of trifocal lenses? So, in the following section, we will focus on the advantages and disadvantages of trifocal glasses.
Why do you need to wear safety goggles correctly?
Eye strain occurs when muscles are tired from strenuous exercise (from tension to concentration), similar to what happens to other muscles in the body from strenuous exercise or overuse. Eyestrain is the result of eye pain and fatigue, often accompanied by headaches. Eye strain has a lot to do with the quality of your glasses. If you wear cheap and inferior safety glasses for hours at work, you will feel uncomfortable. While your eyes won't be permanently damaged by fatigue, it can affect your productivity.
Retro glasses with thick frames
This type of frame is the same as the one above, except that the frame is a little thicker, which is more suitable for students. But be careful not to choose the border that is too thick, otherwise, it will appear rigid and dull.
Understand the impact of frame selection on the lens
Frame size is an important consideration when using progressive lenses because some progressive lenses work better in frames of different sizes. Since progressive lenses allow you to see at all distances, it's important that the whole range of vision fits within the frame. Therefore, very short lenses and larger lenses are not suitable for progressive lenses.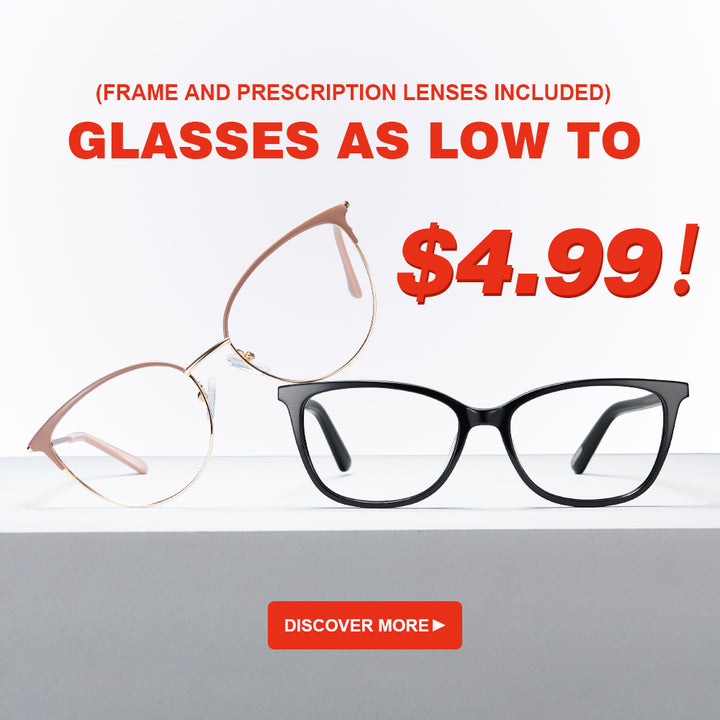 Disadvantages of Progressive Lenses
It takes time to adapt to the lenses. It can generate poor visual resolution (blur). There is also a geometric distortion of the field of view. Some of the problems with advanced progressive lenses occur when walking up and downstairs. Because the reading correction is at the bottom, the staircase may look like a rebound. However, this is all done to accommodate your progressive lenses, and within about two weeks the shortcomings should disappear. It takes some time to get used to progressive lenses. Changes in vision occur at the rim of the lens, leading to slight changes in peripheral vision. For some people, change is a little difficult. Because the first wear of progressive lenses may occur slight dizziness, shaky walking. One should be careful when they exercise or go Up and down the stairs. Because the sense of space changes, the distance judgment of the object, the sense of depth changes, people who first wear should not immediately drive or do strenuous exercise. When looking closely, the eyes need to turn down, they have mild discomfort in the eyes. The object becomes blurry when they look at it through a blurred area around the lens. Therefore, new wearers turn their heads more and turn their eyes less when they see things and try to use the far, near, and middle distance areas to see the object.