The frame of prescription glasses
At present, the more common materials for frames are non-metal and metal. Non-metals mainly include TR90, sheet material, etc., and metals include alloys, titanium, and so on. TR90 and sheet material are actually plastics, but they are firm and are not easy be deformed at room temperature. Also, they have good formability so that they can be made in many fashionable styles. The general alloy material has good firmness and flexibility, but the disadvantage is that it is easy to fade. The pure titanium frame is corrosion-resistant and very strong. It is about 40% lighter than the general alloy frame. It must be welded and electroplated in an oxygen-free state, which requires high equipment and technology. Relatively speaking, the price of TR90 and alloys will be lower, and pure titanium will be more expensive. You can choose according to your budget.
Pure titanium
When the titanium purity reached more than 99% of the titanium metal materials, they can be called pure titanium glasses. Many people may not know what pure titanium is. In reality, many famous brand glasses are made of this material. The frames made of pure titanium have the benefits of high melting point, light material, strong resistance to corrosion, and strong electroplating, to ensure the two important properties of beauty and durability spectacle frames.
Different Types of Progressive Lenses
The short corridor progressive lenses that are designed to fit into small frames. They trade practically for a more fashionable look. Some people have difficulty transitioning to short corridor progressive because of the lens size and vision can feel more distorted sometimes because of this.
Transition progressive lenses are the last type. They are a brand of photochromic lenses. These lenses darken when exposed to UV light to provide shade for your eyes. They operate as a useful alternative to sunglasses.
Aspheric lenses are different from spherical lenses.
Spherical lenses: The higher the strength of spherical lenses, the worse the visual experience, because the spherical lenses do not eliminate aberrations. Aspheric lens: it can greatly reduce the deformation of things and make people see more clearly and vividly. Besides, the eyes are not easy to get tired and the appearance is beautiful. It reduces the aberration of the lens and ensures a clearer field of vision.
When the parameters of the lens are normal, the optical center of the myopic lens is the clearest, and the peripheral part of the lens will be slightly deformed. So now the lens is designed with an aspheric surface. Under normal circumstances, the mainstream aspheric lens in the market has a reduced edge design, which is about 5 to degrees lower. The opposite edge of a spherical lens is higher.
What color lenses are good for driving?
The optometrist reminded us that it is not advisable to choose pink, purple, light blue, and other colors with obvious decoration effects for driving sunglasses. These colored glasses basically cannot protect the eyes. In addition, they may change the color and cause chromatic aberration. Generally speaking, you should wear brown and gray glasses when driving. The brown lens can filter out a lot of blue light, which can effectively improve visual contrast and clarity. The gray lens can absorb any color spectrum in a balanced manner and will not produce obvious chromatic aberration after wearing.
Nowadays, the colors of lenses for sunglasses on the market are dazzling. Many people only consider whether they look good when choosing colors, and do not pay attention to the impact of lens colors on vision. When choosing sunglasses, we should not only pay attention to their decoration but also pay attention to their protective function for the eyes. We should avoid using blue lenses when driving because it will make us unable to distinguish the color of the traffic signal lights.
Can You Get Prescription Gamer Glasses?
Most gaming glasses are not designed to be worn on top of your prescription eyeglasses, but you still have some other options.
You can order gaming glasses with prescription lenses. Make sure the frames are optical grade so they can accommodate lenses of varying thickness.
You can also choose clip-on gaming glasses because they are easy to store and light to wear.
Order daily glasses with anti-reflective or blue-light coating because they can also protect your eyes.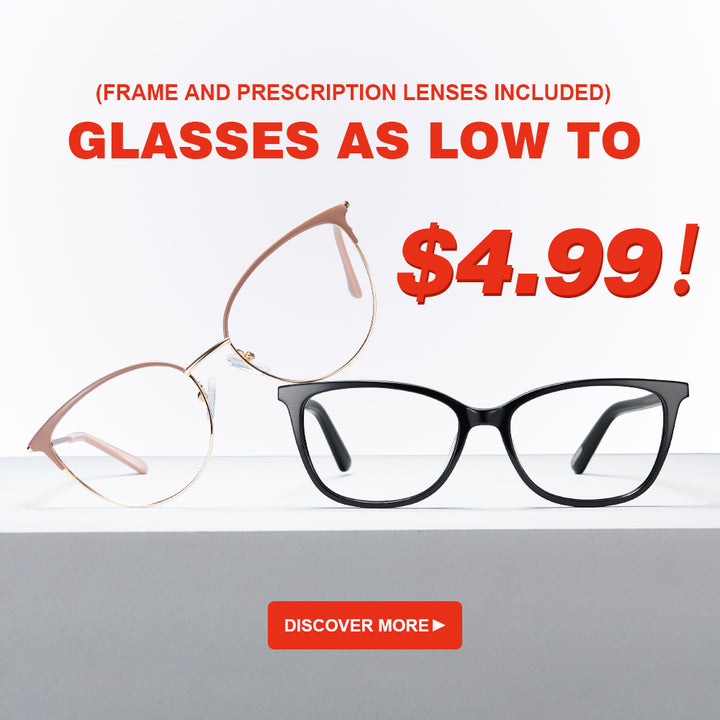 Choose blue light blocking glasses with guaranteed quality.
Because blue glasses is a kind of special care, which requires quality assurance. Wearing the unqualified glasses for a long time not only failed to protect his eyes against the blue glasses but can also lead to decreased vision. In severe cases, physical disorders can occur, causing dizziness, headache, and so on. So choose a big brand, guaranteed blue light blocking glasses, which can truly protect your eyes.