More and more people wear glasses frames, and the style and color of glasses frames broke through the traditional and stuffy model. They began to pursue fashion design and integrate into a variety of fashion elements. Let myopia glasses wearers can not only correct vision but highlight their different style temperament through the wearing of glasses.
OSKIDE night driving glasses
With excellent night vision, this product can provide you with clear vision when driving at night, on cloudy or rainy days. In addition, it can protect you from the sun's harmful rays and bright headlights. Made of durable materials, they are flexible enough to withstand strenuous exercise and high-intensity outdoor activities. Equipped with polarizing lenses, they reduce glare and improve clarity when bright lights may be distracting, so they are perfect for sunny days or night driving. And it has UV 400 UV protection function. It protects your eyes from harmful ultraviolet and blue light.
Superlite titanium rimless collection
The SuperLite Titanium rimless series is provided by super strong titanium, stainless steel, and TR90 acetate plastic, combining all the best glasses in the world. Titanium is stronger and lighter than regular metal, making your rimless glasses more durable and comfortable to wear. Rimless glasses, no matter their shape or color, give people an elegant, mature feeling, and you are sure to find your perfect style here. The SuperLite Rimless Series have a very flexible system for rimless glasses from strength to strength with the new model.
Understand the basic knowledge of prescription of glasses
The prescription mainly includes the refractive status of the eye, degree of correction required, pupil distance, and the purpose of using the lens. Nowadays, there are many brands and varieties of glasses. Glasses are usually classified according to the material, structure, and use of the lens. Most of the glasses in the prescription are classified by structure. Nowadays, single vision glasses and multi-focal glasses are mainly used, and multi-focal glasses include bifocal glasses, three-lens glasses, and progressive multifocal lenses.
Clean Glasses Properly
If the glasses are dirty, don't just wipe them with other cloth. If you use some hard cloth to wipe, it is easy to cause scratches in the lens. Generally speaking, the following cleaning methods are all feasible.
1. Use neutral or alkaline cleaning agent. Remember, toothpaste cannot be used as a substitute for the cleaning agent for spectacle lenses. General optical shops also sell lens cleaners in small bottles, which are easy to carry.
2. Go to the optical shop for professional ultrasonic cleaning. General optical shops provide free cleaning services. The ultrasonic cleaning machine can fully clean every gap and groove of the glasses.
3. Rinse the lens with tap water. Hold the frame in one hand and the cleaner in the other hand. Rub it slowly against the lens, and then rinse it off with clean water. Then wipe it with a glasses cloth or let it dry naturally.
In addition to the glasses cannot be cleaned with alcohol, you should also pay attention to their placement for daily maintenance. Try to avoid putting it under high temperature, and avoid oily, smoke, etc. If you don't use them, put them in the glasses case.
How To Choose Better Night Driving Glasses?
Driving at night has a high accident rate because of poor visibility, blinding headlights, and fatigue. Now the market exists a few main glasses: sunglasses polarizing lenses, Glasses that use or mimic the first generation of patented technology. So how do you compare the options between driving and wearing glasses?
Night driving lens is relatively special compared with daily driving lens, not only to prevent strong light and see the road more clearly. According to the national motor vehicle driver special glasses standards, QBT 2659-2004 daily light transmittance should be more than 8%, night light transmittance should be more than 75%. Be sure to consult customer service. Ask about the situation. Note that a pair of polarized sunglasses are not suitable for use at night, and the light transmittance must reach the national safety standards.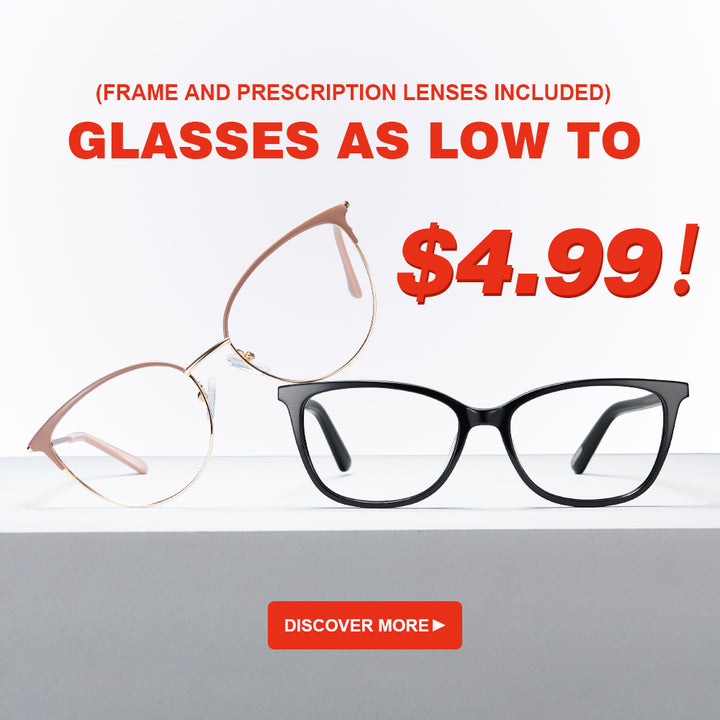 1970 Oversized Square Eyeglasses
Now a lot of designers are giving us cool square lenses because they want to bring back the fashion of the 1970s and 1980s. Each one is timeless and must be tried.