Choose clear glasses with the right size for kids.
The choice of children's glasses should be based on the size of the child's face and the height of the nose. Most of the bridge of your child's nose is low, so you can choose an adjustable eyewear frame with a separate nose pad to avoid touching your eyelashes or wearing the glasses uncomfortably. If the frame is too small, the field of view will become smaller. The frame is too large, they are not stable, and the weight will increase. So children with glasses frame should be moderate in size.
Driving Glasses - KoalaEye
The koala eye driving glasses are stylish, and the material is flexible and elastic. The lens arc fits the face line, which has a very good sense of comfort and balance. Imaging sense is very good, and the color is real and clear. It can effectively relieve eyeglasses eyestrain. Also in the market with excellent quality and simple fashion design, it is loved by the public.
How Do Varifocal Lenses Work?
Varifocal lenses work by changing power from the top to the bottom of the lens. Moving your eyes up and down, the varifocal lens will give you clear vision at all distances you need. This means if you are using a cash machine, you would be able to view the keys, screen, your card and then continue to walk down the street.
How to determine whether progressive lenses are worn correctly?
Once your glasses are back from the lab, the optometrist will let you put them on for an audition and make final adjustments to make sure they fit. If the prescription is not in the center of the lens, it will make it difficult for you to see clearly. The key is that the lenses match the wearer's eyes, especially the pupils. Before ordering a new lens, the optometrist takes two measurements: pupil distance and fitting height.
How to Choose Glasses for Heart Shaped Face?
Wearing a great pair of glasses can make you look more beautiful and fashionable. You want to find a pair of eyewear to correct your vision. Of course, they should be comfortable to wear.
Everyone has their unique style. So, finding a pair of great sunglasses is not an easy job. So, in this post, we will show you some suggestions to glasses for heart shaped faces.
Before proceeding with how to choose glasses for heart shaped face, you need to know whether you have a shaped face. Heart shaped face has some obvious features, such as a broad forehead; high, prominent cheekbones; a narrow jawline; and an angular chin. So, you can check whether you have these features.
However, if you do not know what face shape you have, you can click here to take a reference and have a check.
After checking the face shape you have, we will show you some glasses for heart shaped face.
Should face shape be considered when wearing rimless glasses?
In our life, we will see a lot of people who wear rimless glasses. Compared with full-frame glasses, there is no restriction on face shape and it suits most face shapes. Whether you have a square face, a long face, or a round face, wearing rimless glasses is trendy and beautiful, very popular among contemporary young businessmen and women. Rimless glasses are very easy to wear. No matter what shape your face is, it will feel stylish and beautiful. Rimless glasses are very simple on collocation dresses. And rimless glasses suit most face shapes, so they are suitable for many people.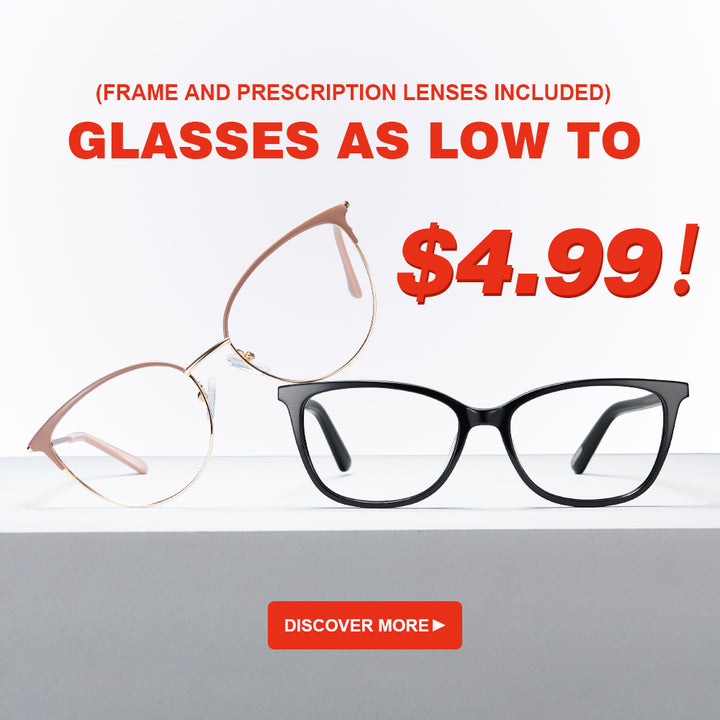 When were the first glasses invented?
No one knows when the first pair of glasses were invented, but we do know that the grinding techniques for making simple magnifying glasses have been around since 1000 AD, especially in regions where glasses were already produced (including northern Italy). The earliest artwork of glasses appears in the Treviso Cathedral fresco painted by Tommaso de Modena in 1352. There is reliable evidence that eyeglasses were invented in Italy in the late 13th century. The first pair we think of as eyeglasses appeared in Italian pizza in the late 12th century and looked more like two small magnifying glasses (made of raised glass) riveted together at the top of the handle. In 1266, The English Franciscan Monk Roger Bacon wrote about the scientific principles of corrective lenses, but there is no evidence that he applied this knowledge to the manufacture of eyeglasses.