Apart from memory metal frames, what other frames are the most durable?
Nylon plastic frames are the most durable frames available. It is hypoallergenic and flexible. But they are easier to break than metal frames, and their overall strength is reduced by sunlight and the aging process. Titanium and titanium alloy metals are used to make some of the most durable frames. Their strength can be compared with that of stainless steel, but titanium frames provide more options than stainless steel in terms of texture, pattern, and color.
What Is Anti Reflective Coating?
Anti reflective coating, also known as AR, anti-glare, no-glare, or glare-free coating, can provide benefits to your vision. Anti reflective coating is added to lenses to reduce glare caused by light hitting the back of the lenses to improve your vision and make your eyeglasses more visually attractive.
Anti reflective coating will eliminate all reflections from the front and back surfaces of your lenses. Hence, more light is able to pass through your lenses which improves your vision. At the same time, fewer distractions are visible and the lenses are hardly noticeable, especially in the dark. So, is anti glare worth it? Most people agree that.
Zeiss lenses
Carl Zeiss AG is a German company that manufactures optical systems, industrial measuring instruments, and medical equipment. The name of the company comes from one of its founders, German optician Carl Zeiss (1816-1888). It was established in Jena in 1846 by Carl Zeiss, Ernst Abbe and Otto Schott.
Zeiss resin lens guarantees up to 99.4% of the lens light transmittance. The naked eye can no longer feel whether the lens is worn or not. So far, only Zeiss, the leading optical industry, can bring such extraordinary extreme effects. Moreover, in order to ensure the good imaging quality of the lens and make the lens longer life, Zeiss also adopted a new coating design, imported from Korea. The unique professional technology is combined with nanotechnology so that they manufacture the good quality of the top lens.
Eyebrow Frame Glasses
The shape of eyebrow frames is somewhat similar to half-frame glasses because the upper half of the frame is made of a loop of wire similar to the eyebrows, which gives it the name eyebrow frame. The style is very fashionable, and fashion seekers may wish to wear a pair.
Glasses with different frames have different characteristics and are applicable to different groups of people. Friends who wear glasses online can choose according to their needs. In short, what suits you is the best. As long as you choose the right frame, you can not only look young but also make you look more fashionable and fashionable.
How to buy contact lenses online?
Choose well-known brands.Nowadays, the contact lens brands in the market are mixed, with the proliferation of inferior products, but there are still some authoritative and well-known ones, like Johnson & Johnson, Bausch & Lomb, which are products recognized by most users, and you can rest assured to buy them.
h3>Types of Colorblind Glasses
Colorblind glasses come in different tints based on the type and severity of color blindness you have. If you have some eye conditions such as short sightedness or long sightedness, you may need a pair of prescription colorblind glasses. If you do not have other vision problems, you may just need a pair of non-prescription colorblind glasses. And the non-prescription colorblind glasses are cheap than the prescription ones.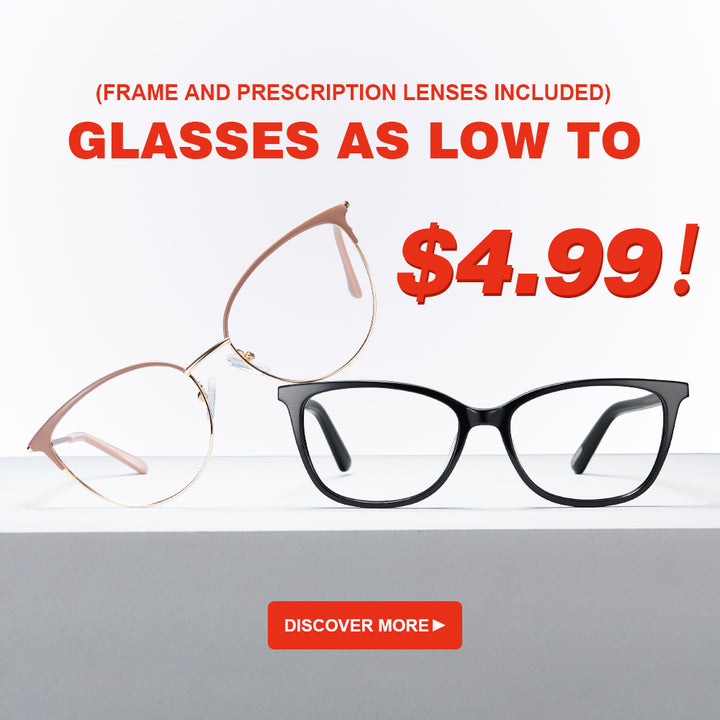 ShadyVEU HD blue light blocking Glasses
The anti-reflective yellow and amber lenses are the best choices for outdoor vision protection, as they reduce high-intensity glare from bright lights (headlights, LED signs, etc.) at night. They are suitable for daytime driving with a clear vision, especially in low light conditions such as rain, haze, and winter. Yellow and amber-colored lenses help block out our computer screens, smartphones, games consoles, tablets, and TVs, helping to prevent melatonin suppression and thus helping wearers fall asleep faster.
They are suitable for sports, hunting, fishing, cycling, work, practical and construction work, day driving, night driving, bright days, snow days, and low light conditions.