What Are Non-Prescription Glasses?
Nowadays, many people wear glasses for a variety of reasons and not just for vision problems. In fact, many people wear non-prescription glasses as a fashion statement. This trendy accessory can make you more fashionable.
What are non-prescription glasses? It is important to note that the non-prescription glasses have no corrective power, while non-prescription reading glasses offer some level of magnification, enlarging what you see up-close.
If you don't have a vision problem, wearing Plano glasses shouldn't be a problem since they will neither damage your eyes nor cause structural issues. Some non-prescription specs, such as the type that blocks damaging blue light, can actually be beneficial to your eye health.
What Are the Benefits of Non-Prescription Glasses?
In this part, we will show you the benefits of non-prescription glasses and show you what you need to know before buying the non-prescription glasses.
Protection: the non-prescription glasses would provide protection for your eyes from dust, direct sunlight, and computer radiation. In addition, these glasses would have to be enhanced with special coatings.
Fashion: Wearing non-prescription glasses enables you to look more fashionable. The best part is that you can select a pair of non-prescription glasses that have the features you prefer. Besides, many frames are made from high-quality materials that make them durable. They are comfortable and lightweight, which everyone can appreciate. Non-prescription glasses are also available in a variety of sizes, shapes, colors and styles so there will always be something that matches your needs and even your personality.
Apart from memory metal frames, what other frames are the most durable?
Nylon plastic frames are the most durable frames available. It is hypoallergenic and flexible. But they are easier to break than metal frames, and their overall strength is reduced by sunlight and the aging process. Titanium and titanium alloy metals are used to make some of the most durable frames. Their strength can be compared with that of stainless steel, but titanium frames provide more options than stainless steel in terms of texture, pattern, and color.
Can night driving glasses prevent blue light?
Night driving glasses are called night vision goggles. Some night-driving glasses have anti-reflective coatings. Night driving glasses reduce glare by scattering and filtering blue light. Blue light is the shortest wavelength in the spectrum and is possible to cause glare when it enters the eye. The night driving glasses, available in colors from yellow to amber, filter out a lot of glare, and other light, and then make it difficult to see in dark conditions. But tests and studies have shown that night driving glasses don't improve night vision or help drivers see pedestrians faster than they won't wear them.
Are progressive lenses expensive?
The PAL tends to be more expensive than other lenses because you are definitely combining three lenses into one. Digital PAL is more expensive, but they are more personalized and specific to your size. This is key to providing the best visual experience. The cost of progressive lenses depends on several factors, including your prescription, the brand of glasses you choose, and other factors. However, you must remember that one progressive lens can replace multiple pairs of glasses, which can save you money in the long run. The price of progressive multi-focus glasses is different with different styles and different brands, from more than a hundred to thousands of yuan. We must choose according to our own economic situation.
How Do Progressive Lenses Work?
How do progressive lenses work? You may have this problem. As is well known, when you are over 40, your vision begins to deteriorate and you may suffer the presbyopia condition. So, with the progressive lenses, you can see at all distances with one pair of glasses. They start with your distance prescription at the top of the lens and increase as you move toward the bottom of the lens.
Then you move your head position to allow you to focus through different areas of the lens. Move your head upwards to see something in the distance, hold it straight for intermediate or arm's length vision and down for near vision for objects that are close up.
In addition, progressive lenses avoid the visual discontinuity or image-jump when your eyes shift from one zone to the other in non-progressive multifocals since there are no distinct lines in progressive lenses.
How do bifocal reading glasses work?
Bifocal reading glasses have two different lenses on the same lens. The top of the lens is your normal distance prescription, while the bottom is for close-up viewings, like reading. The two lenses allow you to alternate between them by moving your eyes up and down as needed. A bifocal lens is a type of lens that has two different areas of vision: one for close range and one for long-range. Typically, the upper section covers remote vision and the lower section covers reading. With a traditional bifocal lens, you can see the difference between the two lenses because the lower curve is a little different.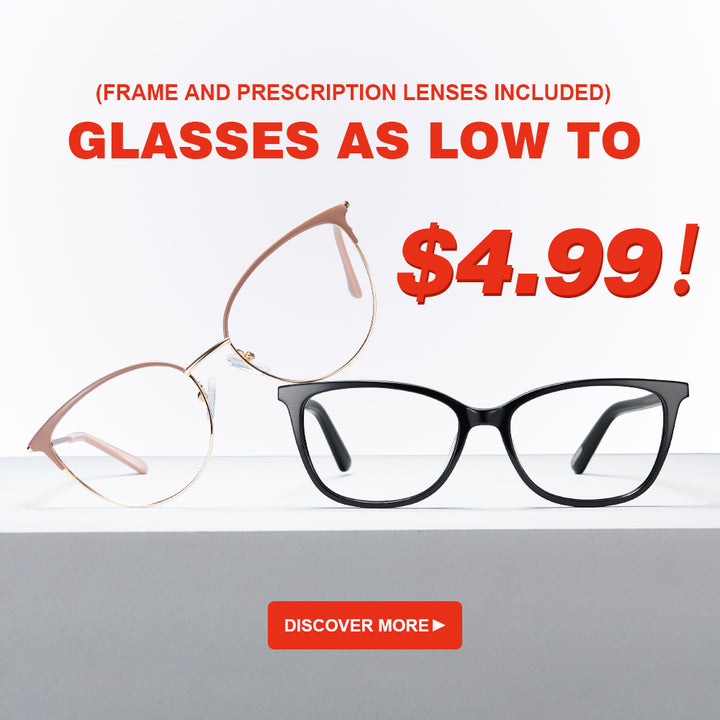 Are titanium glasses really more expensive?
Due to its lightweight, corrosion resistance, non-allergic and memory quality, titanium is becoming a new type of glass frame material. But titanium frames are more expensive than other metal, sheet, or plastic frames. Titanium is not a rare metal. It has the fourth-largest reserves after aluminum, iron, and magnesium, and is 16 times more than the world's copper, nickel, leads, and zinc combined. Scarce resources are supposed to have higher prices. With so much titanium in store, why would titanium frames be more expensive than frames made of other materials?