What are the characteristics of a titanium frame?
The so-called pure titanium, titanium refers to the purity of more than 99% of the titanium metal materials. To tell if a pair of glasses frame is pure titanium, we look at its purity. Because of the high melting point of titanium, lightweight, strong corrosion-resistance, used for the frame, they can wear for a long time, and will not let the bridge of the nose have a sense of pressure. But its disadvantage is that the material is soft, and only the relatively rough frame lines are made to ensure the stability and strength of the frame. Titanium frame has the advantages of corrosion resistance, acid and alkali resistance, high stability, good elasticity, good toughness, not easy to deform and fade. General glasses frame contains copper, so when we wear for a long time .it will produce verdigris, namely, copper sulfate. It is a toxic substance and is harmful to the human body. Because pure titanium tends to be soft, copper has to be added to make the frames more stable, which is why the frames have to be replaced over time.
How to Combat the Photophobia?
Photophobia can't be completely prevented, but it can be managed. So, you can try the following suggestions.
Wear photophobia glasses, computer glasses, or glasses for light sensitivity.
Choose natural lighting for indoor settings when possible.
Consider vision therapy.
Seek medical attention if symptoms worsen.
So, from the above information, you can find that you can wear photophobia glasses to relieve the photophobia. What are the benefits of photophobia glasses.
5 Unbreakable Eyeglasses Frames
In this section, we will list the most durable eyeglasses frames and we will introduce them one by one.
Titanium: One of the most durable eyeglasses frames is the titanium eyeglasses frames. It is lightweight, strong, and flexible. So, titanium eyeglasses frames have lots of fans in the eyeglasses market. In addition, pure titanium is hypoallergenic. But, due to these features, titanium eyeglasses frames are expensive than other frames.
Stainless steel: Stainless steel frames have some spring in them, which resists breakage. Stainless steel also resists corrosion, giving it a longer life. However, stainless steel eyeglasses frames may be hypoallergenic, depending on the alloys used.
Nylon: many people like athletes like nylon frames because they are flexible, lightweight and unbreakable - at least in the short run. However, nylon frames may become brittle over time, which is something to think about.
Kevlar: kevlar eyeglasses frames used in bulletproof vests can survive strong impacts, making them a good choice for contact sports and high-risk jobs. It does not have a lot of flex, limiting its applications.
Flexon: besides the above unbreakable eyeglasses frame, we will introduce another brand-name metal - Flexon. Flexon has a unique capability for springing back to its original shape after it gets twisted and they are called memory metal.
Martinez Eye Associates
Optometrists and the Optometrists Association team are committed to providing the best optometry service. They invite you to visit their website. Martinez Eye Associates is a full-service eye and vision care provider based on personal attention and professional care. They are dedicated to providing the highest quality of eye care from infants to seniors. Online contact lens stores offer very competitive prices. They ship directly from the manufacturer within 3-5 business days. They are committed to providing high-quality optometry services in a comfortable environment.
The safety role of glasses
Labor protection glasses can help professionals to prevent accidental injuries while working. The main role is to protect the eyes and face from ultraviolet, infrared, and microwave electromagnetic radiation, dust, metal and sand debris, and chemical solution sputtering damage. Many young people like to play computer games, so the eyes are easy for to occur myopia, but radiation glasses can reduce radiation. Chemical solution protection glasses are mainly used to protect eyes from chemical damage caused by irritating or corrosive solutions.
Palo Alto
They are not heavy. The glasses are not heavy at all and robust and are well-suitable. The prescription is perfect. These rimless metal glasses have a bronze finish and a perfectly rounded lens. The slender metal arms finish, and the turtle arm tips and spring hinges, make the glasses simple but stylish.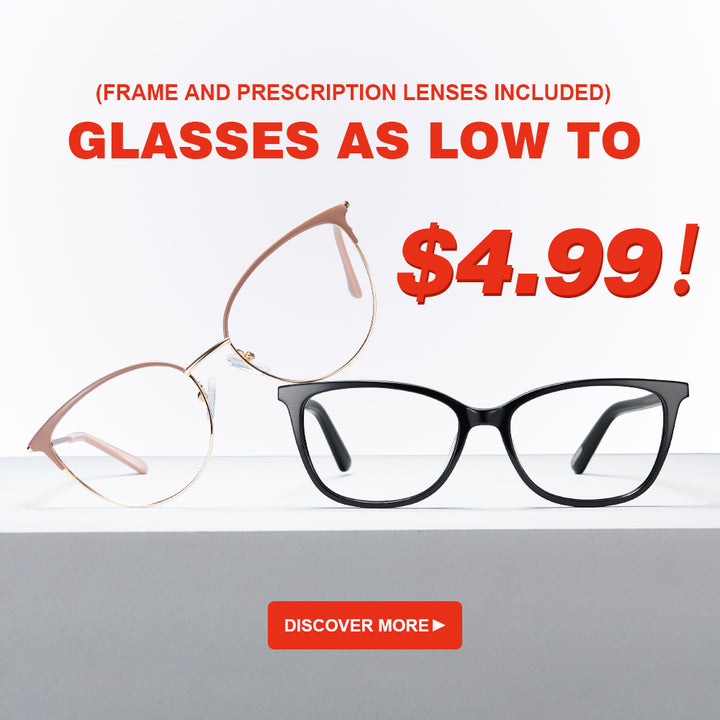 Glasses are frequently replaced.
In the United States today, there are more glasses than people. Counting prescription glasses, sunglasses, and over-the-counter readers, there are now more than 400 million pairs on the market. According to the Vision Council, an industry group, they swap out a brand new pair of glasses every two years on average.