The Price of Progressive Lens
On both sides of the lens of the progressive lens, some places are deformed, which makes the image blurred. In addition, it has a narrow field of view in the near and middle distances. The narrow focus point for a long time can easily make the eyes tired. It is suitable for the alternate vision of far, middle, and near. Under normal circumstances, the price of the progressive lens is different from the purchase merchant, region, brand, and quality, but the price of the progressive lens on the official website is between 30-85 US dollars. Of course, some products will be less than $30, or more than $85.
Choose Quality Merchants
Online shops are of all kinds, from different parts of the country. We need to find a professional and reputable shop, with the help of some small skills. For example, from the purchase of some users of the use of evaluation, store credit rating, store introduction, and other aspects, we determine the overall situation of the store and finally buy in this store.
Disadvantages of polarized sunglasses
Polarized sunglasses have many benefits. However, in some cases, non-polarized lenses are a safer choice. On cloudy days, drivers find that non-polarized sunglasses are better than polarized sunglasses due to the lack of glare and extreme sunlight.
Driving with polarized lenses after snowing can be dangerous for drivers. As the glare of polarized sunglasses is blocked, ice or snow on the road will not be visible. In this case, the advantages of polarized sunglasses will become the disadvantages that may cause accidents.
In addition, when driving along a dark road with few street lights at night, wearing polarized lenses will make it harder to see the road conditions because they dim the available light better than non-polarized glasses. Of course, in low-light conditions, it is best to avoid wearing sunglasses completely while driving.
The most significant disadvantage of polarized sunglasses is that they do not perform well on digital screens and displays. They can cause the images and information on the LCD screen to blur or disappear at certain angles. Don't wear polarized sunglasses to use these devices while driving.
American Eyewear Brand - Oakley
After years of experience in design, production, and market demand, they use high-tech and intelligent crystallization to create a series of high-performance fashion glasses. All Oakley glasses series are manufactured, inspected, and packaged in the United States to ensure the absolute quality of Oakley glasses. Oakley's fashion is a fascination with innovation, a burning passion to challenge all the rules. It first showed us this kind of passion with the collection of premium sunglasses.
How to Choose Glasses for Diamond Face Shape?
After learning the features of diamond face shape, you should know how to choose glasses for diamond face shape. Since there are a lot of pointed features on the face, the best option is to use eyeglasses that have soft rounded curves instead of harshly pointed angles. So, look at the following advice.
Cat eyeglasses: Cat eyeglasses would be a good choice for a diamond face shape. These glasses frames have rounded bottoms so as to hide away the pointed chin and the narrow jawline of the diamond.
Round eyeglasses: Round eyeglasses are also suitable for diamond face shape because the round curve of the glasses hides the sharpness of the pointed chin. Glasses with colored frames are appealing in the case of diamond face shape people.
The taboos of wearing glasses while driving at night
Night driving members should not wear tawny, green, and gray glasses. Tawny glasses can filter out most of the ultraviolet rays, although can make our eyes feel relaxed but easy to make people sleepy. Green glasses will turn red lights into black, directly affecting our judgment of traffic lights, so there is a great safety risk. Grey glasses, due to their low light transmittance, will weaken our line of sight and affect our observation of the road.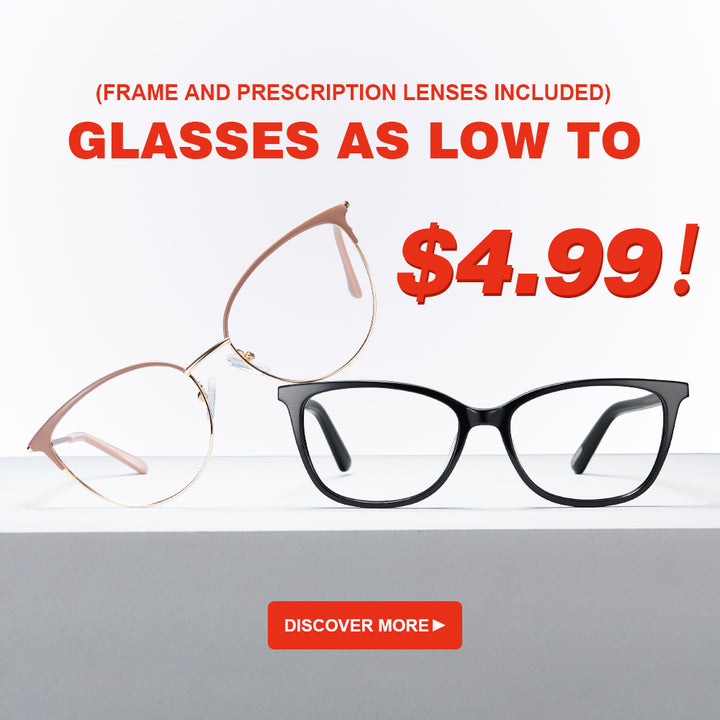 Can you adjust your glasses by yourself?
If your frames are not suitable, adjusting your glasses at home may be easier than you think. You can solve the most common problems in the frame by yourself, but sometimes taking your glasses to an optician is the best thing to do. Of course, if your problem is your lenses, that's something you can't usually fix at home.