Do clear frames make you look older?
Men wearing clear frame glasses don't look old if the choice suits their own frame is good. Although it is often said that round faces are better for angular frames, while a solid face is better for rounded frames. But you can't generalize about face shape and frame. The best way is to go to the store to pick up the style of the frame to try on. Make comparisons before making a decision. The clear glasses frame style is very unique, if you like, you can try.
How To Choose Better Night Driving Glasses?
Driving at night has a high accident rate because of poor visibility, blinding headlights, and fatigue. Now the market exists a few main glasses: sunglasses polarizing lenses, Glasses that use or mimic the first generation of patented technology. So how do you compare the options between driving and wearing glasses?
Night driving lens is relatively special compared with daily driving lens, not only to prevent strong light and see the road more clearly. According to the national motor vehicle driver special glasses standards, QBT 2659-2004 daily light transmittance should be more than 8%, night light transmittance should be more than 75%. Be sure to consult customer service. Ask about the situation. Note that a pair of polarized sunglasses are not suitable for use at night, and the light transmittance must reach the national safety standards.
Where to Buy Cat Eye Glasses?
Do you know where to buy the cat eye glasses or prescription cat eye glasses? To buy cat eye glasses, here is a choice for you. You can choose to buy them from Koalaeye Optical, which is an online optical store. It provides all kinds of eyeglasses, sunglasses and frames, such as blue light blocking glasses, progressive glasses, polarized sunglasses, and so on. It also provides cat eye glasses and prescription cat eye glasses.
Besides, Koalaeye Optical offers different colors of cat eye glasses. So, you can choose the best one for you. In addition, Koalaeye Optical provides free shipping service.
Seek adjustment in stores
It occurs redness and pain in the ear area. It could be that the structure of the glasses and position doesn't suit your face shape. When you're in an optician's shop, ask an optician for help in adjusting your glasses or changing the frames. Think about if the frames fit or are a little heavy. Suggest you can change to another pair. You should try a suitable and not heavy frame. You go back to the eyewear store and ask a professional to shape your frame in accordance with the outline of your ears again carefully. If you feel a little uncomfortable when you try it on, adjust it.
New Fashion Police Men's Polarized Sunglasses Driving Glasses
They have high quality. The lens material is a polarized lens. The frame color is silver/gold/brown/black and the visibility rate is 99(%). UV protection rating is UV400,with 100% UV protection. They are suitable for driving, fishing, daily leisure.
Most accidents happen at night and before dawn, which has a lot to do with glare and the problem of many people having blurred vision in the dark. Every driver knows the trouble of driving at night: glare, bright reflections, and bright lights from oncoming traffic. In addition, poor visibility at night can make driving tiring and dangerous!
How Do Bifocal Glasses Work?
After learning some basic information about bifocal lenses, you should know how the bifocal glasses work.
With a pair of bifocal glasses, it would be convenient since they combine all your vision needs into a pair of glasses and you do not need to switch two pairs of glasses frequently. Bifocal glasses are usually designed to for those people who are over the age of 40-45 that need additional help with their near vision due to the effects of presbyopia where the crystalline lens inside the eye naturally begins to lose its ability to focus on near objects.
If you work in the office, you may need a pair of bifocal glasses. The top distance vision in the top of the lens can be used for meetings or presentations and the near vision in the bottom of the lens can be used to look at the computer screen or at documents.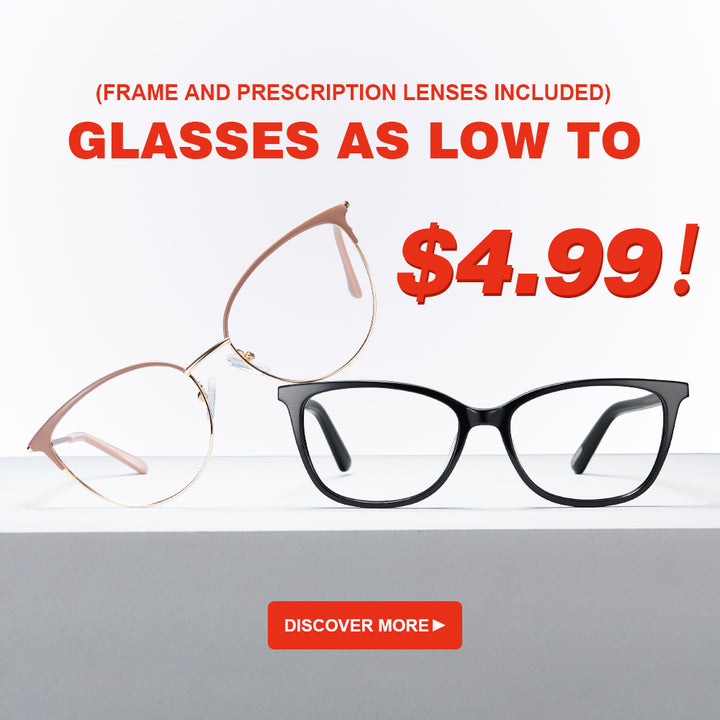 Do I need to buy anti-blue light glasses?
Nowadays, mobile phones and computers are used more and more frequently. Whether at work or in life, it is hard to imagine what life would be like without these electronic products. It is impossible to protect the eyes without using these products. Especially on mobile phones, the current LED screen technology has gradually replaced LCD screens, and the self-luminous characteristics have also caused serious fatigue to the eyes, and there is no need to say that blue light is harmful to the eyes. At present, the truly harmful blue light is the wavelength. In the blue light of 400 to 440 nanometers, this blue light easily causes eyesight fatigue. In the case of heavy use, try to reduce the damage to the eyes and protect the eyes, which is also the main reason for motivating consumers to buy anti-blue glasses.