How Do Progressive Lenses Work?
How do progressive lenses work? You may have this problem. As is well known, when you are over 40, your vision begins to deteriorate and you may suffer the presbyopia condition. So, with the progressive lenses, you can see at all distances with one pair of glasses. They start with your distance prescription at the top of the lens and increase as you move toward the bottom of the lens.
Then you move your head position to allow you to focus through different areas of the lens. Move your head upwards to see something in the distance, hold it straight for intermediate or arm's length vision and down for near vision for objects that are close up.
In addition, progressive lenses avoid the visual discontinuity or image-jump when your eyes shift from one zone to the other in non-progressive multifocals since there are no distinct lines in progressive lenses.
The Role of Fishing Sunglasses
The special effect of the polarized lens is to effectively eliminate and filter the scattered light from the beam. In general, a polarized lens can arrange all the light in the same direction, so that the visual field is clear and natural. It also blocks ultraviolet light, reducing damage to the eyes and clearing out blinding light. Fishing glasses have the function of polarized light, so they can block all harmful light without affecting the transmission of visible light, which can really achieve the function of eye protection. In addition to the basic anti-ultraviolet function, fishing glasses also have the functions of anti-glare, reducing pavement reflection light and water scale light, etc., suitable for driving, fishing, tourism, and daily wear.
The safety role of glasses
Labor protection glasses can help professionals to prevent accidental injuries while working. The main role is to protect the eyes and face from ultraviolet, infrared, and microwave electromagnetic radiation, dust, metal and sand debris, and chemical solution sputtering damage. Many young people like to play computer games, so the eyes are easy for to occur myopia, but radiation glasses can reduce radiation. Chemical solution protection glasses are mainly used to protect eyes from chemical damage caused by irritating or corrosive solutions.
Semi-rimless glasses
With a half-frame design, the retro round glasses can be paired with a very thin metal frame, indicating the literary and elegant temperament. The frame with only the upper part of the lenses circle covering the lens integrates lightness and steadiness, highlighting the sense of fashion, not only shows the wisdom of business elites but the natural and free affinity. They are not heavy and relatively firm. It is suitable for different kinds of occasions. It can be used for business occasions, leisure occasions, and parties. It is stylish and composed, reflecting the quality of life.
How Do Progressive Lenses Work?
In this section, we will show you how progressive lenses work. With digital progressive lens, there are dozens of incremental prescriptions between the distance and reading sections. You have to point your nose at what you are looking at. However, it is difficult for some people to get used to the progressive lenses and it may take some time to adapt to them. You can read the post: How long should it take to get used to progressive lenses to learn more.
Because progressive lenses work like how your eyes do, many people prefer them over bifocals. They also have more lens options such as colors and materials than bifocals, so they are becoming more popular.
Alloy glasses frame
Spectacle frames made of the alloy have relatively high hardness, are more resistant to friction, are not easy to fade, have a better texture, and are made of more styles, which are essential for fashionistas.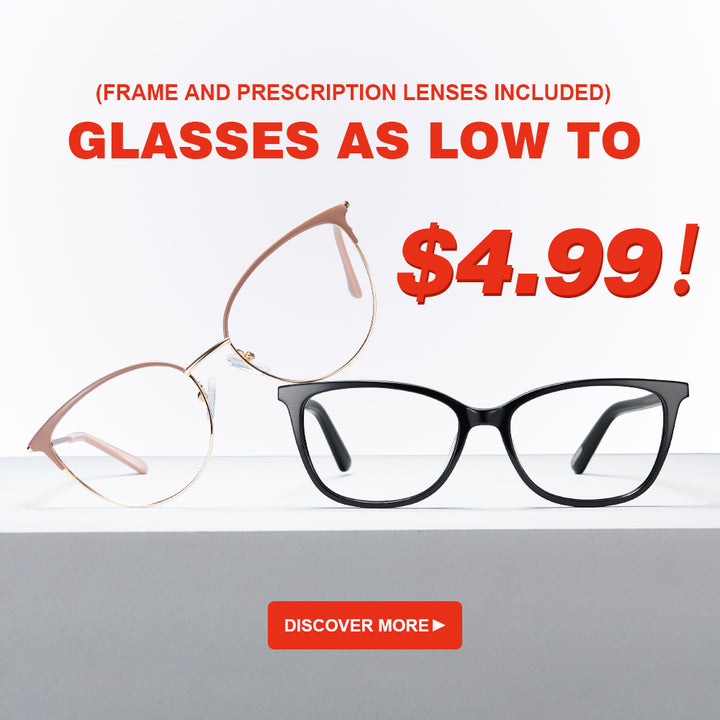 Is it safe to buy contact lenses online?
Today's optometry is not a simple measurement of your degree. Through some professional instruments, they check the health of your eyes to see the health of your eyes. Is it appropriate to wear contact lenses at present? If there is inflammation in the eyes, it is forbidden to wear contact lenses, and if you wear them, it will cause harm to the eyes. If you buy online, you can't enjoy professional eye examination, try on, test, and other professional inspection and matching services that you can enjoy in professional stores, nor can you enjoy professional wearing and nursing guidance from professional staff. People often overlook eye problems that may result from the wrong choice of contact lenses, which are often overlooked by consumers.