The Cons of Rimless Glasses
As there is no frame around your glasses lenses, the rimless glasses may be more likely to break. If you are not very careful with your glasses, you may have to replace them on a constant basis.
Rimless glasses are higher than other framed glasses because of the details that go into this style. In fact, the rimless style needs more work and time. So, making this kind of style is more time-consuming. So, rimless glasses are expensive than framed glasses.
From the above information, if you like rimless glasses, you can try them. Thus, you can buy them from Koalaeye Optical, which is an online store and provides all kinds of glasses, sunglasses, and frames. So, try Koalaeye glasses and the glasses will be mailed for you with your great convenience.
How To Choose Better Night Driving Glasses?
You should select light alloy material and polymer material with memory, collision resistance, and low friction coefficient characteristics. It can effectively prevent the damage to the eyes and face caused by the friction of the broken lens frame during use. Because of its specific molecular structure, the chemical resistance is good. In the high-temperature environment. it is not easy to deform and can withstand 350 degrees in a short time of high temperature, not easy to melt and combustion. The glasses made of this material are light and strong, and the ears will not be uncomfortable because of wearing the glasses for a long time.
The lens material
Lens material affects the effect of protecting our eyes, so we should choose the kind of driving glasses made of polarized lens, which can effectively reduce the dazzling lights, and can filter out the redundant lights. When used at night, the powerful light is softened and the vision is clearer, thus ensuring the safety of drivers and relieving eye fatigue. If you can, let the seller dim the light when you buy, feel the softness and clarity of the light after wearing the product.
Bifocal Lens
Bifocal lenses have two observation areas separated by visible lines, a larger observation distance area, and a smaller reading area. It may take some time for people who are wearing bifocal glasses for the first time to get used to the lenses. This is mainly due to learning how to move the eyes between the observation distance area and the reading area. Some people will also find that there will be an 'image jump' phenomenon at the visible line between the distance and the reading area, especially for those with limited mobility, who must look down when walking. The best way to get used to bifocals is to wear them as much as possible.
What Is Polycarbonate Lens?
Polycarbonate was invented in the 1970s for aerospace applications and is currently used for the helmet visors of astronauts and for space shuttle windshields.
Polycarbonate lenses were introduced in the early 1980s in response to a demand for lightweight, impact-resistance lenses. Since then, polycarbonate glasses have become standard for safety glasses, sports goggles, and children's eyewear.
Polycarbonate glasses come with a lot of features such as thin and light and they provide 100% percent UV protection and are up to 10 times more impact-resistance than plastic pr glasses lenses.
Does it take time to adjust to progressive lenses?
How long should it take to get used to progressive lenses? I have never worn glasses before.Progressive lenses were developed to allow easy switching between near and far views. Progressive glasses are divided into four parts. The upper part is the far-light region. The lower part is the near-light region, and the middle part is a variable light region. From top to bottom, if the hyperopia film is gradually increased and the myopia film is gradually decreased. The middle variable area is on both sides of the astigmatism area. Because of the prism effect, when you see things, through this area, the object will be blurred, and the eyes will feel uncomfortable. If the height of the frame itself is very small, the transition zone of progressive multi-focus is very narrow, and the eyes may not adapt to the sunglasses. The current design of progressive lenses is still not mature. Imported brands are relatively stable but expensive, and domestic brands are not mature in design. For various reasons, progressive glasses may be difficult to adapt to wearing.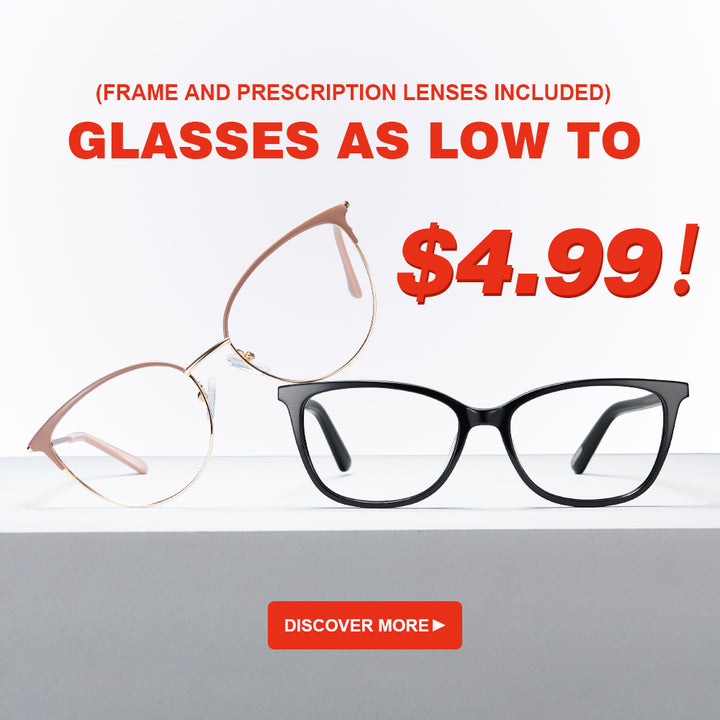 Do night driving glasses really work?
Yellow lenses reduce the amount of light entering your eye, reducing visibility. These darker colors block more blue light than yellow lenses. But they block more light from entering the eye, reducing visibility even more in low-light conditions. In fact, even yellow lenses reduce overall visible light to some extent because they block some blue light. This can be a good thing during the day, but not at night, when maximum visibility is key. Night driving glasses come in a variety of yellow and amber colors. The darkest lenses filter out the harshest light, but they filter out the largest amount of light, making it difficult to see in dim or dark conditions. Some people who wear night driving glasses say they can see better with them on. However, vision tests have shown that night driving glasses do not improve night vision, nor do they help drivers see pedestrians any faster than they would without glasses.