How to handle rusty spectacle frame?
Skin allergies are after the rust of the spectacle frame, so we have to solve the problem of rust of the spectacle frame by physical isolation. Apply a layer of transparent nail polish on the metal surface, or add an anti-allergic sleeve on the temple of the eyeglasses so as to separate the skin from the metal by resin. Both of these methods isolate the skin from the spectacle frame, effectively preventing corrosion of the spectacle frame caused by sweat and grease.
How to Adjust Crooked Glasses
If one side of your frame looks higher than the other, you need to adjust the arms of your glasses. So, how to adjust glasses?
If the right side is higher than the left, you need to gently bend the left arm down at the hinge or where the arm bends behind your ear. If the left side is higher than the left, so just do the same action on the opposite side.
When adjusting crooked glasses, you need to adjust frames a little bit at a time to avoid overcompensating and possibly damaging your glasses. You can run the arms under the warm water but do not running the warm water over the lenses because it will affect the lens coating.
Where to Buy Glasses for Big Heads?
After learning which eyeglasses frames are suitable for big heads, you may ask where to buy them. To buy them, the online glasses store - Koalaeye Optical is recommended. It provides all kinds of glasses, eyeglasses and frames. What's more, these glasses frames are cheap and stylish. You can also get the prescription glasses online and they will be mailed to you with great convenience.
Difference between green film and blue film
In addition to the usual hardening, anti-fouling, anti-reflection, anti-radiation, and other functions, the green film has remarkable anti-ultraviolet performance, suitable for people who work outdoors for a long time to use. In addition to the general hardening, anti-fouling, anti-reflection, and anti-ultraviolet functions, blue film's anti-radiation ability is very good, and it is suitable for computer workers and other people affected by radiation greater.
The coated lenses were originally produced in green, mainly to distinguish them from the uncoated lenses. At 515 nm, the reflection increases the reflectivity by about 2%, so there is a contrast, and the green film is seen in the reflection. This film is the most standard anti-reflective film, and it is the best and oldest one available.
Buy Prescription Glasses Online Step By Step
1. Before you can buy glasses online, you'll need a current glasses prescription.
2. Select an online retailer, comparing online retailers like EyeBuyDirect and KOALAEYE until you find the best fit for your needs.
3. Shop for the perfect frames according to face shape, frame favorites, the budget, etc.
4. Once you've found your perfect frames, you'll enter your eyeglasses prescription and pupillary distance to choose the lenses.
5. Read over the fine print on return/exchange policies and product warranties before you complete your order.
6. Having picked your perfect frames, entered your prescription information, added any lens coatings and upgrades, and checked your online retailer's warranty and return policy, it's time to complete your order.
What Are Blue Light Glasses?
Blue light glasses limit exposure to blue light. Additionally, blue light blocking lenses also include non-glare protection. Blue light can be found in cell phones, tablets, computers, some light bulbs, and sunshine. And this particular wavelength of blue light can damage your retina, which can even lead to vision impairment.
However, blue light glasses can filter the harmful ultraviolet rays and reduce the potential damage to your eyes, and may improve symptoms of computer vision syndrome. Even if you do not need a pair of prescription glasses, you should consider a pair of blue light glasses because there are many benefits to them. Hence, in the following section, we will show you the benefits of blue light glasses.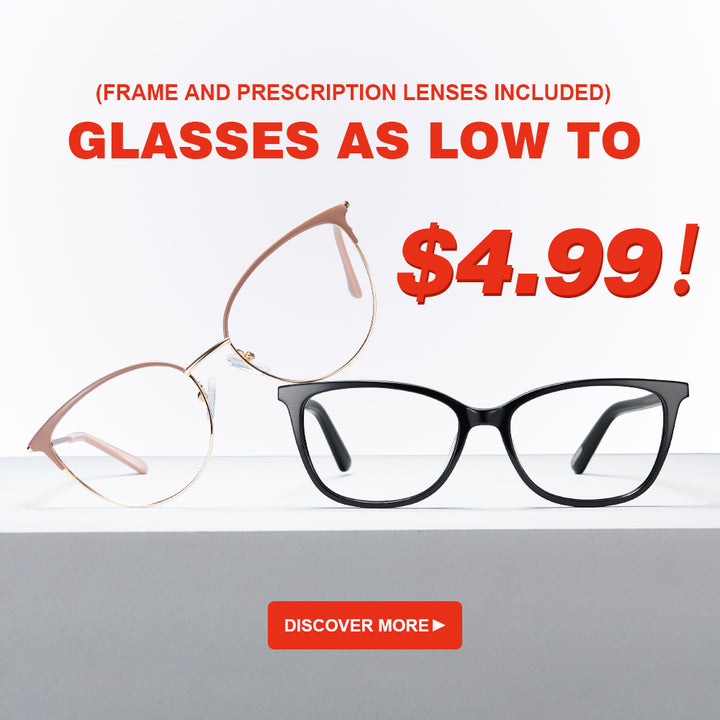 American Eyewear Brand - Ray-Ban
Ray-ban glasses represent a wild, rough and bold image, full of extreme masculinity. Ray-ban glasses, which are designed for PILOTS of the U.S. Air Force, look like American soldiers and give the wearer an aura of vigor.