What difference do mono-focal glasses and multi-focal glasses have?
A mono-focal lens is a lens with one focal point. Usually, the myopic far-sighted presbyopia that we see belongs to mono-focal glasses. There is only one diopter on one lens, and this is the single focal point. Multi-focal glasses are lenses that have multiple focal points, that is, multiple diopters. Both mono-focal glasses and multi-focal glasses are visual correction tools, but mono-focal glasses can meet basic vision needs, like fatigue relief, control of depth of diopters, and focus on different distances such as the need to see far and near.But because there are many different diopters on a multi-focal glasses lens, so the elderly can not only see far after wearing. When they see close distance, they do not need to take off glasses or wear reading glasses. Wearing multi-focal glasses is not easy to fatigue.
Disadvantages of Prism Glasses
Although prism glasses are mostly used for correcting binocular vision, they also have some disadvantages which are said by those who have worn them. They said they suffer from some discomforts, such as headaches, pain with eye movement, wandering eyes. Misaligned eyes, nausea, double vision, and more. In most cases, side effects can be corrected with an adjustment to someone's lens prescription, eyeglasses frames or medication.
At the same time, you need to know that alignment is extremely important when wearing prism lenses. Prism lenses may be not efficient if they are misaligned. But they can be fixed with a professional adjustment. If you are experiencing any problems with new glasses or your old prism lenses stop working, contact your vision optometrist.
Where did the glasses emoji come from?
The glasses emoji was approved as part of Unicode 6.0 under the name Glasses in 2010 and was added to Emoji 1.0 in 2015. Unlike the bespectacled 'nerd face', which is often used to suggest a cool sense of fashion. Just clicking on a few posts with the emoji is enough to make a person want to follow the eyeglasses fashion trend.
Do all glasses come with nose pads?
The glasses without the nose brace are plate glasses. In reality, there is still a nose pad, but it is relatively small and it's part of the frame. The westerners have high nose bridges, and many glasses have no or very small nose pads. For example, Harry Potter's glasses have no nose pads. European and American brands will change their nose pads for the Asian market. Eyeglasses without a nose pad rely on the bridge of the nose to support the center beam. It's hard for Asians to stand up, and their eyes are more protruding than sunken like westerners. Glasses are usually demanded to keep a 12mm distance between the lens and the eyeball, otherwise, the optical performance will have a great impact.
What kind of frames can working women choose?
If you are a heart-shaped face, the selection of the frames is different. Of course, to look relatively stable and mature, you can choose some simple frames, like square frames. You can choose gold or black gold, black silver line. Or the kind of slightly Japanese style of small round one, looking more literary and young. The frame can choose pure titanium, relatively light and quality will be better. The choice of the frame should be carried out according to the different working environments. If you are a teacher or doctor, you should choose low-key, elegant frames. If you're a freelancer who needs to show off your personality, you can pick up trendy frames.
Features of pure titanium glasses frame
Due to the lightweight (ordinary nickel-based alloy frame weight 48%-60%), high strength, corrosion resistance, surface easy coloring, beautiful and durable features of spectacle frame made of pure titanium, they have been loved by most consumers. But the elastic modulus of pure titanium is higher (about 120GPa). The temples of the frames made from them are not elastic enough. After wearing the glasses for a period of time, the temples of the glasses need to be adjusted due to the relaxation of the stress. The processing plasticity of titanium metal is worse than that of other metal materials, so the processing technology of its wire is difficult. The surface quality is difficult to control, and the technical content is high. The surface quality of pure titanium wire produced by a few domestic manufacturers is poor.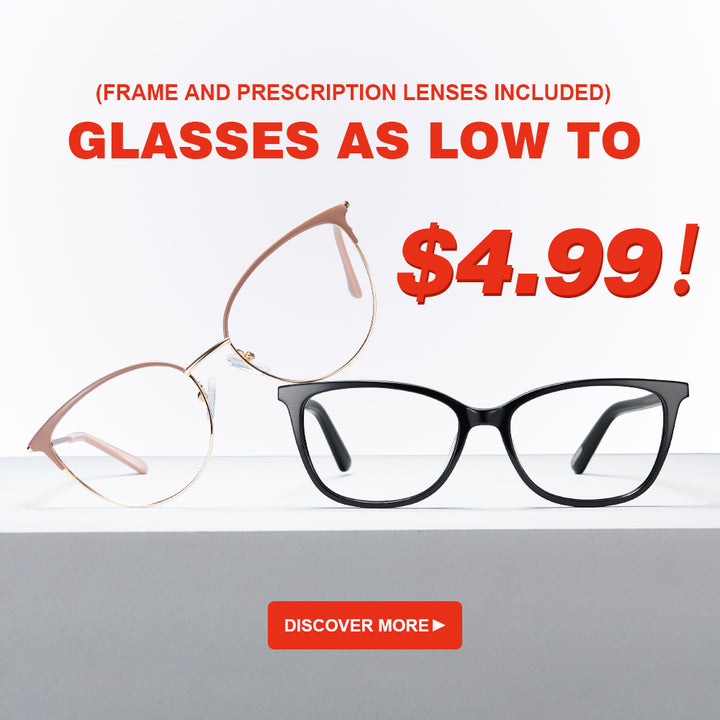 Eyeglasses in brick-and-mortar stores cost extra.
In order to attract the attention of customers, physical optical stores need to carry out store decoration, and customers need to buy glasses to share the cost, so the glasses in physical stores are more expensive. Physical optical stores have other expenses, such as electricity, employee costs, rent, and so on, which is a big expense, naturally, but also to the customer to share. These are invisible consumption and need to be tied to the customer.