Types of Single Vision Lenses
Single vision lenses come in several different types including the 1.59 polycarbonate single vision, 1.57 mid-index single vision and polarized single vision.
1.59 polycarbonate single vision lenses are characterized by their durability and impact resistance. They often include an anti-scratch coating or anti-reflective coating. This lens is much lighter and thinner than a traditional plastic lens, and it blocks the sun's harmful UV, offering maximum UV protection.
1.57 mid-index single vision lenses are thinner than regular plastic and moderately lighter and stronger. They come with an anti-scratch coating or anti-reflective coating. These lenses are an ideal option for people with relatively higher prescriptions. But they are thicker than the polycarbonate lenses.
Polarized single vision lenses are sunglasses that protect your eyes from light that bounces off smooth, highly reflective surfaces like asphalt, snow, and water. These lenses work by controlling certain light properties and limiting specific wavelengths. They boast a vertical filter that does not allow horizontal glare to pass through.
How to Test Blue Light Glasses (Amber and Red Lenses)
This section will show you how to test blue light glasses with amber or red lenses.
1. The Black and Blue Squares Test
1. Prepare black and blue paper.
2. Wear your blue light glasses after sunset and check whether both paper appear black.
3. If they do not appear black, your blue light glasses can't block all blue light.
2. RGB Color Chart Test
1. Prepare an RGB color chart as follows.
2. Wear your blue light block glasses and look at the chart.
3. After wearing blue light blocking glasses, if the B section becomes black and the G section becomes darken, it shows that your blue light glasses block blue light and some filter some green light.
4. The less bright the green circle with your blue light glasses, the better they are.
Besides the above ways, you can ask the professional optician to perform a professional blue light glasses test, which would be more reliable. After that, you can know whether your glasses work effectively to block blue light.
What's more, if you want to purchase a pair of effective blue light blocking glasses, you can try Koalaeye Optical. It is cheap and provides free shipping services.
How do you buy prescription glasses on GlassesUSA?
Fill out a form on their website to enter a prescription, choose to have them follow up and require it later, or use their prescription scanner app on an existing pair of glasses. However, the app isn't always easy to use. You'll need your phone, a computer with enabled cookies, your glasses, and a magnetic stripe card to determine the size.
Sunglasses For Fishing - Prosun
The headquarter of Prosun?is located in Xiamen City, Fujian Province. ?In the development process of more than 20 years, Prosun?has been committed to the research and development of optical products. The product design style has closely followed the trend, and the quality materials have useful workmanship. And the comfort is continuously improved, with the combination of fashion design concept and science. It is committed to providing young people's favorite glasses products.
Men's clear glasses are a fashion item.
Although glasses are the tool that corrects myopia, a lot of people like to dress up fashion with it now. Men's fashion frames allow you to express your taste and fashion sense and can increase your appearance and image. An eyeglass frame is an important part of a pair of glasses, mainly playing the role of supporting the lens. While the beautiful appearance of the eyeglass frame can play a certain role in aesthetics. Handsome frames add points for appearance.
A clear glasses frame is not only for a schoolgirl. Clear and transparent design more feel cool and refreshing in scorching summer. At the same time, it will not cover the facial features too much, making the face more delicate and clean. Small pure and fresh picture frames tie in some of the clothes of literature and art naturally. Therefore, the scope of use of clear glasses is very limited, only suitable for fashionable men.
How to protect rimless glasses?
With the continuous improvement of people's living standards, many people begin to pay attention to their quality of life. In the past, many people thought that wearing glasses was for correcting eyesight glasses, but now more and more people use them for decoration, and rimless glasses meet the needs of consumers. Because of its light structure, giving people a sense of fashion, so it is loved by many business people. So how do you protect your rimless glasses?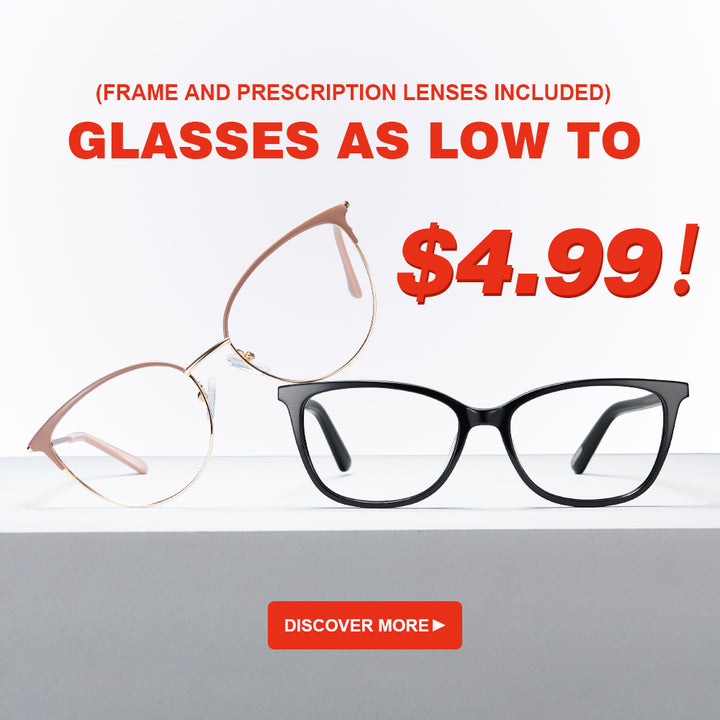 Adolescents and adults with myopia
Teenagers have heavy learning tasks, and excessive eye use is the norm, so pseudomyopia is the majority. And many of them have false and true myopia coexistence. As adolescents grow and hair, the eyeballs are also developing, and the wheelbase may be further lengthened, so myopia will continue to progress and deepen. The use of mydriatics by adolescents can force the ciliary muscles to relax and eliminate pseudomyopia. But after the pupil is dilated, the ciliary muscles will also lose their ability to adjust, changing from 'nearsightedness' to 'hyperopia', which will delay daily learning. And after the efficacy of the drug has passed, if you continue to use your eyes unscientifically, pseudomyopia will still occur. Therefore, the mydriatic agent is only used as an auxiliary method to eliminate false myopia when wearing myopia glasses, not as a treatment method for myopia.
Adult myopia is based on true myopia. In addition, the eyeballs of adults will no longer develop, so the degree of myopia is relatively fixed and rarely changes.