How to know your face shape to choose glasses?
To determine your face shape and spectacle styles that will look best on you, pull your hair away from your face and look directly into a mirror. Look closely at your face and head. You need to measure your forehead width, cheekbone width, jawline width and face length.
After measuring, you need to consider your facial features. There are a few characteristics tied to specific face shapes. For example, a rounder jawline is typically tied to a rounder face shape, a pointed chin is closely related to a heart-shaped face. And you need to take note of the angles and contours of your face to see they are soft or sharp or pronounced or not.
Then you can check whether you have a round shape face, squared face or others.
Round face shape: the forehead round at the hairline; the width of your face is the same as the length; the jawline round with very subtle angles, and the length of your face is the same as the width.
Square face shape: the hairline follows a straight line; there are minimal curves to your cheekbones; you would have a strong and squared jawline.
Diamond face shape: the width of your face is smaller than the width of your cheekbones; the cheekbones significantly wider than your forehead and jawline; you may have a narrow chin area; the length of your face is the same as the width.
There are also other face shapes. You can click here to know more.
Cosmetic Contact Lenses & Chromatic Contact Lenses
We are used to referring to chromatic contact lenses as beautiful contact lenses. In fact, beautiful contact lenses are a registered trademark of Johnson & Johnson in 2007. It is the name of a product series of Johnson & Johnson. Not all chromatic contact lenses are called beautiful contact lenses. Regular contact lenses can have complications if they are not properly worn, and these can also be seen in chromatic contact lenses. But because the color piece was much a layer of pigment, if the quality is not up to standard, there will be greater safety hidden trouble.
The advantages are not the same.
The cellulose acetate frame is acetate plastic, belonging to a kind of thermoplastic material, and it is a material for nearly 20 years. It is widely used in the glasses industry material. Now with the progress of processing technology, it can be divided into plate and injection molding. The acrylic frame of the propionic acid fiber belongs to a kind of thermoplastic material. The appearance is transparent. The main feature is that the material density is high. They are hard to burn and are not easy to change color, with Impact resistance. It has softness, dimensional stability, and good processing formability. Many high-grade plate glasses are based on these high-quality plates, so the quality is more reliable. It is designed for a large number of people and the pursuit of quality of life students, especially for women.
Do round rimless glasses look good?
Some glasses use the transparent piece of circular arc model design, so make the person that wears more handsome. Lens frame uses simple fine design, added a lot of simple sense again in low-key. Some round rimless glasses are shaped with circular corners and some edges, seemingly simple, but very good to modify the face. The selection of the temple is quite simple but more simple. Rimless round glasses look chic, with only two temples as support, very suitable for business, elite people to wear. When a woman wears round rimless glasses, the glasses can show the wearer's own style and temperament, and blend well with the appearance of the wearer. The collocation of clothes will not be ignored due to wearing rimless glasses, but they show the overall unity and coordination.
How much do plano lenses cost?
If at big shop downtown, the price of the lens will exceed a hundred, but if you walk the campus store, will be a lot cheaper. Generally is 30-40 at least(not the poor quality, but the price is reasonable for students).UV protection, anti-fatigue, prevention of radiation, computer and television are the basic functions. In the campus store, it is several hundred or so, which can be matched with relatively good quality. Generally, the price of radiation-resistant resin lenses and frames is about 150. If you want to choose a better one, The price can be very high.
Pair clear glasses with natural makeup.
Clear glasses and light makeup can make the focus of others in the glasses, so it will not appear abrupt. With a plain color coat, there is no sense of violation, and it is playful. A frame without lenses can be an accessory to give you a different feel.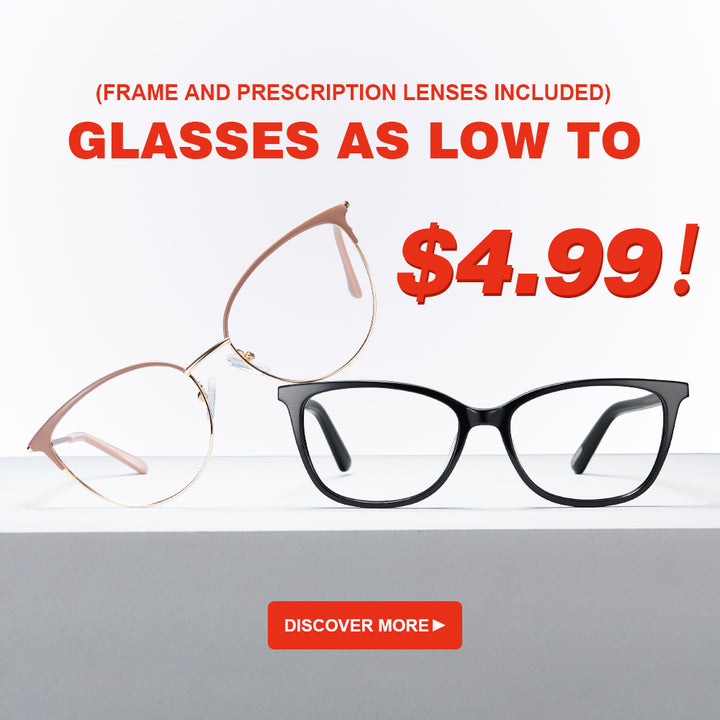 American Eyewear Brand - Ray-Ban
Ray-ban glasses represent a wild, rough and bold image, full of extreme masculinity. Ray-ban glasses, which are designed for PILOTS of the U.S. Air Force, look like American soldiers and give the wearer an aura of vigor.