Discoloration time and fading time for color-changing lenses
In general, color-changing lenses take about 30 seconds to 1 minute to darken on average when exposed to sunlight/UV and will continue to darken for about 10 minutes to reach the lens depth of full-color sunglasses. Color-changing lenses of good quality and workmanship are restored to an almost clear and transparent state in 2 minutes and completely cleared in 5 minutes, although the high temperature can affect this. If you want to change a single color change lens, the color of the old and new lenses will be inconsistent. This is because the discoloration performance of the old lens will be reduced due to the long-term use of the discoloration agent. Therefore, in order to ensure the normal use and aesthetic appearance, it is usually recommended to replace the two lenses at the same time.
Vintage full-frame frames
The glasses with a full black frame give a person a more intellectual, literary feeling. As fashion accessories, they are very good. The frame is light, so you can wear it without any burden, and the price is super affordable. Black and metallic collision, let eyeglass frame have more individual glamour. It's light and comfortable to carry.
Round face with square glasses
A round face is a relatively round type. This type of face looks very round but lacks a little beauty. The biggest feature of a round face is that it is softer, and the contours and features of the face will look gentle. However, it lacks a little tough line, so it is most suitable to choose square glasses for a round face. It can add a little small line to your round face and it will look more beautiful.
Why are rimless glasses so expensive?
Although the overall volume of materials selected for rimless glasses is a little less, the special structure of rimless glasses requires much higher physical properties (flexibility, surface texture, etc.) and processing accuracy than TR, PEI, and other materials. Rimless glasses require higher quality lenses. For example, lens materials with a refractive index of 1.56 tend to be brittle for rimless glasses and should be chosen with caution. Generally speaking, the time of processing about three pairs of half-frame glasses is equal to the time of processing of a pair of rimless glasses.
What are the benefits of memory metal frames?
Memory metal materials are inherently lighter than metal materials, which can reduce the pressure on the bridge of the nose and skin. The memory metal frame is super elastic, so it never deforms, and it is so apparent that the temples on both sides of the frame line up with the ring. Because the bending can be automatically restored to its original state, the stability is comparatively strong. It has the benefits of high-temperature resistance, corrosion resistance, which will not cause skin allergy, and so on. It is a hypoallergenic lightweight metal for eyeglass frames that is strong and flexible. It is resistant to corrosion, making it proper for people who work, live or play sports in all kinds of outdoor weather conditions. The memory metal can be placed on the side of the face, making it easier and more comfortable to wear. The memory temples can freely rebound 180 degrees without deformation, making up for the insufficient effect of elastic β titanium. This kind of frame is not able to recover due to careless bending, and it has the function of restoring shape itself.
What are the colors of the fishing polarizer?
Amber, yellow, or orange lenses are very suitable for wearing on cloudy days. They can have a very clear vision, but they are not suitable for use on sunny days. Gray or dark green lenses can maintain the most natural original color when viewing objects, which is a good choice. Sunglasses are not only required to be worn in summer but they must also be used throughout the year. Wear it on sunny days and also on cloudy days. Don't think that the sun is not strong on cloudy days and the weather is not hot, so you don't need to wear sunglasses. The harmful ultraviolet rays will harm your eyes unknowingly. Therefore, even if it is a cloudy day with thin clouds, you must still wear sunglasses to protect your eyes.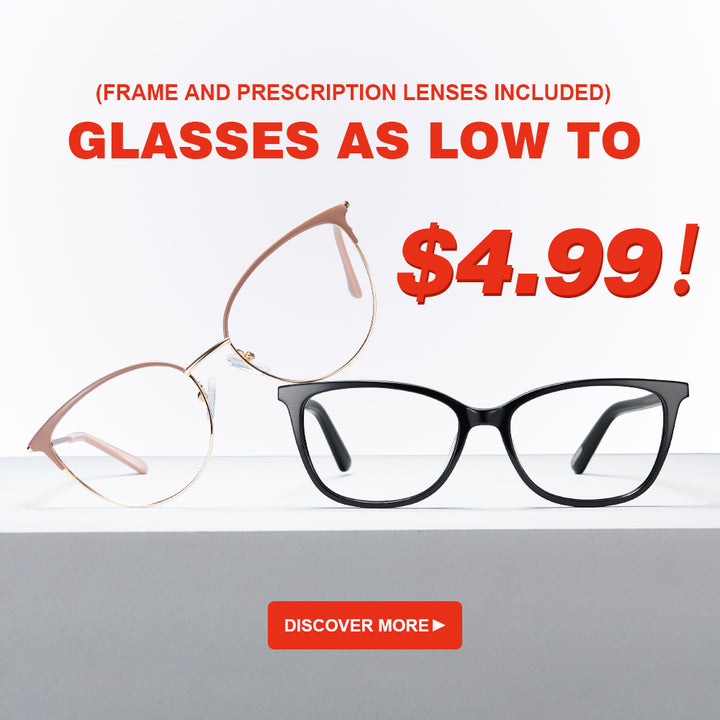 How Prescription Computer Glasses Work?
Ordinary glasses and radiation-proof screens don't filter out high-energy short-wave blue light, which is most harmful to the eyes. Prescription computer glasses can eliminate the eye potential fever, headache, fatigue, dryness, and other adverse symptoms caused by electromagnetic radiation. It has different penetration and absorption functions to different light and can resist reflection and strong light, and the user feels clear and natural vision after wearing it. Prescription computer glasses can significantly reduce eye strain, prevent headaches and reduce neck/shoulder back fatigue because computer prescription lenses are designed to help you focus your position in the middle area of your computer screen so that the entire lens provides a clear view of your computer screen. These specialized prescription glasses will provide the most comfortable view of your computer screen, as the entire lens is dedicated to providing a clear vision for your middle area.