Are blue light glasses good for driving at night?
Are blue light glasses helpful when driving at night? The answer is not necessarily. Anti-reflective coating on glasses is beneficial. But blue light blocking won't have any effect on your driving at night. If your glasses have an anti-reflective coating, then they might be helpful for night driving. Otherwise, they won't have any impact.
You can choose driving goggles.
The goggles partly filter the far-light from the car. Products sold online include glasses with yellow lenses and yellow translucent shades that clip onto car shades. Shades block out oncoming far-light, while glasses prevent rearview mirror glare from vehicles behind. Most of the light emitted by car headlights is short-wavelength ultraviolet and blue light. The yellow polyester blocks them while allowing the longer wavelengths of red and green light to pass through, making the headlights softer when seen through the goggles without reducing the brightness of the road and the surrounding environment.
The clear frame is paired with wire glasses.
Compared to traditional chunky glasses, gold-rimmed glasses have less color saturation, so they are almost skin-neutral. Gold-rimmed glasses and clear frames are similar in style but more decorative. The geeky-chic style has become popular since the Gucci fashion show, which started with large frames. Who says you can't be stylish with glasses?
Cheap frames can cause skin irritation.
Some cheap frames may look like more expensive frames. But more often than not, they are made of low-level materials that can cause skin irritation over time. Cheap plastic frames can be bleached by ultraviolet light, leaving the surface rough after months of wear and tear. Cheap metal frames often contain nickel alloy, which can cause skin irritation.
What is blue light?
Our daily lives are inseparable from mobile phones, computers, tablet computers, and other electronic products. Many people's eyesight is also going downhill due to long-term exposure to strong light electronic screens, and their eyes are more or less potentially adversely affected. It is found that many optical stores sell blue light filter glasses, which have the function of blocking 99.9% UV and scattered blue light, alleviating visual fatigue. They claim that these glasses can block short-wave blue light emitted by electronic products such as mobile phones and computers, and even prevent age-related macular degeneration so they are much sought after by consumers. The price of these so-called anti-blue-light glasses varies greatly, ranging from dozens of dollars to several thousand dollars. Do these blue light blocking glasses really have so many magical functions?
The natural light seen by the human eye is composed of a spectrum of different colors, including red light, orange light, yellow light, green light, blue light, indigo light, purple light, which gives people a visual feeling of white. Different wavelengths present different colors visually, and the shorter the wavelength, the higher the energy. At present, products with electronic screens such as computers and mobile phones use LEDs and other materials to emit light mainly in three colors of red, green, and blue, and blue light accounts for the main part. Blue light belongs to the range of visible light, belongs to short waves. And the wavelength is between 400 nanometers and 500 nanometers, which is close to ultraviolet and carries a large amount of energy. And this part from 400 nanometers to 450 nanometers is called high-energy short-wave blue light.
Each type of store has its own characteristics.
Nowadays, the optical stores in the market can be roughly divided into professional optometry and optical matching stores, fast fashion stores, brand flagship stores, and stores in shopping malls. The benefits of fast fashion optical stores are fast commodity update frequency, and they follow the fashion trend, which can bring consumers quite more choices. The size of fast fashion optical stores is usually not large, so they will use an open showcase design. The color collocation should be able to catch the attention of consumers, to attract customers to make self-service selection and experience.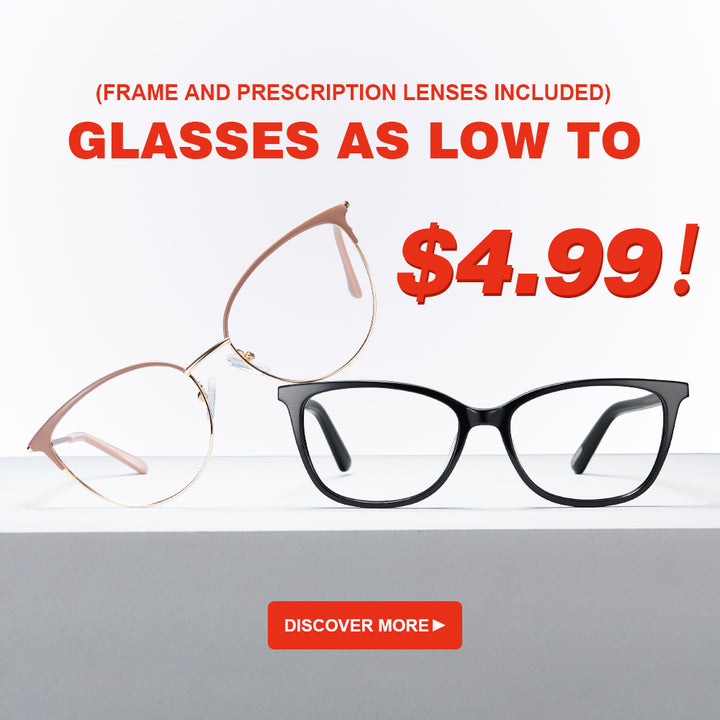 Why Are My Progressive Lenses Blurry?
So, why are my progressive lenses blurry on sides? It can be caused by a lot of reasons, and we will list some of them.
The strength of progressive lenses is the factor that leads to initial peripheral blurriness. Progressive lenses tend to be blurry on the sides because each lens promotes three fields of vision. In addition, peripheral blurriness or haziness is a sensation that typically develops because more than one lens has been incorporated into one lens. The wearer also might feel as if he or she is moving from side to side.
After learning what may cause progressive lenses blurred, so how can you adapt to the progressive lenses? Therefore, in the following section, we will show you how to get used to progressive lenses.