Can you get prescription glasses for night driving?
It is recommended to choose prescription night driving glasses with an anti-reflective coating.When you're driving at night, you'll encounter several bright light sources, including the car's headlights, taillights, and street lights. These light sources can be a distraction for any driver, but especially for those with eye problems. The light reflected from these light sources can cause these drivers to temporarily lose sight of the road, which can lead to many unfortunate situations. As a result, the anti-reflective coating protects your eyes from nighttime brightness and daytime UV damage. The coating on the glass prevents the reflection of these light sources, allowing you to better focus on what's happening in front of your car. Meanwhile, prescription glasses with an anti-reflective coating can reduce glare and improve vision. Whatever prescription glasses you choose for night driving, make sure they have an anti-reflective coating.
Commercial pure titanium eyeglass frame
Commercial pure titanium eyeglass frame gives people a professional, handsome, rigorous attitude. The commercially pure titanium eyeglass frame is generally square, with a simple design. And the style is more versatile, making people a cool and handsome feeling. It is men's preferred choice! And for the display of their professional image, they play a great role!
Always wear or take off glasses with both hands.
Because there is no protection of the lenses ring, it is only supported by two temples. When taking off and wearing, it should be carried out with both hands, holding the temples of the frame and gently. Using only one hand will destroy the balance of the left and right temple, easy to produce deformation of the frame.
How Do Prism Glasses Work?
After learning what prism glasses are, you should know how prism glasses work. So, in this section, we will show how prism glasses work.
People with binocular are struggling with seeing two images instead of a single image. The light they see falls in different places on their retinas, which causes distortion and doubling of what they are seeing.
Meanwhile, prism glasses are mostly used to deal with double vision, making it easier to maintain binocular vision, which is the ability to maintain focus on an object with both eyes. With the prism glasses, the light bent before it hits the retina. It is redirected so it falls correctly and the brain can interpret the message as getting in the usual manner, resulting in a single clear picture of seeing.
Where to Buy Titanium Glasses?
After learning the advantages and disadvantages of the titanium glasses, you may ask where I can buy them if I have a lot of budgets. In order to buy titanium glasses, Koalaeye Optical is recommended.
The Koalaeye glasses are stylish and come at a very cheap price. What's more, Koalaeye Optical provides all kinds of glasses, sunglasses and frames. And the glasses can be shipped for you free. So, if you want to buy titanium glasses, try Koalaeye Optical.
A service is also a form of discount.
The eyewear industry itself is a service industry, and good service can increase sales. If they sell inferior glasses and gifts, they are destroying the brand. Optometry itself belongs to the service, when people are choosing glasses, they must include this kind of service. Consumers are willing to come to optical stores in order to get better service. Therefore, reception, recommendation, testing, and other services should be done. Such as door-to-door delivery, door-to-door product experience, introduction and recommendation, free maintenance and repair, add good value-added services, which is more likely to make consumers buy. This is also a form of promotional activity.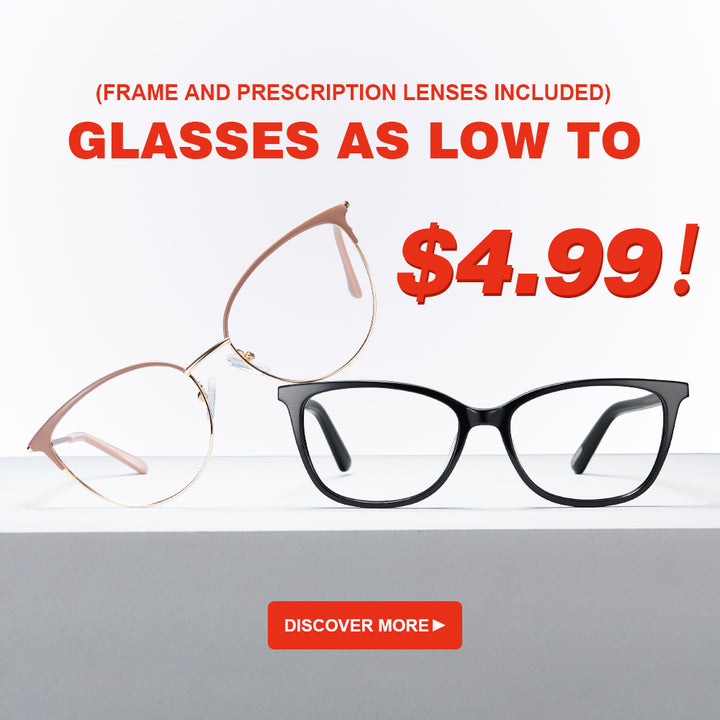 What difference do mono-focal glasses and multi-focal glasses have?
A mono-focal lens is a lens with one focal point. Usually, the myopic far-sighted presbyopia that we see belongs to mono-focal glasses. There is only one diopter on one lens, and this is the single focal point. Multi-focal glasses are lenses that have multiple focal points, that is, multiple diopters. Both mono-focal glasses and multi-focal glasses are visual correction tools, but mono-focal glasses can meet basic vision needs, like fatigue relief, control of depth of diopters, and focus on different distances such as the need to see far and near.But because there are many different diopters on a multi-focal glasses lens, so the elderly can not only see far after wearing. When they see close distance, they do not need to take off glasses or wear reading glasses. Wearing multi-focal glasses is not easy to fatigue.