Blue Light Glasses Benefits
As mentioned above, blue light glasses are good for our eyes. What are the other benefits of blue light glasses?
1.Reduce Eye Strain
One of the benefits of blue light glasses is reducing eye strain. Looking at a screen all day can make you feel stressed, or you may experience eye and muscle strain. So, the blue light blocking glasses can help to reduce eye strain.
2.Better Sleep
Blue light has a high frequency which can increase alertness and delay the body's release of melatonin. So, you had better turn off your device an hour or two before going to bed. Or you can choose to wear a pair of blue light glasses to sleep better.
3.Fewer Headaches
Wearing blue light glasses can effectively help you to reduce headaches.
4.Fewer Eye Diseases
A large amount of blue light is bad for our health. So, wearing blue light glasses can reduce the chance of eye diseases.
With so many blue light glasses benefits, do you want to get a pair of blue light blocking glasses? If so, you can try the Koalaeye Optical blue light blocking glasses. It enables you to wear comfortable and look in style at a reasonable price.
Are carbon fiber glasses better or titanium?
In terms of weight, the titanium frame is very light. The specific gravity of the pure titanium frame is about 4.5g/cm3, and the specific gravity of the titanium alloy frame is about 8.9g/cm3. The pure titanium frame is lighter than the titanium alloy frame. However, carbon fiber glasses are lighter in weight. The carbon fiber glasses launched by LOHO are only 7.87g, which is very light to wear.
In terms of hardness, titanium has a high hardness, about twice that of stainless steel, twice that of iron, and six times that of aluminum. Carbon fiber is lighter than aluminum, harder than steel, and its strength is ten times that of iron.
In other respects, the titanium frame has the advantages of corrosion resistance, acid and alkali resistance, high stability, good elasticity, good toughness, and resistance to deformation. The carbon fiber frame has the advantages of corrosion resistance, high temperature resistance, radiation resistance, good elasticity, good flexibility, and abrasion resistance.
It can be seen from the above comparison that carbon fiber glasses have the general advantages of titanium frames. In terms of weight, carbon fiber glasses are much lighter than ordinary pure titanium glasses.
Are polarized glasses good for fishing?
Fishing goggles are polarized lenses. Fishing goggles are a type of goggles that can remove scales on the surface of the water so that the fisherman can see the fish taking the bait. Polarized sunglasses increase color saturation and prevent eye strain. Wear gray glasses on sunny days when fishing. They can fully absorb infrared rays, as well as most ultraviolet rays, without changing the original color of the scene. Warm, natural colors are a popular lens choice. Wear green glasses on cloudy days when fishing. like gray glasses, they can absorb all the lone infrared rays and 99% of the ultraviolet rays, but sometimes the color of the scene after passing through the green lens will be changed. But because green brings a cool and refreshing feeling, it is also good for eye protection.
Eyebrow Frame Glasses
The shape of eyebrow frames is somewhat similar to half-frame glasses because the upper half of the frame is made of a loop of wire similar to the eyebrows, which gives it the name eyebrow frame. The style is very fashionable, and fashion seekers may wish to wear a pair.
Glasses with different frames have different characteristics and are applicable to different groups of people. Friends who wear glasses online can choose according to their needs. In short, what suits you is the best. As long as you choose the right frame, you can not only look young but also make you look more fashionable and fashionable.
History of browline frames
Shuron, an American eyewear brand with a history of more than 100 years, is generally considered to be the creator of browline frames. Browline glasses were very popular in the United States in the 1950s and 1960s. By the 1960s, as the shapes, sizes, and colors of plastic glasses increased, the popularity of browline frames gradually declined. In the 1970s, the hippie subculture led to a rapid decline in the popularity of eyebrows, which was considered conservative.(https://www.koalaeye.com/collections/browline-eyeglasses)
Until the 1980s, Bruce Willis wore tinted lenses in the Moonlight series, and the demand for browline sunglasses surged. In response, Ray-Ban launched Clubmaster, a traditional browline frame with sunglasses lenses. However, in the 1990s, browlines were strongly opposed by consumer culture. They are also regarded as too nerdy and conservative. Until the 2010s, the influence of the TV series Mad Men and the fashionable subculture inspired people to fall in love with the classic retro style of browline frames again.
Nowadays, with the progress of the times, there are more diversified choices in the material of the upper edge of the browline frames. On the whole, although the eyebrow frame is a bit serious, it has a calm and full nostalgic appearance, which is still the style that modern male gentlemen can't put down.
Design principle of progressive multifocal lens
For the same piece of the lens, the top is used to see far, the bottom is used to see close. The upper and lower degrees are different.
There is not a sudden change in the distance degree fixed above the lens to the near degree fixed below the lens, but a gradual transition between the two through gradual changes in refractive power, which has special benefits over common bifocals or trifocal lenses.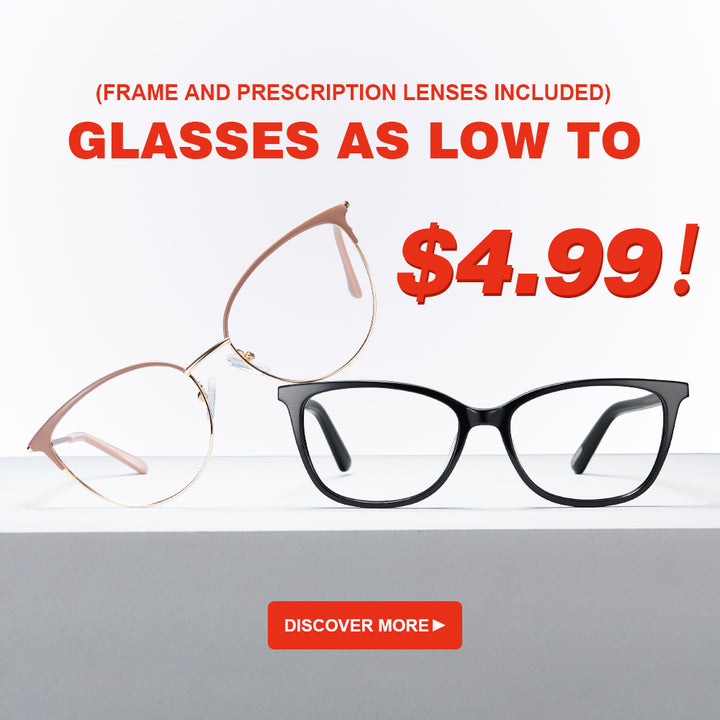 Metal square frame eyeglasses
A large square frame shows a face small, with a strong stylish sense. A lot of stars often use it for concave modeling, making their whole collocation more tide. People with diopters try to avoid choosing such large frames as daily optical glasses to wear.