Best Ray-ban Wayfarer Alternatives - KOALAEYE Gene
The second Ray-ban Wayfarer alternative we want to mention is Koalaeye Gene. These Koalaeye Gene Wayfarer glasses are both sleek and sophisticated. In popular Wayfarer glasses, they are sure to pair well with any outfit or occasion and the acetate frames make it sturdy. Oval lenses, and with slightly Wayfarer-shape in the top corners that are full of classic and always ready for the camera.
These Koalaeye Gen glasses are about $42, but they are also cheap than the Ray-ban Wayfarer glasses.
Bolon Driving Glasses
It is a big brand of sunglasses in China. Bolon sunglasses use pure handcrafted materials and elaborately designed LOGO to interpret the excellent texture and perfect taste of Bolon sunglasses show the distinctive, extraordinary, elegant, and noble temperament.
The Pros and Cons of Shopping Glasses Online
Brick-and-mortar stores rely on a few or a dozen a day to make a profit, so the unit price is higher. Online stores have low costs. The profit can be made by volume, so the unit price is much lower. This is the advantage of online stores. The disadvantage of online stores is that it takes a lot of effort to get an optometrist, but optometrists have varying levels and attitudes. As a result, the prescriptions we get may not be entirely accurate. This can lead to uncomfortable glasses. The physical store glasses can try on. Choosing online glasses is not convenient.
What is carbon fiber?
Carbon fiber, called black gold, is a kind of modern high-strength fiber, beautiful and pleasing to the eye. They are light, anti-allergy, highly durable. Initially, carbon fiber was used in aerospace, energy-related equipment, sports materials, construction, and other fields. Its rigidity, high strength, low weight, and high chemical resistance make carbon fiber a popular material for glasses and sunglasses.
What are TR90 glasses?
TR-90 (Plastic Titanium) is a kind of polymer material with memory. It is the most popular ultra-light material in the world at present. It has the characteristics of super toughness, collision resistance and abrasion resistance, low friction coefficient, and can effectively prevent the damage caused to the eyes and face due to the fracture and friction of the frame during the movement.
The fabric of eyeglasses cloth
Ordinary fabric: They are only applicable to the surface that has been cleaned.Because the ordinary fabric has no space to accommodate dirt, the surface of the cloth will be very dirty, and difficult to wash clean.
Microfiber fabrics: They are used wet to emulsify dirt and oil, and the microfiber is easier to wipe off. It is highly absorbent, making it very quick to clean the spilled liquid.
Fine fiber double velvet fabric: It feels soft, gentle, with the plump texture, but more single velvet.
Suede fabric: The feel and appearance are quite like natural suede, fine and smooth, soft and plump, used to wipe glasses. It will be clean and won't scratch the lens.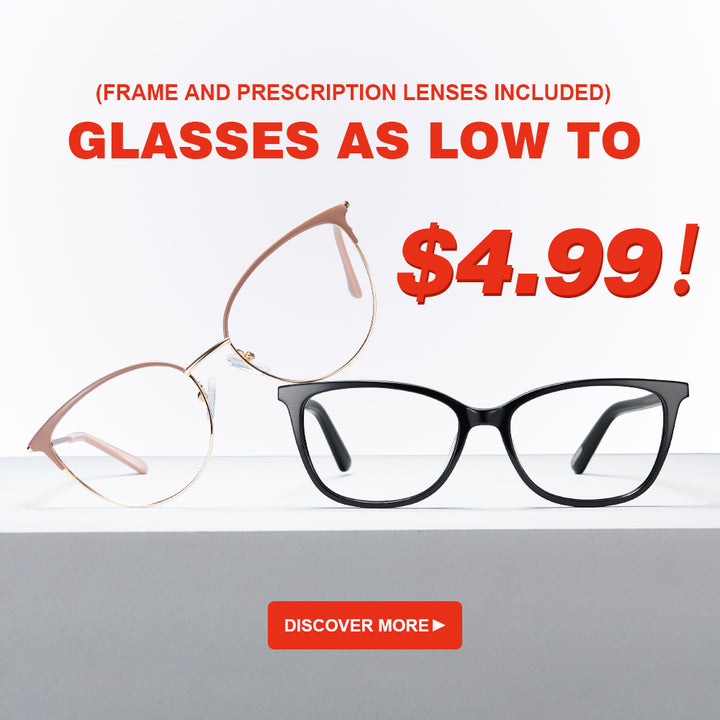 What are nose pads?
Nose pads include stipule stalk, stipule boxes, and stipules. The stipules are in direct contact with the nose and play a role in supporting and stabilizing the frame. Certain molded plastic frames may not have stipules and stipule boxes, and the stipules are connected to the mirror ring.
In fact, when designing different materials and different styles, the designer will judge whether nose pads are needed according to the comfort and aesthetics of the glasses. Generally, metal frames are equipped with nose pads, and the nose pads are movable in order to adapt to various nose shapes. Metal frames with nose pads can prevent some people's skin from being allergic to metal. On the other hand, metal looks more rigid and business, and adding nose pads is more beautiful and comfortable. Most glasses without nose pads are sheet-framed glasses. The sheet material is relatively light and non-allergenic. In terms of aesthetics and comfort, no nose pads are more suitable.