Who is suitable to wear progressive lenses
Progressive multifocal glasses are suitable for people with presbyopia or visual fatigue, especially teachers, physicians, musicians, computer operators, etc. They not only need to see far and near objects, but also most of the time, need to see objects at intermediate distances such as blackboards, piano scores, and computer screens. A pair of scientifically customized progressive multifocal glasses can simultaneously meet the needs of distance use, near use, and various distances in between. Some special young myopia patients wearing progressive multifocal glasses can also be used to correct the refractive power and effectively relieve eye fatigue.
Allen OTG Safety & Shooting Glasses
Chemistry LABS and carpentry aren't the only applications that need safety goggles on top of glasses.These Allen OTG glasses work better on indoor shooting ranges. You can use these comfortable safety glasses to better focus your front view. Unlike the other OTG safety glasses on the list, these glasses lie flat on the side of your head and are specially designed to fit comfortably under the earmuffs without breaking the noise seal.
Glasses Size - Temple Length
The length of the temple is the length of the arm of your glasses. It's how far the arm is bent, all the way to where it intersects the frame. Although lengths may range from 120 to 150 mm, there are some common industry standards:135, 140, 145, and 150 mm. The temples are long enough to extend beyond your ears, so the ends can be changed to match the contours of your head behind your ears.
Problems you may encounter when wearing your glasses.
The glasses are too tight. They clamp to the temple. Glasses slip easily. Too long or too short at the bend, and there are too small contact areas of the nose pad. Glasses are too far from the eye, and the lenses are crooked or asymmetrical. These are some of the problems you may encounter when wearing glasses.
How to Choose Glasses for Long Face?
Bold shapes and eyeglasses with decorative details are also a smart choice since they help draw attention to your eyes and can add width to your face. Be sure to avoid narrow or rectangular shapes, which can make your face appear longer.
Square glasses: if you have a long face, you can try square glasses whose sharper corners can help to balance out the length of your face and complement your narrow features. Choose frames that are slightly wider than your cheekbones to make your face appear broader.
Two-toned glasses: if you have a long face shape, the two-toned glasses would be a good choice. The color-top frames create an optical illusion that draws focus upward toward your eyes rather than to the length of your face.
Best Ray-ban Wayfarer Alternatives - KOALAEYE Pearl
The first Ray-ban Wayfarer glasses alternative we want to mention is the Koalaeye Pearl. This kind of Wayfarer glasses are designed with acetate material and have a way of making a statement. Whether dramatically oversized or petite, the round Wayfarer sunglasses expertly navigate the balance between classic and contemporary. With not that angular style, alternative Ray-ban Wayfarer glasses - Pearl guarantees that they will complement your face.
In addition, Koalaeye Pearl comes at a cheap price and they are about $39. So, most people are able to afford them.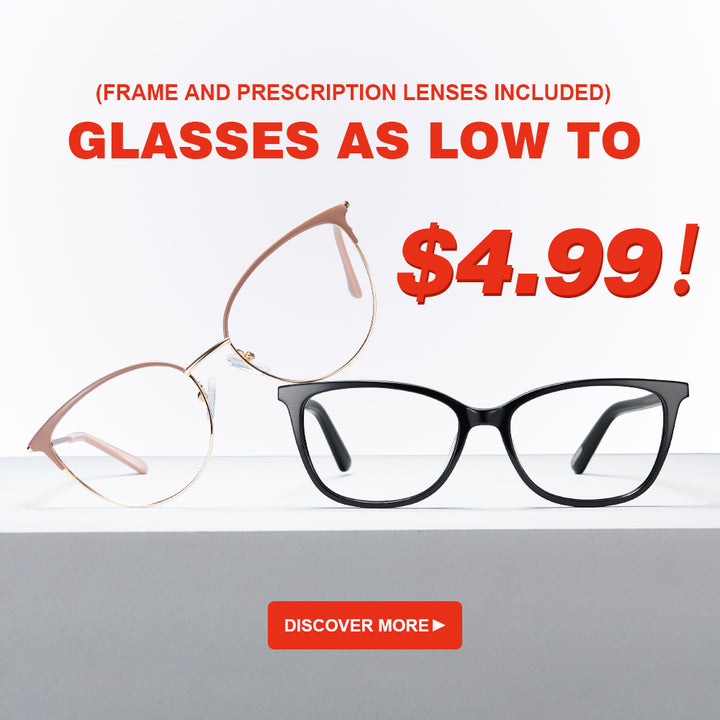 Clear non-prescription sunglasses are a trend.
Clear glasses will not appear old, as long as the choice of their own frame is good-looking, although it is often said that a round face is suitable for angular frames, and a three-dimensional face is more suitable for rounded frames, but the collocation of face shape and frame can not be generalized. A transparent picture frame gives a person a feeling of intellectual, restoring ancient ways of literature and art model. There are a lot of people who use it to reflect their modeling. It seems that there is a pure sense of feeling. And people who use it do not lose the taste of literature and art, and there is a unique personality. Half of the transparent glasses are made of TR material and plate, which is light and comfortable to wear and have many styles.