Should face shape be considered when wearing rimless glasses?
In our life, we will see a lot of people who wear rimless glasses. Compared with full-frame glasses, there is no restriction on face shape and it suits most face shapes. Whether you have a square face, a long face, or a round face, wearing rimless glasses is trendy and beautiful, very popular among contemporary young businessmen and women. Rimless glasses are very easy to wear. No matter what shape your face is, it will feel stylish and beautiful. Rimless glasses are very simple on collocation dresses. And rimless glasses suit most face shapes, so they are suitable for many people.
TERAISE Polarized Clip-on Sunglasses Over Prescription Glasses
The use of a yellow night vision clip helps reduce the glare of other vehicles' lights effect, and a nearsighted night vision clip can improve the safety factor of night driving. You can wear myopic prescription night vision glasses for a small amount of money, saving at least $350 / euro. It only weighs 4 grams. With a strongly polarized lens, the glare can be weakened, simple, and beautiful. On cloudy, rainy, or foggy nights, it's safer to wear a night vision clip. They have 18 months of quality assurance and comprehensive customer service.
Lions Club
Lions Club is a service organization with over 1 million members worldwide. Known for the work to improve the lives of the visually impaired and prevent avoidable blindness, they are proud to serve their ongoing efforts by providing unique and influential programs and grants. One of their missions, Lions Recycle for Sight, helps those who desperately need eye care and glasses that they either can't afford or don't have access to. The Lions Club accepts donated prescription glasses, sunglasses, and card readers, but only sunglasses and card readers can be distributed in the U.S. All other donations go to help individuals in developing countries.
What are driving glasses?
Driving glasses refers to the glasses that are specially used for driving, with functions of anti-glare, anti-strong light, anti-rain and fog, anti-fatigue, and other functions. They are suitable for drivers in the day and night to wear glasses for vision protection, better-ensuring traffic safety. They are recognized as the driver's glasses, driver glasses.
Agstum Blue Light Blocking Glasses - Flexible Rimless Titanium Alloy Eyeglasses Frames
The frame is equipped with anti-blue light lenses, which you can easily replace with your own if you have eye problems. Blue light-proof lenses are to make you have a better sleep. They are to prevent harmful blue light, which provides all-day protection against the harmful effects of high-energy visible light and UV400. You can enjoy your digital time without worrying about eye strain, blurry vision, and headaches. It uses a durable memory metal optical frame.
Pure titanium spectacle frame
Of course, we still have another option, which is to buy a pair of pure titanium glasses. Pure titanium is lightweight, tough, and compatible with the human body. Also, it has strong corrosion resistance, resistant to rust, does not cause skin allergies, and is more durable. With the gradual popularity of pure titanium materials, the price is gradually becoming more affordable, and people who feel troublesome to wear anti-allergic sleeves can try pure titanium spectacle frames.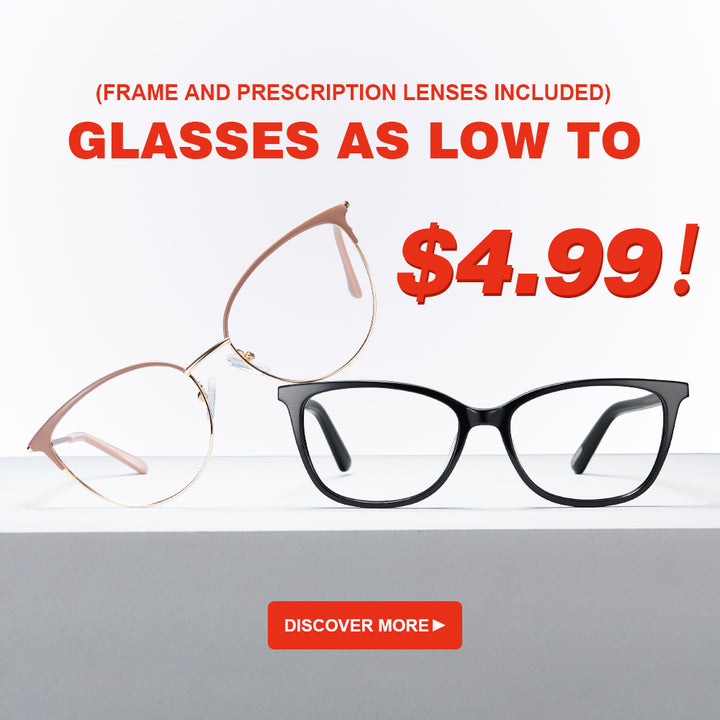 Single Vision Lens
Single vision is the most commonly used prescription lens. This lens type has a single field of view or a prescription ability of the entire lens and can be used to correct myopia (nearsightedness) or hyperopia (supervision). Some people need glasses to keep their distance and read. Instead of having a pair of single-vision glasses for each pair of glasses, bifocal or progressive glasses may be a more convenient choice. Unlike single vision, bifocal and progressive lenses are multifocal lenses with multiple focal points, such as distance and near distance. People whose prescription for spectacles list the numbers in the 'ADD' section require bifocals, progressive glasses, or reading glasses because your glasses need to add ADDitional to the distance prescription to see close distances.