Pure titanium spectacle frame
Pure titanium is α-phase titanium containing a certain amount of oxygen, nitrogen, carbon, silicon, iron, and other element impurities. Titanium is an indispensable material for modern aerospace science, marine science, and nuclear power generation, and other cutting-edge science industries. Titanium is 48% lighter than ordinary metals, has strong toughness, acid and alkali resistance, corrosion resistance, high stability, high strength, good elasticity, and other advantages. It is in line with ergonomics. Titanium is non-toxic to the human body and does not have any radiation.
Application of titanium alloy
Titanium alloy is mainly used in aircraft engine compressor parts, followed by rocket, missile, and high-speed aircraft structural parts.By the mid-1960s, titanium and its alloys were already in common industrial use, making electrodes for industrial electrolysis, condensers for power stations, heaters for petroleum refining and seawater desalination, and pollution control devices.Titanium and its alloys have become a kind of corrosion-resistant structural material.In addition, it is used to produce hydrogen storage materials and shape memory alloys.
TERAISE Polarized Clip-on Sunglasses Over Prescription Glasses
The use of a yellow night vision clip helps reduce the glare of other vehicles' lights effect, and a nearsighted night vision clip can improve the safety factor of night driving. You can wear myopic prescription night vision glasses for a small amount of money, saving at least $350 / euro. It only weighs 4 grams. With a strongly polarized lens, the glare can be weakened, simple, and beautiful. On cloudy, rainy, or foggy nights, it's safer to wear a night vision clip. They have 18 months of quality assurance and comprehensive customer service.
Why you should be careful when choosing blue-light-blocking glasses?
Prices of blue light blocking glasses in the market now range from 200 to 300 yuan to several thousand yuan. According to the report, current eyewear standards do not prescribe the effects of blue-resistant lenses, and consumers are advised to choose blue-resistant lenses with caution. It is recommended that people with specific eye diseases such as macular disease, age-related macular degeneration, macular hole, and diabetic fundus lesions should choose anti-blue light glasses according to the advice of an ophthalmologist.
What to consider when buying eyeglasses?
Usually, people with lighter skin tones choose lighter color frames, while those with darker skin tones choose dark color frames. For example, people with lighter skin tones can choose soft pink frames, tortoiseshell frames, or gold and silver frames, while those with darker skin tones can choose red, black, or tortoiseshell frames.
The origin of aspheric lens
The Visby glasses, unearthed in Gotland, Sweden, are the earliest aspheric lens found. The Vikings in the 11th century used it as a magnifying glass, and some of the best ones were made of silver, making them look like handicrafts. In 1667, Francis Smethwick grinds the first high-quality aspheric lenses and presents them to the Royal Society. That's a telescope with three aspheric elements. In 1956, Elgeet, which originally designed and manufactured optical instruments for the U.S. Navy, produced the world's first mass-produced aspheric lens for photography (Golden Navitar 12mm F1.2) for a 16mm film machine. Today, aspheric lenses are found in everything from tall telescopes to missile guidance systems to camera lenses. In the glasses we wear, the aspheric lens is familiar to consumers.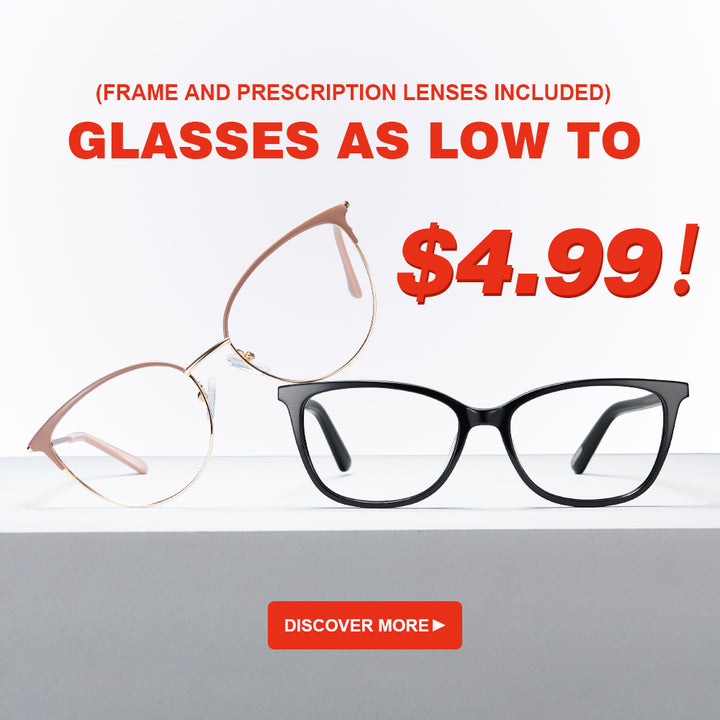 The History of Clubmaster Glasses
Clubmaster glasses are a variation of the browline sunglasses made popular in the 1950s. The lenses of clubmaster glasses are typically held in place by a thin metal frame and are of a squared-off round shape.
Although many people believe that the Cubmaster glasses root back to the 1950s, the fact is that clubmaster glasses or clubmaster sunglasses as we know them didn't come about until Bruce Willis wore a pair of Shuron Ronsirs browline glasses with tinted lenses on the TV series Moonlighting in the mid-1980s.
From that moment, browline glasses draw the public's attention. By the 1960s, Ray-ban was a fairly large contender in the market and its owner Bausch & Lomb was one of the top manufacturers of browline-style eyeglasses. And then the Ray-ban launched the first browline sunglasses, called it clubmaster. Sales were enormous almost immediately and despite only coming out mid-80s, they still ranked as the third most popular style of sunglasses sold in the decade, next to Ray-ban's Wayfarers and Aviators.
Then Ray-ban took every revision of the original 1947 Browline and began offering it as part of the clubmaster series. From bold brows to lightweight metal caps first introduced in the 1950s, the clubmaster offered a style that could fit elegantly on just about any face shape. After that, the clubmaster glasses have been popular for a long time.