Tips to Get Used to Varifocal Glasses
To get used to varifocal glasses, there are some tips for you.
First, look directly at an object by moving your head, instead of your eyes.
Second, do not use your old glasses after getting a new one. It is important to stick to your new varifocals to give your eyes enough time to get used to them.
So, if you want to a pair of varifocal glasses, Koalaeye glasses are recommended. They are stylish and come at a cheap price. Koalaeye Optical is an online glasses store and the glasses can be mailed for you free with your great convenience. So, if you need a pair of varifocal glasses, try Koalaeye glasses.
Can you adjust your glasses by yourself?
If your frames are not suitable, adjusting your glasses at home may be easier than you think. You can solve the most common problems in the frame by yourself, but sometimes taking your glasses to an optician is the best thing to do. Of course, if your problem is your lenses, that's something you can't usually fix at home.
How to choose blue light blocking glasses?
Nowadays, electronic products such as mobile phones and computers have become indispensable tools in our lives. While these high-tech products bring us convenience and fun, they also bring symptoms such as eye fatigue and myopia. Subsequently, blue light blocking glasses have also received everyone's attention. Anti-blue glasses are only suitable for people who use electronic products for a long time, not for people who are visually fatigued. Exposure to such unnaturally strong blue light for a long time every day, especially for teenagers and children, needs to pay more attention to the prevention of blue light. So, how to choose suitable blue light blocking glasses for kids?
Anti-blue light is necessary, but not all blue light can be filtered out, because blue light will interfere with the body's melatonin secretion after being over-filtered, thereby affecting sleep. Therefore, when choosing blue light blocking glasses, you should choose appropriately according to your own eyes.
For how to choose anti-blue glasses, consumers can distinguish from the color of the lenses. Generally speaking, a lens with a yellow color will have the effect of blocking blue light. But too dark lenses will affect the contrast sensitivity. Therefore, it is recommended that consumers choose moderately. In addition, consumers should also pay attention to whether the glasses products (lenses, frames) have conformity marks, etc. It is best to choose professional and well-known glasses shops to match glasses.
What kind of glasses are bifocals?
Bifocals are mainly used in presbyopia correction, providing presbyopic opticians with a clear vision for both near and far use in one pair of glasses. The bifocal lens can be divided into two separate areas, with the upper part of the lens providing clear distance vision and the lower part providing clear near vision. The two regions of the bifocal lens provide different refractive forces, and the difference between these two refractive forces is the reading proximal addition, which compensates for adjustment during presbyopic reading.
Is a nose pad become green harmful?
Pure copper rust contains bacteria that affect the skin and can cause breakouts or skin irritation. High-end glasses are made of alloy materials with lead and nickel not exceeding the standard. Low-end and cheap glasses may not contain environmentally friendly alloy, which will do harm to the human body if it rusts.
Can you get your new eyeglasses in a day online?
Yes, it is possible to have an eye exam and prescription glasses on the same day. But unless it's an emergency, you'd better wait a few days and then buy the best glasses you need. Not all glasses are available within an hour or on the day of your eye exam.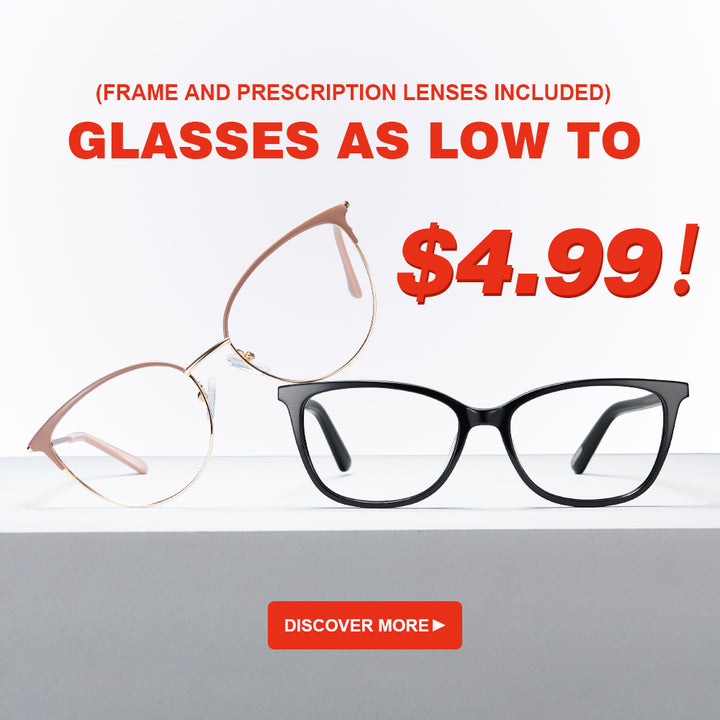 How to adapt to progressive lenses?
People who are prone to motion sickness or have inner ear diseases may suffer dizziness, nausea, vomiting, and other symptoms due to their inability to tolerate the slight deformation of the visual objects, so they need to pay more attention when wearing them. For people who have not worn reading glasses before, it is not recommended to wear graded multi-focus glasses directly because their eyes will not be able to adapt quickly.