How about Blupond's night goggles?
Unlike regular dark sunglasses, night vision glasses don't block much light and have a higher transmittance than day sunglasses that block sunlight but can barely see at night. The night driving glasses use clear yellow lenses with an anti-glare coating and blue polarized light filters that prevent harmful light from entering the macula and causing degeneration. It works by allowing only the healthiest wavelengths of light to reach the eye and keeping visibility high in the dark, reducing glare.
Pure Titanium Glasses Frame Brand - Seiko
Seiko glasses, I believe, everyone has heard of this brand because Seiko glasses in the glasses industry are still relatively famous.Seiko is founded in 1881. It is one of the top ten pure titanium eyeglass brands in the world and enjoys a high reputation.So far, brand products have been involved in watches, optics, and other fields, and have done very wonderfully in different fields.Compared with similar products, its pure titanium spectacle frame is not only better than quality, but more in detail. Seiko's frame is divided into two categories: men and women.
There are business and professional styles.The two categories are divided into the full-frame and half-frame glasses frame. It can be seen that, in the style, Seiko glasses have a more clear, very specific positioning.For the common white-collar or company executives, the Seiko glasses frame is the most popular.
How to see if the lenses are too high?
Look at an object in a distance 65 feet away or more.
If you can't see it clear, keep your eyes on the object and lower your chin. Check whether you can see clearly while looking through a more upper part in the lens than your lenses are too high.
Then you need to watch the difference in the blurriness on the contours of the roadsign.
Now, we will show you how to check if your lenses are too low. Hold something you want to read in your hands and lower your look with your eyes. Do not move your chin down as you look down. If you can't read without lifting the glasses, the lenses are too low.
What Are Varifocal Glasses?
Varifocal glasses, also known as varifocals, varifocal lens, PLA, or progressive lenses, have a gradual change in strength from the top of the lens to the bottom with multiple focal points in between. Unlike bifocals, varifocal glasses have no specific area of lens strength, but progressive lens zones.
The way to look through varifocal glasses depends on what you want to look at. If you are looking at the distance, you look through the top of the lens. If you want to look at the close objects, you may need to move your eyes lower to keep the objects in focus. For the best close-up focus, you need to look through the bottom of the lens.
The benefits of varifocal glasses are that they do not need to buy or prepare 2 separate pairs of glasses or need to switch between frames for different vision needs.
However, if you wear the varifocal glasses for the first time, you may come across some problems.
Comfortable wearing experience
Fine workmanship is the key to the details of pure titanium glasses. Whether you have an oval face or a round face, you can adjust the width according to the size of your face, and maintain this state, so that there will be no more scars around your eyes and ears.
Nowadays, people's living standards are getting higher and higher. Pure titanium glasses have become more and more popular with many people. Especially for mid-to-high-end business elites, pure titanium glasses have become a fashion, and are even more respected. Pure titanium material is lighter and more comfortable among glasses materials, not easy to be deformed, corrosion-resistant, and rust-resistant, and will not cause skin allergies. It is the most high-end high-quality spectacle frame in all kinds of spectacle frames.
How To Choose Better Night Driving Glasses?
Choose and buy glasses to use a special night with anti - strong night driving lens. The demand is to block 80-90% of the strong lights and harmful lights, and at the same time to make the road more clearly. Choose glasses with thicker lenses, they are more durable and protect the eyes of drivers against irritation and accidental breakage. As common sunglasses and color-changing glasses are only suitable for daytime wear, wearing them at night will seriously affect the driver's vision.
Common light yellow night driving glasses can only block a small amount of light, and is not very suitable for night driving glasses standards. Therefore, in the choice of lenses of night driving glasses, we must do the selection and demonstration of the national authority of the formal institutions to test products, to achieve the desired effect in actual use. Don't buy products that are not up to standards from vendors. Such products not only do not block the lights but may affect the driver to see the road ahead, affecting the safety of the train operation.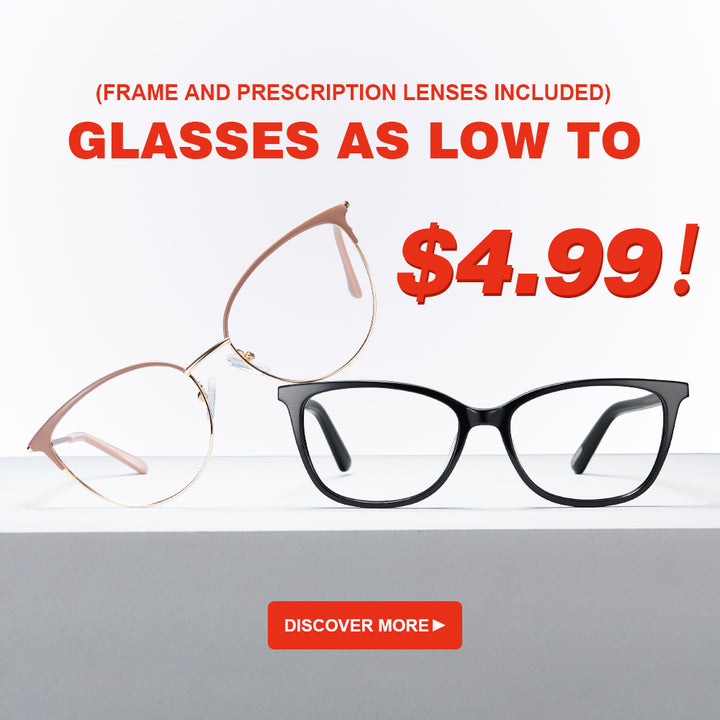 EyeBuyDirect Ride
Rimless glasses provide the minimalist option for eyewear who want their glasses to blend in with their face, or want a larger field of vision. These aviator-shaped rimless glasses are very stylish, with the red or blue at the temple tip highlighting the colors. An adjustable nose pad provides a comfortable fit.