Polygonal metal frame
The metallic frame that is full of contemporary and retro feeling still did not end curtain. Stylish people like to use it to match modeling nowadays.
Vintage oval frames
It's a pair of glasses with a retro, '90s-like frame feels that's very popular with hipsters. They are retro with a little cool cute.
The cat-eye style
The cat-eye style can be seen in the changing history of eyewear trends as far back as the 1940s. Flying nifty cat-eye has been unable to show the stage. But times have changed, and the styles of cat-eye have become more varied. Some brands provide multiple types of cat-eye glasses, showing different atmospheres and domineering.
Transitions® Photochromic Lenses
When you step outside, it immediately begins to darken. The lenses help prevent harmful blue light from digital devices, screens, and sunlight to help reduce glare and prevent eye strain. They have the function of 100% UV blocking,anti-reflection treatment with blue light protection. They can constantly adapt to changing daylight conditions to reduce excess light and optimize color contrast and polarized light to prevent dazzle. They filter out excess light to provide maximum comfort. And provide high contrast and minimize glare. They provide increased color recognition and depth perception.
Use the fishing sunglasses correctly.
Fishing enthusiasts should try to avoid wearing sunglasses that are easy to oxidize and corrode. They should wear sunglasses that are not easy to oxidize and corrode, such as plate frames, aluminum and magnesium alloy, pure titanium, and titanium alloy. Do not put the fishing sunglasses in a high-temperature environment for a long time, and do not immerse the fishing sunglasses in water for a long time. Avoid contact with perfume, insecticide, and other items containing chemical components to avoid chemical corrosion of lenses and frames and better protect your sunglasses. When they are not in use for a long time, please put them in a special bag so that the lenses can be taken good care of.
The role of the driving glasses
Good driving glasses can be very good to block high energy light, in the evening they can let more faint light enter into our eyes, really solving the problem of only blocking the light and not blocking the road. They have very good night vision function, and can better eliminate glare, better improve the vision of the driver. The driver can drive safely day and night. Strong sunlight improves visual clarity. They are special driving glasses and can brighten polarized light and improve driving safety. With unisex style, high-definition vision, comfort, and light. It can be used on rainy and foggy days and can be used by myopic people. It can effectively filter strong light and high beam lamps, and the long-term use makes you not tired. Both rainy and cloudy days can improve visual clarity. It can effectively prevent strong light, ultraviolet light, and glare is durable and can solve the problem.
Geometric Clear sunglasses
The geometric shape of sunglasses is really novel, with the front and back of the two layers of design, to add a rich sense of line to the cheek. Choose individual character dyed-in pick eyebrow, matching again super short hair, individual and fashionable.
How do drivers wear glasses or sunglasses better?
We should pay attention to the dim light at night on the impact of vision, At night, for the people who wear glasses, it is best not to drive, but to prevent fatigued driving. If you need to drive, you must choose clear and appropriate optical glasses. When the light is strong in the field, it is advocated to wear light-colored sunglasses with appropriate degrees to ensure driving safety. When wearing glasses to drive, for the observation of road conditions, we should focus on the use of the head movement. Do not use eyes to move, to prevent the effect of the prism, especially the patient with high myopia should pay special attention. Shaded sunglasses, coated with reflective material, block out light from above and increase horizontal and lower light, which makes it easier to see the platform. Clip-on sunglasses are suitable for people who wear glasses themselves. You can go straight with a pair of myopic sunglasses for a higher price.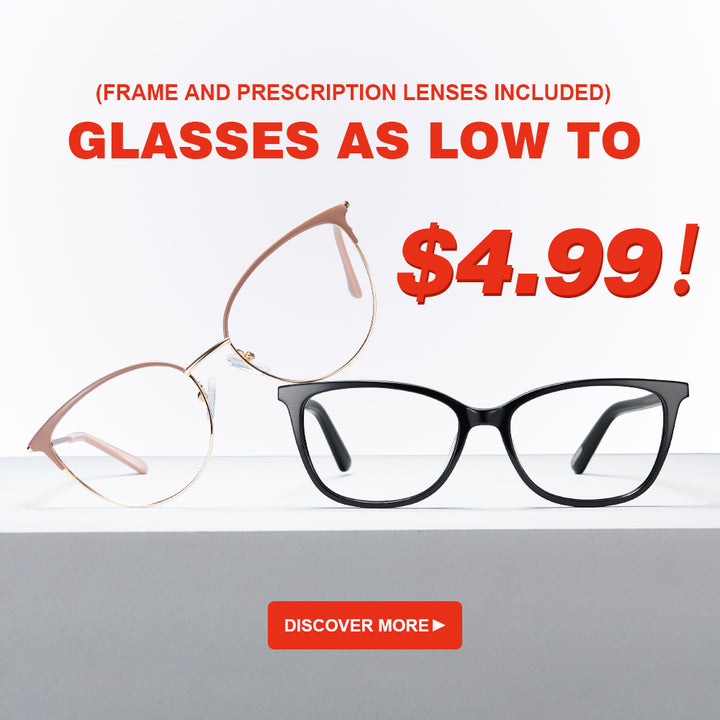 Progressive lenses and single vision lenses
An optical lens that has only one luminosity on a single vision lens and does not have special functions.
The curvature of the front surface of the progressive lens increases continuously from top to bottom, and the refractive power increases gradually and continuously from the distance zone located on the upper part of the lens until the near zone at the bottom of the lens reaches the required near-use refractive power. A pair of glasses can be used. You can see far away, you can see close, and you can see objects in the middle distance.