Features of Beta titanium glasses frame
Beta titanium has better strength, fatigue resistance, and environmental corrosion resistance than pure titanium and other titanium alloys. The shape plasticity is very good, which can be made into wire and sheet, more lightweight. They are used to make glasses and can get more shapes and styles. It's the material for a new generation of glasses. Customers with higher requirements for style and weight can completely choose beta-titanium glasses. Because β titanium processing technology is higher than pure titanium, usually only large factories and brands will produce, and the price is higher than pure titanium glasses.
Which is better:the silicone nose pad or the air cushion nose pad?
Although the air cushion nose pad is more flexible and has less pressure, in the process of actual use, the pressure on the bridge of the nose is not much different from that of an ordinary silicone nose pad. And because of the hollow design of the air cushion nose pad, the material on the front surface is easily damaged due to lack of thickness. If not taken care of, the metal nose brace can be directly applied to the bridge of the nose. if do not pay attention to the cause metal stents directly affect the bridge of the nose, with bad security. And the hollow design will bring dirty things, so it is easy to get dirty, affecting the image.
Metal frames have many benefits.
It has a certain hardness, good softness, good elasticity, wear resistance, corrosion resistance, gloss, and good color and luster.?For example, for the high nickel alloy frame, nickel content reaches more than 80%. It mainly has nickel-chromium alloy, manganese nickel alloy. High nickel alloy's corrosion resistance is better. In addition, the material elasticity is good.?Titanium frame has a high melting point, light material, strong corrosion resistance, and solid electroplating. The eyeglass frame that uses pure titanium is deft and comfortable, more in accord with human body engineering. And flexibility is good, long-term use is not out of shape. And they do not fade, do not cause skin allergy, relatively durable.? Memory titanium alloy frame refers to a new alloy made up of nickel and titanium according to the atomic ratio of 1:1.?Memory titanium is more resistant to corrosion than high nickel alloys but less resistant than pure titanium and β-titanium.
What Are Anti-Glare Glasses?
Anti-glare glasses are made with lenses that have an anti-glare coating or anti-reflective coating. This is an extremely thin layer placed on the lens itself so as to remove any reflections you might see from the surface of the glasses. This improves your vision by reducing the amount of glare that reflects off of your lenses.
Where to buy clear eyeglasses?
When shopping for new clear eyeglasses, you can easily feel overwhelmed by the endless racks of styles and brands. The way to access value is to buy from a store that offers great advice, where you'll be told whether more expensive frames warrant their higher prices or that you'd do just as well with a lesser-known brand. Koalaeye Optical offers "Wear in Comfort, Look in style" eyeglasses and sunglasses. If you buy glasses online from us, you will get a huge variety of frame styles and colors. And the prices are highly affordable so they won't burn a hole in your pocket.
What Are Progressive Glasses?
Trifocal glasses and no-line progressive lenses are multi-focal glasses, meaning that their lenses offer multiple correction fields. Whether you have been wearing multi-focal glasses for a while, or you have just begun to look at options for correcting vision after 40 years old, you may have heard the terms trifocal or progressive glasses.
Progressive lenses offer a smooth transition from distance vision through intermediate vision to near vision, and they supply all the in-between corrections. Progressive lenses have three different viewing zones, as trifocal glasses do, and they have progressive powers of corrections, easing eye strain and providing the most natural vision correction.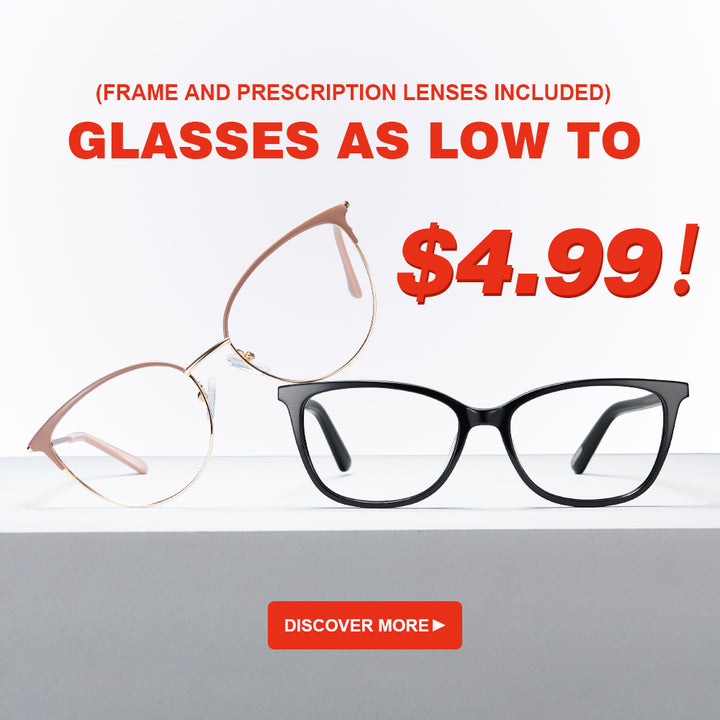 What Do Pinhole Glasses Do?
Pinhole glasses are often used by eye doctors who use them as a diagnostic tool to quickly check for vision impairments. Of course, pinhole glasses are sometimes used to treat nearsightedness or astigmatism. Pinhole glasses are also used in conjunction with an occluder, an instrument used to cover one of your eyes while you read an eye chart. The occluder is solid, while the pinhole glasses have a number of tiny pinholes. So, the doctor often uses it to check the potential of your vision.
Pinhole glasses are often used to check corneal distortion and cataracts. A cataract evaluation includes focusing light in the eye to check if vision capability behind the cataract makes it worth performing surgery.