Choose frames according to the face shape
For example, children with round faces should not choose too round frames, while children with long faces should not choose too long frames (the two rules apply to wearers of all ages). Choose the shape of the frame to beautify the face shape. It can be the primary judgment criteria.
How to Adjust Crooked Glasses
If one side of your frame looks higher than the other, you need to adjust the arms of your glasses. So, how to adjust glasses?
If the right side is higher than the left, you need to gently bend the left arm down at the hinge or where the arm bends behind your ear. If the left side is higher than the left, so just do the same action on the opposite side.
When adjusting crooked glasses, you need to adjust frames a little bit at a time to avoid overcompensating and possibly damaging your glasses. You can run the arms under the warm water but do not running the warm water over the lenses because it will affect the lens coating.
The Advantages of Trivex Lenses
In this section, we will show you the benefits of the Trivex glasses.
Trivex lenses provide high impact resistance so they can minimize the risk of injury among those who have an active lifestyle.
Trivex lenses are light because they have a lower density ratio than other plastics. Hence, it would not slip down from your nose
Trivex lenses are thin so they enhance comfort because they have a slimmer profile.
Trivex glasses have a high Abbe value that offers a clean and sharp vision. This feature can be more important for those whose prescription powers are stronger but who don't want to sacrifice visual clarity.
Trivex lenses provide 100% UV protection from harmful sun's UV rays.
Trivex lenses are internally stress-free. This means that such lenses have a lower chance of breaking when under pressure, like from thick frames.
Trivex lenses are able to resist to many chemicals including acetone. It performs better in chemical resistance than some of its other competitors.
Stanton Optical
Stanton Optical provides wonderful customer service and thousands of stylish frames at competitive and affordable prices. The affiliated physician network provides complete eye exams, including a full-service experience of vision health exams. The optics laboratory uses the latest technology and computer-automated machinery, with talented lab technicians cutting, polishing, and grinding lenses. After the lenses are assembled and framed, they go through quality assurance checks before being sent to the store and ready for customer pickup. In addition, they design their own frame and work directly with the eyewear manufacturer, so they can save you a lot of money.
Where to buy clear eyeglasses?
When shopping for new clear eyeglasses, you can easily feel overwhelmed by the endless racks of styles and brands. The way to access value is to buy from a store that offers great advice, where you'll be told whether more expensive frames warrant their higher prices or that you'd do just as well with a lesser-known brand. Koalaeye Optical offers "Wear in Comfort, Look in style" eyeglasses and sunglasses. If you buy glasses online from us, you will get a huge variety of frame styles and colors. And the prices are highly affordable so they won't burn a hole in your pocket.
Which face types are suitable for rimless glasses?
Rimless glasses are mainly suitable for round faces, heart-shaped faces, square faces, and other most face shapes. Rimless frames are designed to be light, hence, they ease the wearer's stress, increasing comfort, and providing a wide view. Rimless glasses suit most face types, suitable for people who are short-sighted within 600 degrees. If the degrees are too high, you should not wear rimless glasses. When the degrees are too high, the lens will be suitable for thickening, so rimless glasses will show bloated.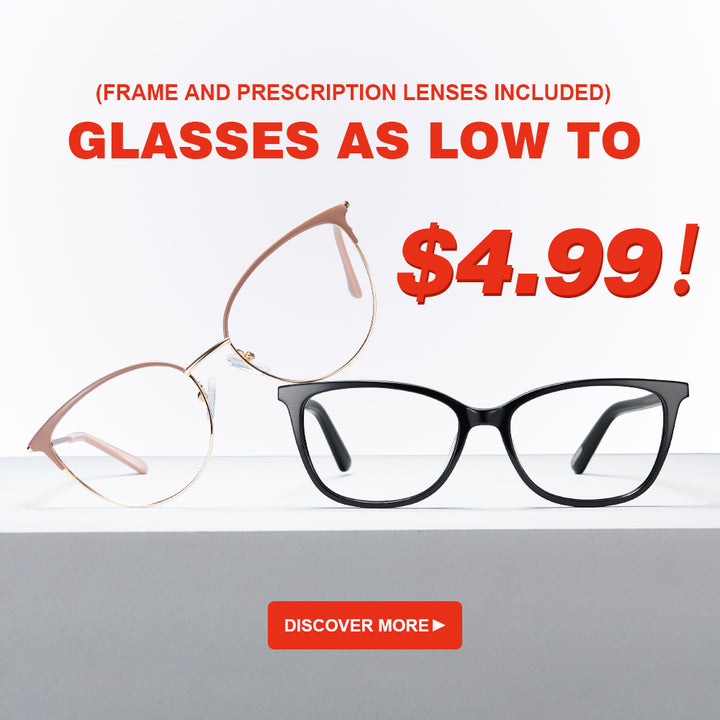 Different Type of Lenses: How to Choose
Photochromic lenses: These lenses change from clear to tinted with sunlight. You may no longer need sunglasses although they may not darken in your car if the windshield blocks UV rays. They can be either glasses or plastic.
Polarized sunglasses: Polarized sunglasses can reduce glare from a surface like water, so they are great for sports and driving. But they can make it hard to see the liquid crystal display on your car's dashboard.
As for different types of lenses, this post has introduced several kinds of. When buying eyeglasses, take these into consideration. If you need a pair of glasses, you can try Koalaeye glasses. They are stylish and come at a cheap price.